WOOD CYCLE
Sumitomo Forestry's decarbonization initiatives
As a partner in helping the world shift to decarbonization, Sumitomo Forestry Group is striving to create a sustainable society with the Sumitomo Forestry Wood Solution. We are pursuing decarbonization by managing our wood cycle across three pillars of our operations – forests, wood and construction.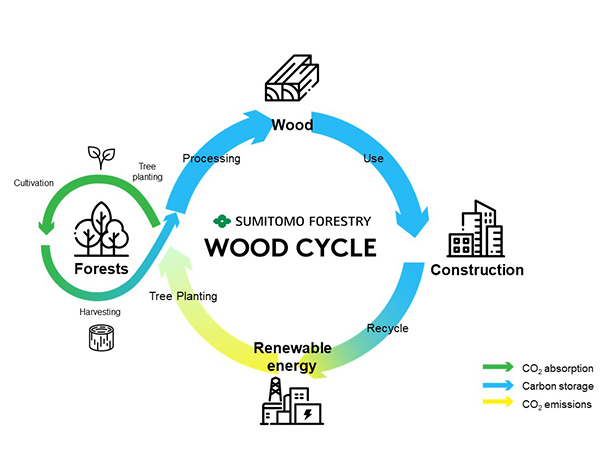 Accelerate the circular forest business
We will increase CO₂ absorption volume to contribute to carbon offsetting for other companies and society by establishing a forestry fund and expanding the forest area we own and manage around the world, primarily in Asia.

In Indonesia, deforestation due to forest fires, illegal logging and other causes is becoming a societal issue. By bridging our forest management technologies with IHI's satellite weather observation technologies, we are providing high-precision water level management and advanced forest management to prevent peatland fires. Utilizing this expertise, we are also offering consulting services to countries and regions trying to control deforestation, as well as to companies considering the ownership of forests.

Establishing a global forestry fund
Sumitomo Forestry is establishing a global forestry fund*1 with the aim to secure forest assets and other forms of new value, such as CO₂ credits*2. In addition to expanding our operations through forest and asset management, we want to contribute to society through carbon offsets. Our goal is to have a forestry fund with an asset size of 100 billion yen.
*1 An investment trust that produces returns in the form of business revenue and CO₂ credits
*2 Credits issued to reflect the effect of CO₂ reduction through forest protection and other measures
Expanding owned and managed forest area
Our Group has approximately 48,000 ha of Company-owned forests in Japan, equivalent to about 1/800th of Japan's total land area. Through the global forestry fund, we plan to increase the area of forest land that Sumitomo Forestry Group owns or manages to about 500,000 ha by 2030.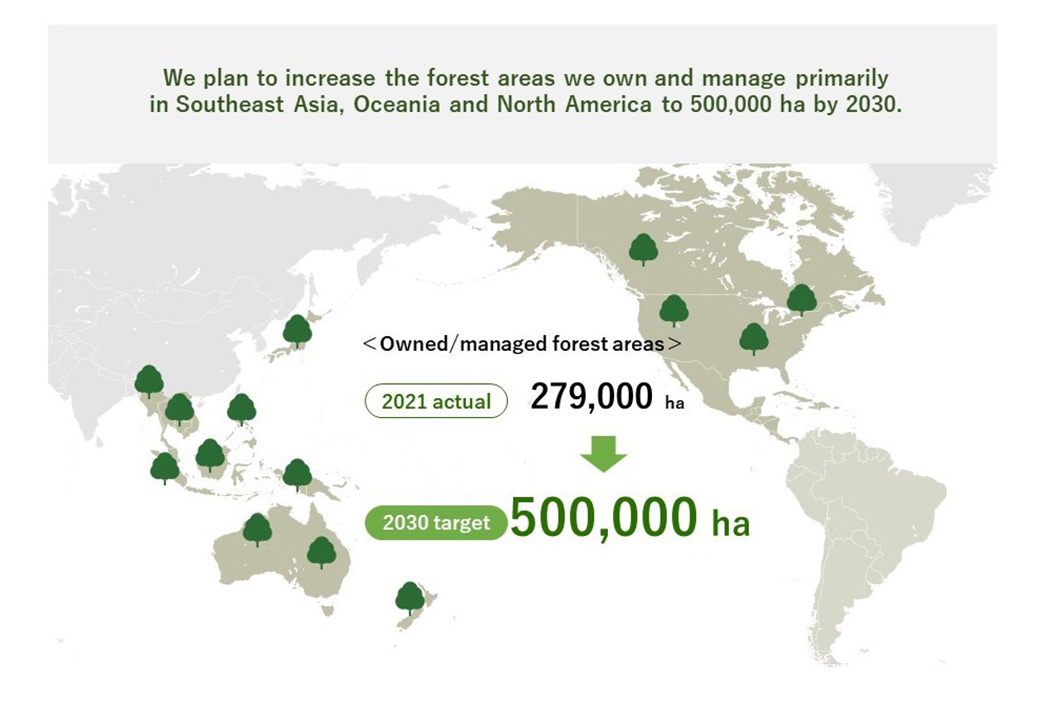 Promote wood change
With the establishment of timber industrial complexes, we are working to enhance the efficiency of the Japanese forestry and wood manufacturing industries and expand the use of wood-derived materials to increase carbon storage amounts.
Establishing timber industrial complexes to raise the domestic wood self-sufficiency rate
The Japanese forestry industry is facing many unresolved issues, such as undeveloped roads and a shortage of workers. In wood manufacturing, many timber mills in Japan are small and lack competitiveness. In addition, despite adequate wood resources, Japan's wood self-sufficiency rate is about 40 percent. We believe timber industrial complexes can play an important role in raising Japan's wood manufacturing competitiveness and wood self-sufficiency rate. Creating timber industrial complexes will help popularize wooden buildings and lengthen carbon storage periods, which will contribute to decarbonization. They will also increase the added value of wood, create employment opportunities for forestry workers, provide a stable supply of domestic wood and enhance price competitiveness. By 2030, our aim is to increase domestic timber usage volume to one million m3 annually.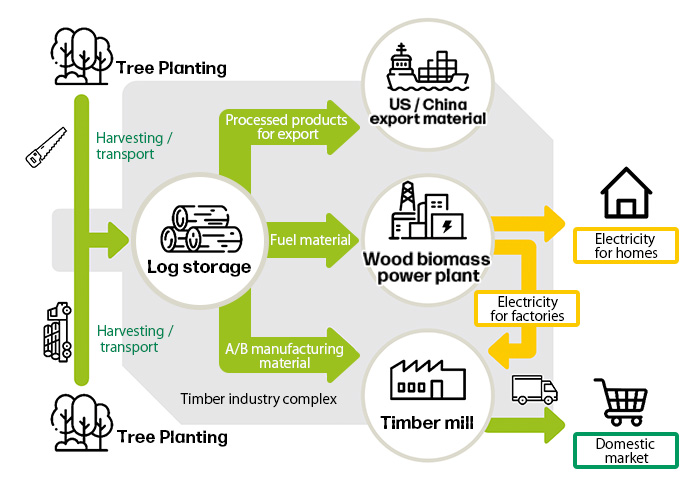 Shifting to wood to increase carbon storage
To popularize domestic timber, we will increase the volume of harvested wood products we handle and manufacture, which will help promote carbon storage. At the same time, we will unleash the potential of wood and promote its use as a substitute for steel, concrete and other building materials. We are strongly promoting wood change, particularly in construction.
Standardize decarbonized design
By actively promoting ZEH, ZEB, LCCM houses and net zero carbon buildings, and by establishing decarbonized design (One Click LCA x EPD), we will contribute to the decarbonization of other companies and organizations.
Reducing two types of CO₂ emissions – operational carbon and embodied carbon
The construction sector accounts for 37 percent of the world's CO₂ emissions, making decarbonization a top priority. This sector's emissions are made up of CO₂ emissions during occupancy (operational carbon) and CO₂ emissions during construction (embodied carbon). For operational carbon, we are aiming to achieve zero emissions with the popularization of ZEH, ZEB and other similar buildings. On the other hand, construction of buildings around the world is expected to double in terms of floor area by 2060, making the reduction of embodied carbon an increasingly important issue, as well. To achieve decarbonization, Sumitomo Forestry is promoting LCCM (life cycle carbon minus) houses, which achieve negative CO₂ emissions throughout the entire life cycle of a building, including construction.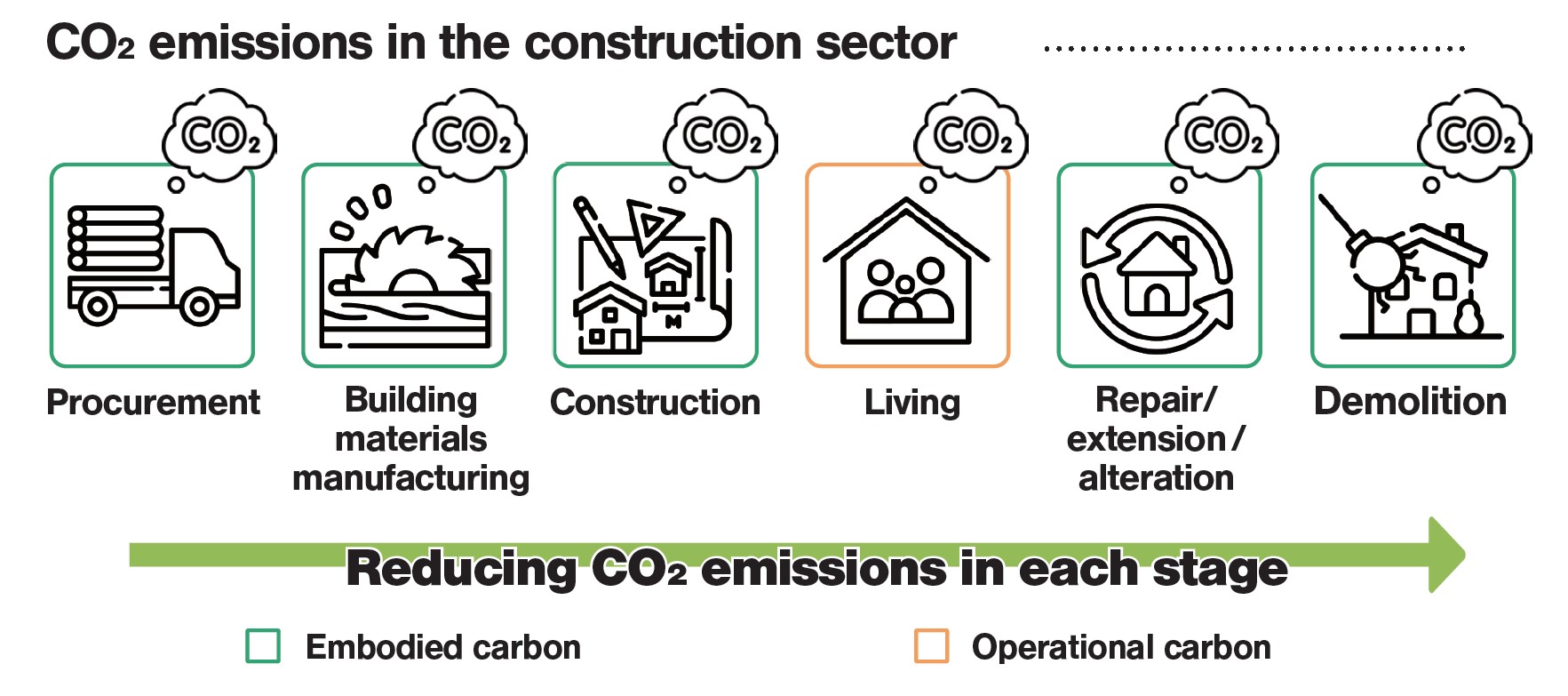 Visualizing CO₂ emissions during construction with One Click LCA and working with the entire construction industry to establish decarbonized design
Sumitomo Forestry is the exclusive Japan distributor of One Click LCA, an application that enables the visualization of a building's CO₂ emissions during construction. This software allows for the easy, quick and accurate calculation of a building's CO₂ emissions and carbon storage amounts and is the ideal tool for promoting decarbonization in the entire construction sector. In the future, CO₂ emissions and carbon storage amounts will be clearly labeled on timber, building materials and buildings, just as calories are labeled on foods. With this tool, we are working to standardize and expand decarbonized building design in the Japanese construction industry.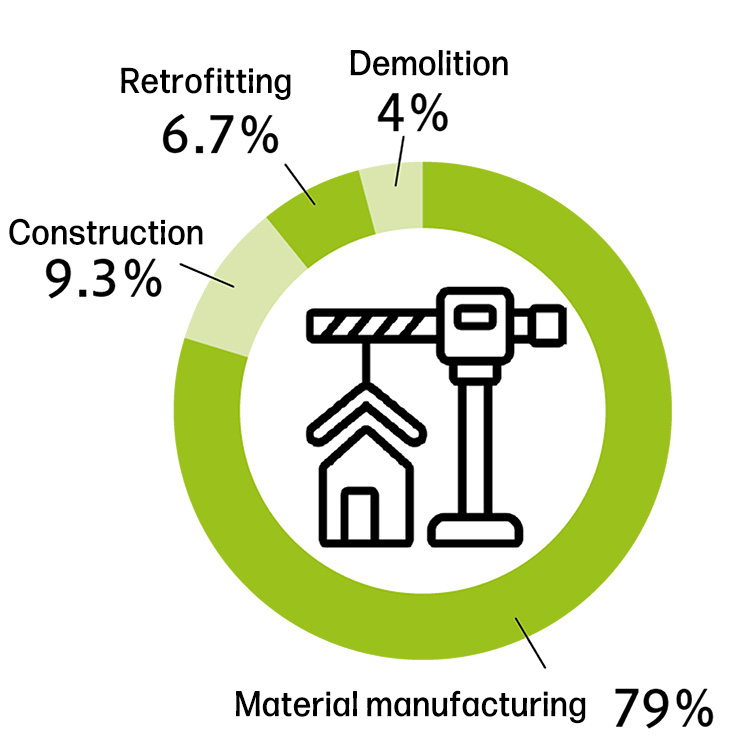 Ratio of CO₂ emissions at each stage of a building's life cycle
Promoting the EPD environmental labeling system as a leader in the timber and building materials industry
EPD is an environmental labeling system widely used in Europe that is based on quantitative environmental data evaluated and certified by a third-party organization. It is used by consumers and users as one index for selecting environmentally conscious products. As a leader in the timber and building materials industry, we will work with other companies to promote EPD certification of buildings and the visualization of CO₂ emissions during construction to reduce CO₂ emissions and demonstrate the superiority of wooden buildings.