Efficient Use of Water Resources
Efficient Use of Water Resources
Reduction of Water Consumption in Business Activities
Around the world, there is a growing sense of crisis over water shortages. It is expected that this problem will become more and more urgent as the demand for water rises with population increase and economic growth in developing countries.
The primary businesses of the Sumitomo Forestry Group include the Timber and Building Materials Business and the Housing Business, which operate on a business model that does not use a high-volume of water. However, our businesses are expanding into sectors that do use water as a valuable resource. Our policy is to reduce the amount of water used with emphasis on these businesses while conducting risk assessments and examining countermeasures for problems that arise.
Initiatives for Water Use in Business
In addition to manufacturing plants inside and outside Japan, since fiscal 2012, the Sumitomo Forestry Group has begun examining the consumption of water and the associated sources at bases where actual water usage is measurable, such as at buildings owned by the Sumitomo Forestry Group. We discovered 91.8% of water use is at eight group companies which make up 7.2% of the consolidated net sales by analyzing the water use of all Group companies in fiscal 2016. Therefore, we have positioned these eight companies as important water management companies and first conducted risk assessments for water use at five companies in Japan and brought together specific measures to address any cases of insufficient water. The Sumitomo Forestry Group has also begun to grasp the actual state of water use even at three overseas companies that use large amounts of water.
From fiscal 2016 to fiscal 2018, our water consumption increased significantly due to the operation of the Mombetsu Biomass Power Generation Plant and Hachinohe Biomass Power Generation Plant. Biomass power generation leads to increased water usage because power is generated by burning wood and other biomass fuel to boil water and create steam for powering turbines.
The Mid-Term Sustainability Targets set targets for Group-wide water consumption and manages progress. In fiscal 2022, the Group's total water consumption was 2,937 thousand m3. 79 thousand m3 more than in 2021. The main factors were that in 2021, water use was curtailed due to a period of shutdown at overseas manufacturing plants as a result of a lockdown caused by the spread of COVID-19, and in 2022, the plant operated for the full year, and there was a groundwater pipe break at Indonesian subsidiary PT. Kutai Timber Indonesia (KTI), which caused a major leak over a period of several days. Although the Group's overall water consumption increased compared to fiscal 2021, thorough water-saving measures at Sumitomo Forestry Crest's Imari Plant to recycle industrial water and the replacement of waste fluid treatment equipment have led to a steady reduction in water consumption. At the Mombetsu Biomass Electric Power, an activity target was set to reduce water consumption in production activities, and the monitoring and management of water consumption was strengthened. In the future, efforts will be made to reach the 2024 target figure of 2,777 thousand m3 or less.
Sumitomo Forestry conducts sample surveys of water used by partner companies at on-site construction of houses in fiscal 2015 to grasp the water consumption in the supply chain, which found the volume of water used per 1m² of floor area is approximately 0.0887m³.
Water Consumption* (consolidated)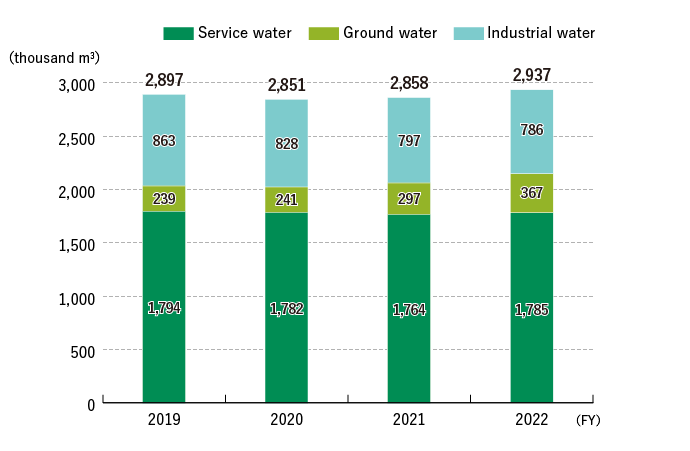 Water Consumption per Department*
Office Departments in Japan, etc.
(Unit: 1,000m3)
Plants and Power Generation Business Departments in Japan
(Unit: 1,000m3)
Overseas Plants
(Unit: 1,000m3)
Total
(Unit: 1,000m3)
FY2020
FY2021
FY2022
FY2020
FY2021
FY2022
FY2020
FY2021
FY2022
FY2022
Service water
81
87
80
1,359
1,337
1,341
342
340
364
1,785
Ground water
42
52
54
10
8
8
189
238
305
367
Industrial water
120
113
124
419
431
416
288
253
246
786
Total
243
252
258
1,788
1,776
1,765
820
831
912
2,937
*Covers sites where actual water consumption is measurable, such as at buildings owned by the Sumitomo Forestry Group.
Efforts in Sumitomo Forestry Crest
The Imari Plant of Sumitomo Forestry Crest, which manufactures such products as synthetic resin adhesives, uses industrial water to cool its manufacturing equipment. Afterwards, this water is reused to dilute factory wastewater and for other purposes as a water-conservation measure. In addition, from fiscal 2018, wastewater (coagulation sedimentation treated water) is further treated biologically to control the amount of water necessary for dilution for factory wastewater water quality management. This and other new water-saving measures led to an industrial water usage of 54,750m3 in fiscal 2022, a 63% decline compared to fiscal 2018.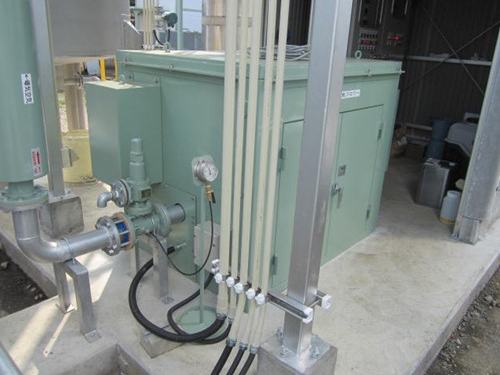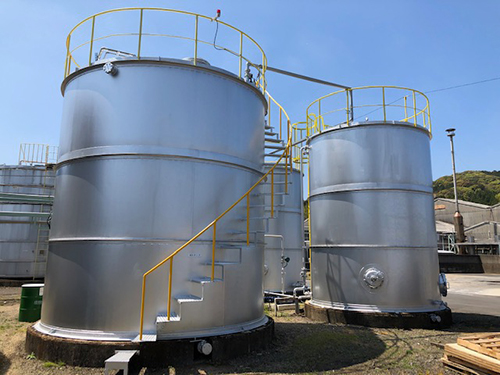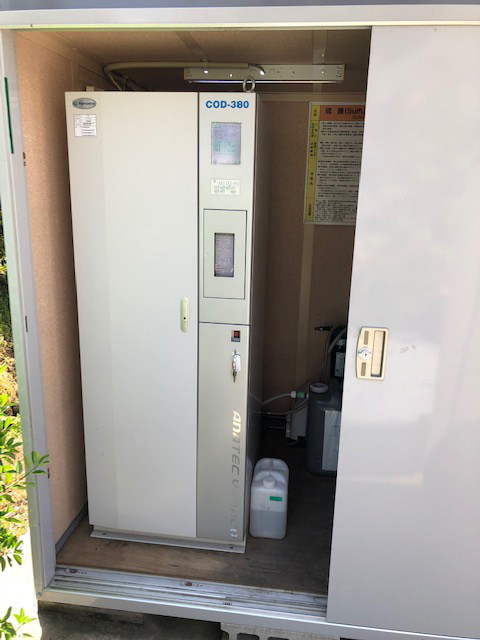 Measures Used at the Sumitomo Forestry Crest's Imari Plant for Saving Water
・Subjecting waste water (after processing for coagulating sedimentation) to further biological processing*1 makes it possible to restrict the water used for dilution in plant waste water quality management (approximately 350m3/day).
・Maintain water-quality control by measuring COD*2 and treat wastewater using only the minimum amount of water necessary.
・After water is used to cool manufacturing equipment, it is used to dilute plant waste water.
・Improve the proportion of rainwater used, such as by upgrading the pumps used for collecting rainwater.
*1Beneficial microorganisms are supplied with air (oxygen), whereupon they absorb and break down organic substances, lowering COD values.
*2Chemical Oxygen Demand (COD): An indication of the amount of oxygen required to oxidize an organic compound in water; one of the most important indicators of water quality.
Participation in Relevant Incentives
The Sumitomo Forestry Group provides answers to the CDP Water Security questions and discloses more detailed information about efforts on risks related to water since fiscal 2017.
Efficient Use of Water Resources