Business initiatives that contribute to regional revitalization
Business initiatives that contribute to regional revitalization
Business initiatives that contribute to regional revitalization
Contributions to Regional Revitalization Through Our Business
Sumitomo Forestry Group aims to create value for shared benefit by addressing social and environmental issues through integration of Group resources and existing businesses.
Contributions to Regional Revitalization Through Our Business
Sumitomo Forestry Group is participating in lodging and accommodations business of "VISON", one of the largest commercial facilities in Japan, which just opened as a new enterprise tied to regional revitalization in Taki-cho, Mie Prefecture. As joint venture of Vison Hotel Management Co., Ltd., in which Sumitomo Forestry, H.I.S. Hotel Holdings Co., Ltd. and Aqua Ignis Co., Ltd., HOTEL VISON and Hatago VISON was opened in 2021.
In the Taki-cho, Mie Prefecture, which is blessed with bountiful seafood from the mountains and sea, VISON HOTELS is located next to "VISON", one of Japan's largest commercial complexes, where tourists may enjoy health, food, and knowledge. There are a total of 201 rooms at the hotel, including 6 villas, 155 hotel rooms, and 40 inn rooms. Guests staying at the hotel have access to various restaurants, shopping, and hot bath facilities, allowing them to fully enjoy their trip within "Vision". Sumitomo Forestry Group positions this project, an industry-government-academia project for regional revitalization, as a model for circular local communities and a recycling-oriented community and town. The development and operation of the accommodation facilities will increase the number of tourists and other visitors to the area, resulting in the local economy being revitalized and new jobs being created. Taking this opportunity, we will promote initiatives for regional development by harnessing know-how of existing businesses while effectively utilizing the distinctive resources and culture of the region.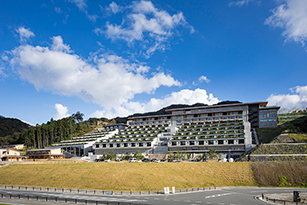 Click here for related information
Renovating to Improve Asset Value
Sumitomo Forestry Group has completed an extension to storage room of Setsuryosha Museum of Art in collaboration with K & E Co., Ltd. of Kumagai Gumi Group. The Setsuryosha Museum of Art established by the Arts Growth Foundation "Setsuryosha," founded by KOMERI Co., Ltd., a nationwide home improvement retailer, is a purely Japanese-style art museum that debuted in Niigata City in 1994. The museum exhibits works of art collected by Mr. Kenichi Sasage, who was the president of KOMERI Co., Ltd. at the time of the opening of the museum. Originally, plans were underway to create a home improvement center on this land, but when it was revealed that it was the original location of Shinran Shonin's "Yakifuna" (Burned fish), it was determined to build a Japanese garden and an art museum to preserve this historically significant site.
"Setsuryosha Firenze Prize Exhibition" is annually held by the Setsuryosha Museum of Art, to discover young exceptional artists working in Japan. The museum was asked to expand the storage room on the Hasuike Pond on the east side of the museum, due to a lack of storage space, resulting in the realization of an unusual national "Architecture on the Pond". The exterior view features "Namako Walls" and impressive eaves that were faithfully reproduced to match the existing buildings, while the interior is elaborately decorated with solid paulownia wood to manage humidity. Despite the unusual circumstances, the project was completed after a bit more than nine months of construction.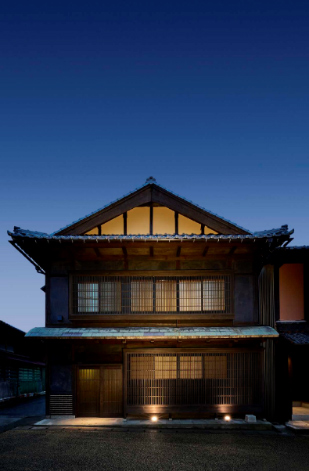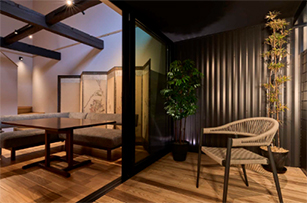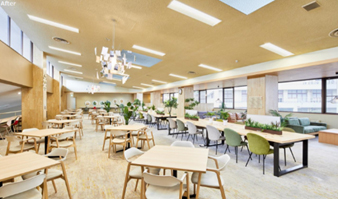 Business initiatives that contribute to regional revitalization