Utilization of Sustainable Forest Resources
Utilization of Sustainable Forest Resources
Utilization of Sustainable Forest Resources
Timber and Building Materials Business Initiatives
Promotion for Sales of Environmentally-conscious KIKORIN-PLYWOOD
Sumitomo Forestry Group has set a target for the percentage of procurement of imported wood board products, such as plywood, that are made of certified forest timber and planted forest wood, and has been working to expand sales of these products. Among these products, JAS Plywood that uses 50% or more FSC-certified or PEFC-certified timber and sustainable planted forest wood is marketed as "KIKORIN-PLYWOOD," and some of its revenue is invested in forestry business implemented in Indonesia. This product made using 50% or more certified timber or planted forest wood, was praised as being environmentally conscious. It received an encouragement prize in the 1st EcoPro Awards* on September 12, 2018. Sales performance in fiscal 2020 (April to December) are 42,051 m3. From fiscal 2021, the definition of "KIKORIN-PLYWOOD" has aligned with Sumitomo Forestry Group's Wood Procurement Standards as "plywood using 100% of sustainable certified timber," and we will strive to further expand sales. Sales performance in fiscal 2021 (January to December) under new definition are 313,280 m3.
* Hosted by the Japan Environmental Management Association for Industry. It was established in fiscal 2004 in order to help further develop and spread the use of Japanese eco-products by broadly communicating information about eco-products among current and prospective clients while also supporting the efforts of the relevant suppliers. The EcoProducts Awards were renovated in fiscal 2018, now presented as the EcoPro Awards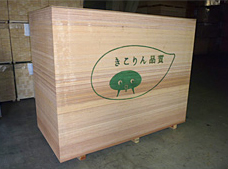 Exporting Japanese Timber
Overseas demand for wood is forecast to grow in emerging countries including China propelled by economic development and population growth. Under these circumstances, Japanese timber exports have also been on the rise in recent years, and a target of 300,000 m3 has been set for Japanese timber export volume to be reached in fiscal 2025 as we explore overseas market opportunities for Japanese timber.
In fiscal 2021, the second half of the year was significantly affected by demurrage at Chinese ports due to coronavirus disease(COVID-19), power shortages in China, and the real estate development economic decline caused by the Evergrande Group management crisis issue, but in the first half of 2021, we were able to take over the recovery of market conditions in the Chinese market in fiscal 2020 due to the early cessation of infectious diseases. As a result, the exports of Japanese timber increased by 15.7% from the last half to 142,000 m3.
In fiscal 2022, although problems such as the demurrage problem and soaring container freight rates will still be apparent, China's trade situation is such that the U.S. market is their largest target, and if the quarantine system is improved as a border control after the Beijing Winter Olympics, more export volume is expected than that in fiscal 2021.
Export Results of Japanese Timber*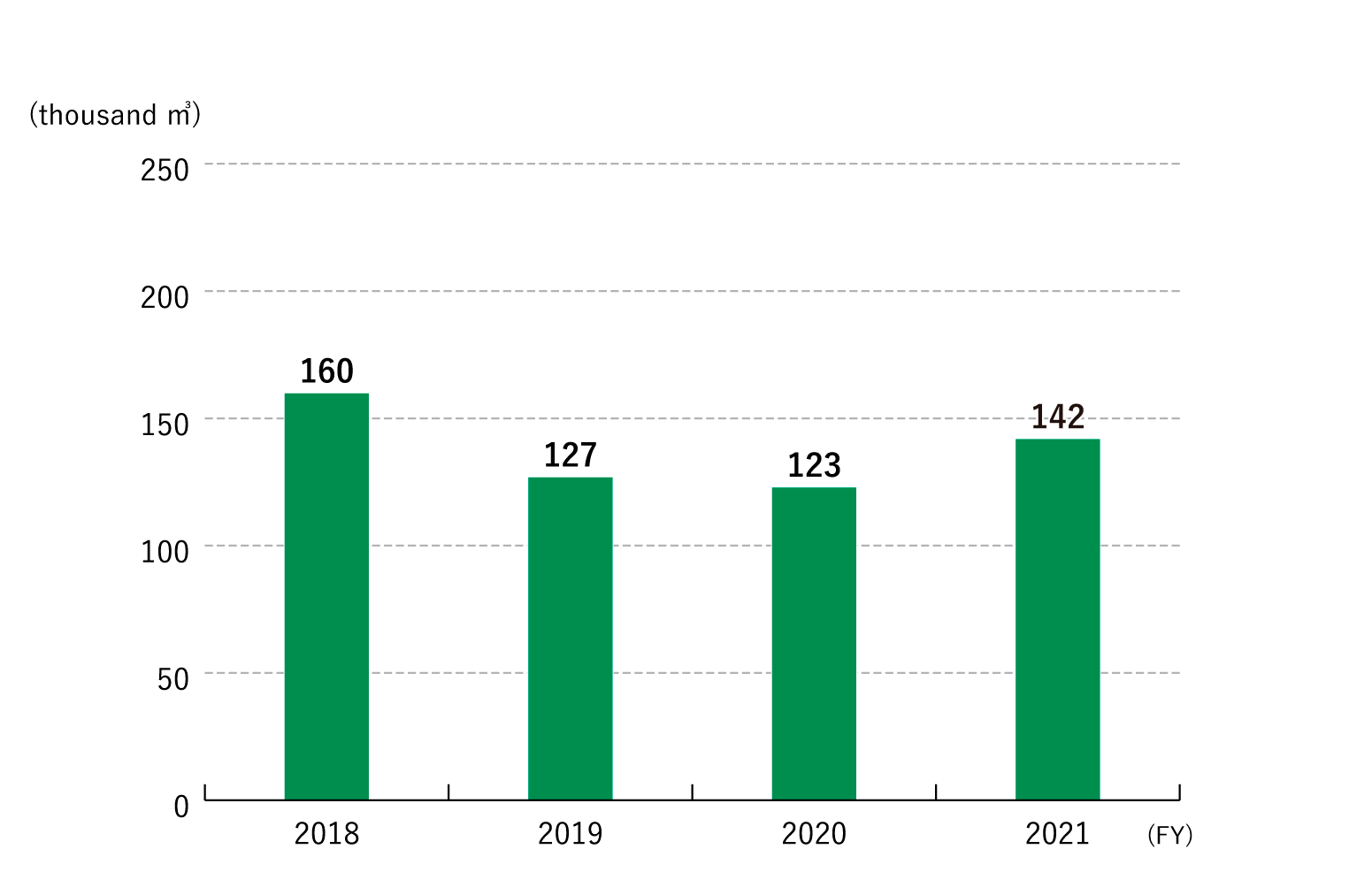 * The aggregation period for fiscal 2021 is from January to December 2021, the aggregation period for fiscal 2020 is from April to December 2020, and the aggregation period before fiscal 2019 is from April of each year to March of the following year.
Promoting the Use of Certified Timber
The most important aspect of selling certified timber is managing the procurement of certified timber separately from other types of timber. With CoC certification, because we are inspected by a third party, we are able to guarantee that timber and other products are from certified forests and sell them to our customers.
The Sumitomo Forestry Group is working to expand the amount of certified timber it handles with the goal of handling only sustainable timber and timber products by the end of 2021. Sales performance in fiscal 2021 was 284,494 m3, a 31% increase over fiscal 2020 in terms of average monthly sales volume.
Recycling of Wood Resources into Chips
The Sumitomo Forestry Group contributes to resource recycling through its wood chip operations, whereby offcuts generated during the wood milling process and wood waste from new housing construction and demolition sites are turned into wood chips to be used as a raw material for products such as paper and particle board, and also as a fuel for power-generating boilers or other equipment.
In the future, we aim to further increase the volume we handle for use as fuel in order to meet the growing demand for fuel used in biomass power generation.
Handling Volume of Wood Chips*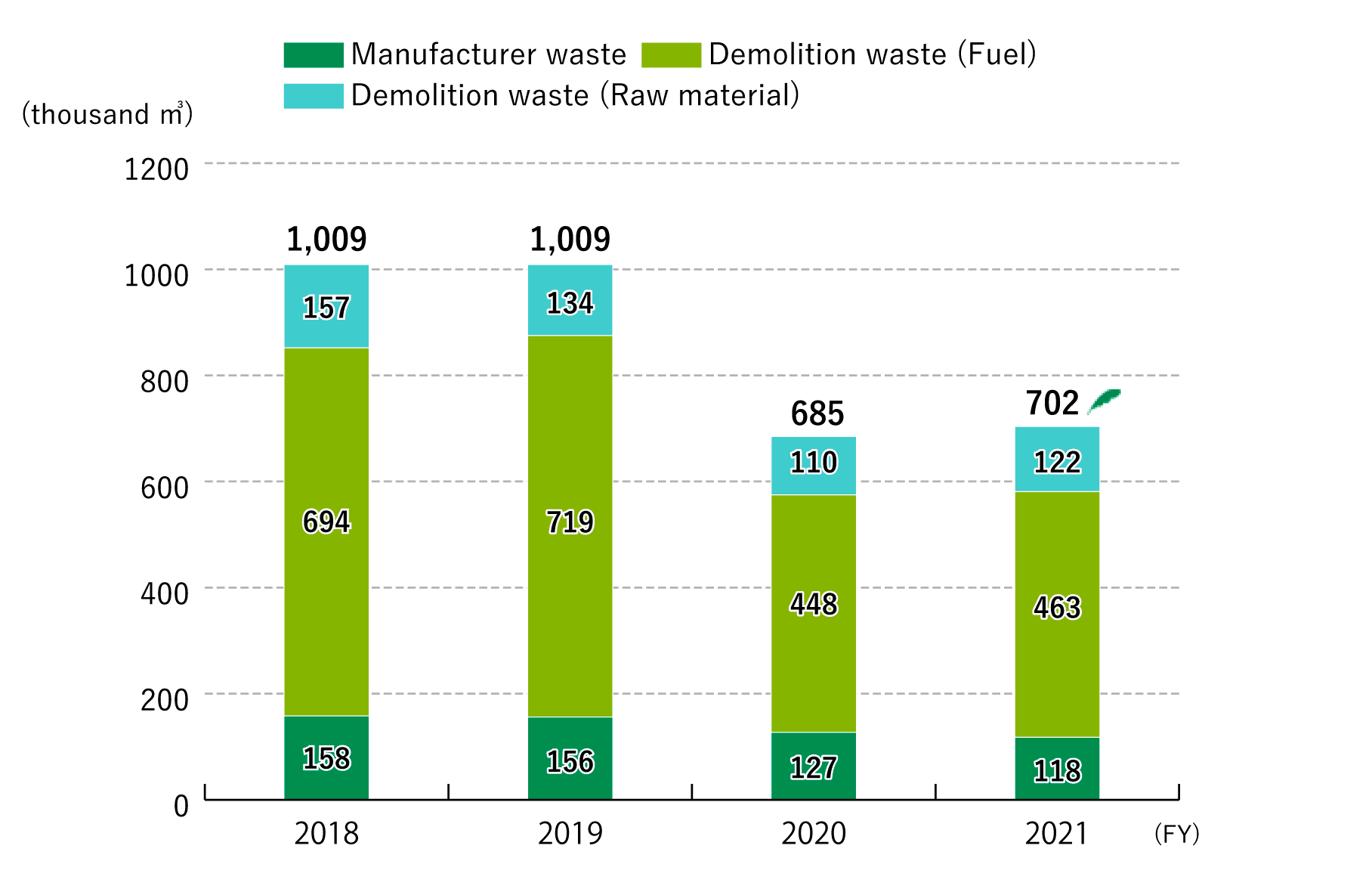 * The aggregation period for fiscal 2020 onwards is January to December of each year, and the aggregation period before fiscal 2019 is April of each year to March of the following year.
Click here for related information
MOCCA (Timber Solutions) Business Initiatives
Sumitomo Forestry has been engaging in forest management for more than 330 years. In addition, we create living spaces which take advantage of wood through our expertise in the various properties of wood worldwide. The development of a truly broad scope of experience, knowledge and technology promotes the MOCCA (Timber Solutions) Business specialized in proposing wooden non-residential medium- to large-scale construction. In 2017, Sumitomo Forestry entered into a business and capital alliance with Kumagai Gumi Co., Ltd., which possesses a proven track record in numerous construction results worldwide in the civil engineering and construction fields. In 2020, we welcomed Cohnan Kensetsu Inc. with expertise in order and construction management of steel frame and steel concrete construction to the Sumitomo Forestry Group. These partnerships will expand medium- to large-scale non-residential wooden construction by building on the strengths of Sumitomo Forestry, such as wood construction and technologies to more broadly use wood for both interiors and exteriors. The MOCCA (Timber solutions) business will also contribute even more to the realization of a sustainable society in harmony with the environment and economy by sharing a culture of wood and revitalizing forestry.
Medium- to large-scale Wooden Constructions Brand "with TREE"
In 2021, Sumitomo Forestry and Kumagai Gumi launched the "with TREE," a brand of medium- to large-scale wooden constructions. The concept is "architecture good for both the environment and your health." We provide new value created by "wood" in urban architecture and promote MOCCA (Timber Solutions) business in medium- to large-scale constructions. The project will combine Sumitomo Forestry's knowledge of forests and wood with Kumagai Gumi's knowledge of steel frame, RC, and large-scale construction to strengthen the cooperative framework. We have launched this brand as an initiative in the field of medium- to large-scale wooden constructions, which has been the mainstay of our collaboration since the business and capital alliance in 2017, and we will propose to enhance "environmental value" and "health value" from material procurement to construction and consulting.
Initiative Examples
Co-starring of Hospitality with Natural Wood and Fresh Hot Spring Water
Katsuragi Koto no Niwa Onsen Ryokan (Japanese-style Hotel)
Located adjacent to the Dogo Onsen Honkan , a national important cultural property, this hotel inherits the history and culture of Dogo region and focuses on the natural blessings of wood and hot springs. The architectural concept is "namaki" meaning natural wood. All 10 rooms were designed as guest rooms with open-air baths, aiming co-starring of the wish to offer authentic feel and scent of the wood and "namayu" (fresh hot spring water) flowing directly from the source.
We use an abundance of high-quality domestic cypress and cedar trees grown in Ehime Prefecture, and we also carefully pass down the culture of local production for local consumption.
The Dogo Onsen Honkan began reconstruction work in 1890 by the first mayor with the belief of creating something that could not be imitated even 100 years later. We call it the texture of "Tokimi-iro" color tone, based on the idea of the wood's beauty over time. We hope that this facility will be "Tokimi-iro" in color tone and texture in a hundred years, and assimilate as part of the stately scenery of Dogo.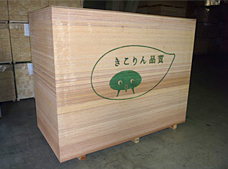 Wooden Construction and Wood Conversion of Fast Food Stores
Sumitomo Forestry performed wooden construction of 17 fast food stores in fiscal 2021.
In accordance with Sumitomo Forestry's proposal, the pillars of the structural frame are made of laminated cedar wood, utilizing domestic timber. We were in charge of structural design and wooden frame construction, such as utilizing laminated veneer lumber (LVL) manufactured by Nelson Pine Industries (NPIL) in New Zealand for the beams. In addition, the wood louvers installed on the exterior were treated with Sumitomo Forestry's original S-100 paint (silicone-based strong water-repellent paint) and AZN dry-type wood preservation treatment to improve weather resistance and durability. As of December 2021, a cumulative total of 316 retail properties have been performed wood construction with such proposals.
Even after becoming a product, wood continues to fix CO2 as carbon. Compared to the use of steel frames or reinforced concrete for pillars and beams, it also leads to a reduction in CO2 emitted from the store over its entire life cycle, from material procurement to construction, renovation, demolition, and disposal.
Sumitomo Forestry will further promote the expansion of wood utilization by providing integrated services from wood procurement to supply and construction.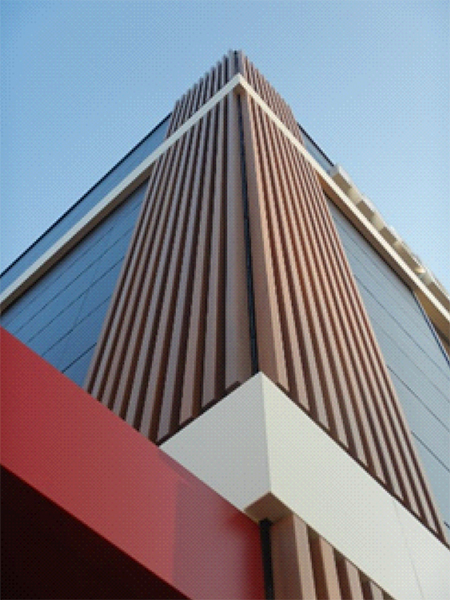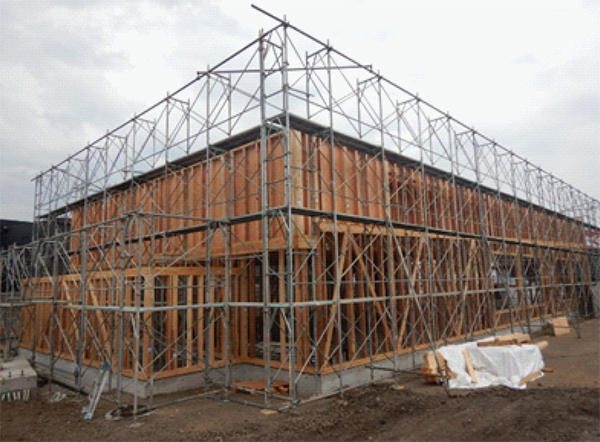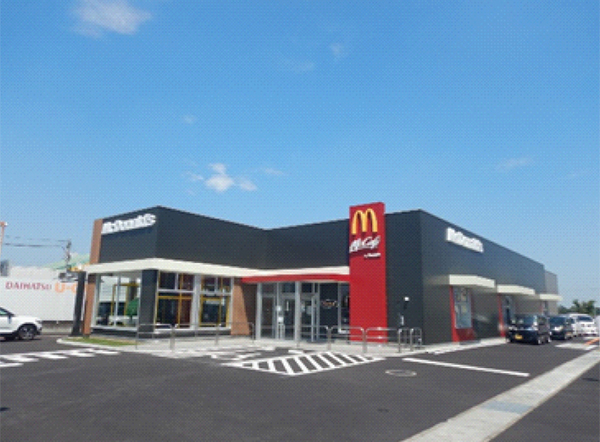 Participated in the 15-story Wooden Office Development Project, which is the Tallest Building in Melbourne, Australia
Sumitomo Forestry, together with NTT Urban Development Corporation, has launched initiatives to realize net zero carbon buildings*1 through Hines, a leading global developer.
The project that will serve as a stepping stone to this goal is a large-scale wooden office to be constructed in Collinwood, a suburb of Melbourne, Australia. The building is a mixed structure of RC and wood with 15 floors above ground and two floors below (all floors above the 6th floor to be made of wood), and is expected to be the tallest*2 wooden office building in Melbourne, Australia. Construction is scheduled for completion in 2023.
Through this project, in addition to achieving the highest level of Green Star environmental certification in Australia (6 stars), we aim to obtain Net Zero Carbon certification based on the Carbon Neutral Standard for Building, an Australian standard. We also estimate that approximately 4,000 m3 of wood will be used in the structural frame, fixing approximately 3,000 tons of carbon (on a CO2 basis). Including this fixed amount, the CO2 (Embodied Carbon) emitted during the construction of the building (in the process of raw material procurement, manufacturing, construction, demolition, etc.) is equivalent to a reduction of approximately 40% compared to the case where the entire structure is made of RC (reinforced concrete).
This project is an advanced development that combines the effective utilization of wood, which has carbon-fixing functions, with energy conservation, energy creation, and renewable energy use in buildings to achieve the WGBC*3 goal of zero operational carbon in all new buildings by 2030, seven years ahead of schedule.
*1 The building is designed to save or create energy, and CO2 (operational carbon) emissions from building use are reduced to virtually zero through a combination of renewable energy use and offsets using carbon credits.
*2 Based on research by Wood Solutions, an organization affiliated with the Australian Government (as of June 2021)
*3 WGBC: World Green Building Council, a member of the UN Global Compact and a global action network of about 70 green building councils around the world
Toward the Future -Aiming for the Timberized Eco City with W350 Plan
Sumitomo Forestry Group announced its W350 Plan in 2018. The W350 Plan is a research and technological development roadmap aiming to realize a Timberized Eco City symbolized by a wooden high-rise building by 2041, the 350th anniversary of the company's foundation, in which the city is transformed into a forest. This plan is intended to realize future technologies such as building construction methods, environmentally conscious technologies, and the development of wood for building materials and resources that contribute to people's lives, society, and the global environment.
The new three-story wooden research building completed in 2019 at the Tsukuba Research Institute will help further this plan as a research and development base.
Toward Realizing Timberized Eco City
Managed mainly by Tsukuba Research Institute, a research and development center of Sumitomo Forestry, the W350 Research and Technological Development Plan is a roadmap for future technologies including the development of building construction methods, environmentally conscious technologies, and wood for building materials and resources, to expand the possibilities of wood as a natural resource as well as wooden structures.
This plan of realizing Timberized Eco City will revitalize the forestry industry with increased demand of wood and mitigate climate change with increased CO2 fixation, etc.; thus, we will contribute to invigorate the community and to realize coexistence with the global environment.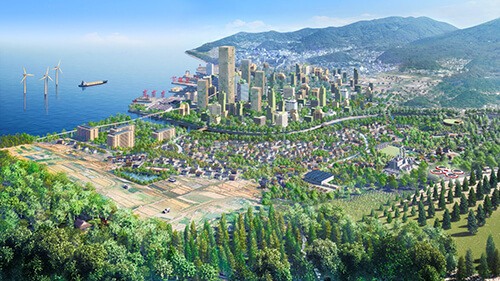 Partially Implementing the Results of the W350 Plan in Society
Sumitomo Forestry's Post Tension Earthquake Resistance Technology*, one of the new technologies related to wood structures used in the new research building at the Tsukuba Research Institute, has been adopted in Building 15 at Sophia University, which Sumitomo Forestry was contracted to design and construct.
Sophia University Building No. 15 adopted load-bearing walls with this post-tensioning earthquake-resistant technology and reduced the wall length to 1/4 of the original plan, thereby contributing to the realization of an open space and cost reduction. In addition, since the load-bearing walls do not bear vertical loads, the wood of the frame can be exposed, contributing to the comfort and productivity of users through wood interiors. This three-story fireproof wooden structure made of Japanese timber reduces CO2 emitted during construction and other processes, including the procurement of raw materials, their transportation, and the processing of materials. The construction of this facility will lead to the "transform cities into forests," contributing to the achievement of the SDGs and the realization of a decarbonized society.
As a future development, we will expand our knowledge by participating in a shaking table test of a full-scale 10-story wooden building with post-tensioning seismic technology to be conducted in the United States in 2022.
* Technology to increase the fixation degree between members by applying tensile force to high-strength steel rods or wire ropes that are passed through load-bearing members.
Outline of Building No. 15, Yotsuya Campus, Sophia University
Location: parts of 6-16, 6-17, and 6-18, respectively, Kojimachi, Chiyoda-ku, Tokyo
Building area: 163.05m²
Floor area: 478.35m2 1F: 154.43m2 2F: 163.05m2 3F: 160.87m2
Structure: 3-story wooden structure, fireproof *post-tensioning earthquake-resistant technology, "Kigurumi FR" is adopted.
Application: Schools, restaurants and stores
Design: Building Market Development Department (currently Building Division), Sumitomo Forestry Co., Ltd.
Construction: Building Market Development Department (currently Building Division), Sumitomo Forestry Co., Ltd.
Construction period: Start of construction May 2021 Completion April 2022
Use of Japanese timber in housing products of housing and construction business
Sumitomo Forestry houses are mainly built using the BF (Big Frame) and MB (Multi-balance) construction methods. In fiscal 2021, the percentage of domestically produced structural members and hagarazai (relatively small-diameter lumber used to supplement or underlay structural members) per building for these two construction methods was 50% for the BF construction method and 71% for the MB construction method (calculated based on model plans).
Utilization of Sustainable Forest Resources