Utilization of Sustainable Forest Resources
Utilization of Sustainable Forest Resources
Timber and Building Materials Business Initiatives
Promotion for Sales of KIKORIN-PLYWOOD
Sumitomo Forestry Group has set a target for the percentage of procurement of imported wood board products, such as plywood, that are made of certified forest timber and planted forest wood, and has been working to expand sales of these products. Among these products, JAS Plywood that uses 50% or more FSC-certified or PEFC-certified timber and sustainable planted forest wood is marketed as "KIKORIN-PLYWOOD," and some of its revenue is invested in forestry business implemented in Indonesia. This product made using 50% or more certified timber or planted forest wood, was praised as being environmentally conscious. It received an encouragement prize in the 1st EcoPro Awards* on September 2018. From fiscal 2021, the definition of "KIKORIN-PLYWOOD" has aligned with Sumitomo Forestry Group's Wood Procurement Standards as "plywood using 100% of sustainable certified timber," and we will strive to further expand sales. Sales performance in fiscal 2022 (January to December) under new definition are 298,692 m3.
* Hosted by the Japan Environmental Management Association for Industry. It was established in fiscal 2004 in order to help further develop and spread the use of Japanese eco-products by broadly communicating information about eco-products among current and prospective clients while also supporting the efforts of the relevant suppliers. The EcoProducts Awards were renovated in fiscal 2018, now presented as the EcoPro Awards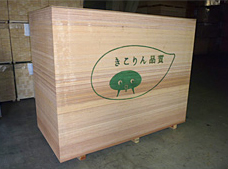 Utilization of Japanese Timber
Due to economic development and population growth in China and other emerging countries, demand for wood overseas is expected to increase over the long term. In Japan, the public and private sectors are working together to increase the self-sufficiency rate of domestic timber in order to achieve carbon neutrality and a decarbonized society by 2050.
Against this backdrop, the Sumitomo Forestry Group is working to increase the volume of domestic timber logs handled by utilizing its ports of loading and unloading. Specifically, in addition to exporting logs, we are increasing opportunities to sell them to domestic sawmills, plywood mills, biomass power generation plants, and paper mills by domestic vessels*.
In fiscal 2022, we handled 218 thousand m3 (118 thousand m3 for export and 100 thousand m3 for domestic sales), an increase of 9% over the previous year. In this way, we aim to increase the volume of domestic timber logs handled while keeping a close eye on changing market demands both domestically and internationally.
Although the Group still faces the effects of global inflation, rising interest rates, and economic stagnation in the major timber markets of the USA and China in fiscal 2023, we aim to increase overall handling volume by responding to domestic demand in a timely manner with domestic vessels, while keeping a close eye on exports to the rapidly changing Chinese market by sharing information more closely within the Group.
* Transportation between ports in Japan
Exporting Japanese Timber
Regarding the export volume of Sumitomo Forestry Group's domestic timber logs, the first half of fiscal 2022 saw a steady increase due to the return of demand for housing exteriors products such as fences for the USA market. In the second half of the year, however, export volumes grew at a sluggish pace due to the deteriorating real estate market in China and the economic turmoil and infection spreading due to the tightening and opening of the zero-COVID policy. As a result, the export volume of domestic timber logs in fiscal 2022 was 118 thousand m3 , a 16.9% decrease from fiscal 2021.
Handling Results of Japanese Timber*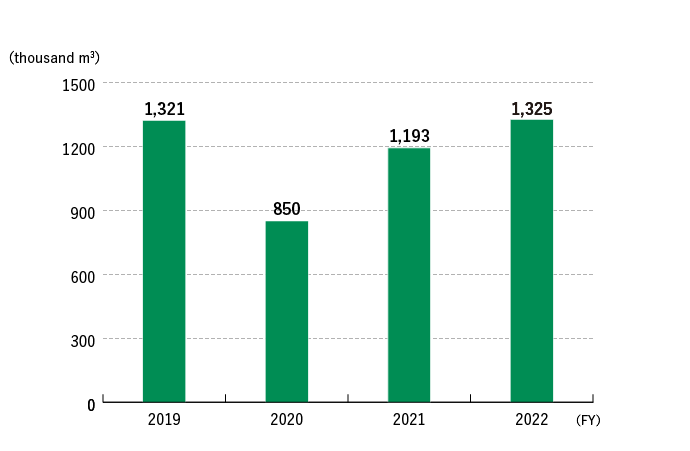 * The number of logs and lumber handled. The aggregation period after fiscal 2021 is from January to December 2021 of each year, the aggregation period for fiscal 2020 is from April to December, and the aggregation period for fiscal 2019 is from April to March of the following year
Initiatives to Promote the Use of Domestic Timber in Kyushu
In February 2022, Sumitomo Forestry concluded a basic location agreement with Shibushi City, Kagoshima Prefecture, regarding business verification in the city. This Shibushi project is the first step toward the establishment of a timber industrial complex, which is Sumitomo Forestry's concept for promoting wood change.
In 2020, wood shortages and soaring prices – in other words, a wood shock, occurred globally due to increased demand for housing construction in the United States and a container shortage caused by the spread of coronavirus disease (COVID-19). Japan, which relies on imports for approximately 60% of its timber supply, is greatly affected by imports in terms of both price and volume, making the promotion of the use of domestic timber a national challenge. In order to promote the use of domestic timber, it is necessary to establish a stable supply system that will ensure business profitability for everyone from forestry workers to timber manufacturers, processors, and builders.
In order to solve these issues, Sumitomo Forestry is considering the construction of a new plant to process low-grade timber*, which is currently exported as logs from the Port of Shibushi, into added value products, aiming for a stable supply to the domestic market and export of products from the Port of Shibushi to Asia and North America, as well as the construction of biomass power generation plant.
By establishing a timber industrial complex based on the cascade use of domestic timber, Sumitomo Forestry will raise productivity of its timber manufacturing and ensure a stable supply of timber products, thereby strengthening its price competitiveness. In addition, we will promote the creation of employment opportunities for forestry workers by increasing the added value of wood, the use of domestic timber, and contribute to decarbonization by increasing the period of carbon storage.
* Timber that cannot be used for lumber or plywood due to size, crook, knots, rottenness, etc. and is exported.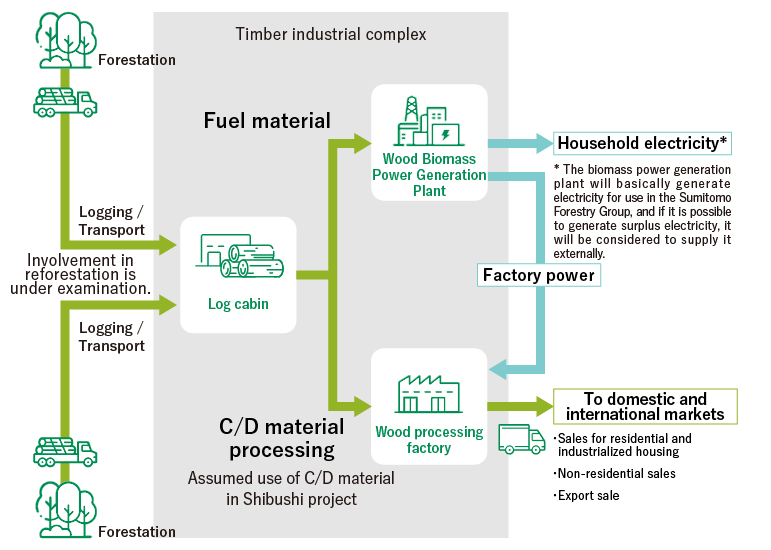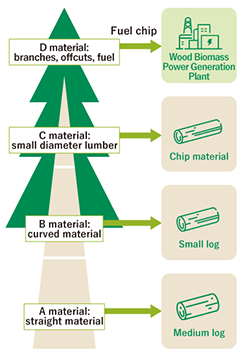 Promoting the Use of Certified Timber
The most important aspect of selling certified timber is managing the procurement of certified timber separately from other types of timber. With CoC certification, we are able to guarantee that timber and other products are from certified forests and sell them to our customers, because we are inspected by a third party.
Click here for related information
Recycling of Wood Resources into Chips
The Sumitomo Forestry Group contributes to resource recycling through its wood chip operations, whereby offcuts generated during the wood milling process and wood waste from new housing construction and demolition sites are turned into wood chips to be used as a raw material for products such as paper and particle board, and also as a fuel for power-generating boilers or other equipment.
As demand for the supply of fuel for biomass power generation continues to rise, we aim to further expand the handled volume of fuel applications by using not only offcuts and wood waste but also thinnings and other unused forest resource.
Handling Volume of Wood Chips*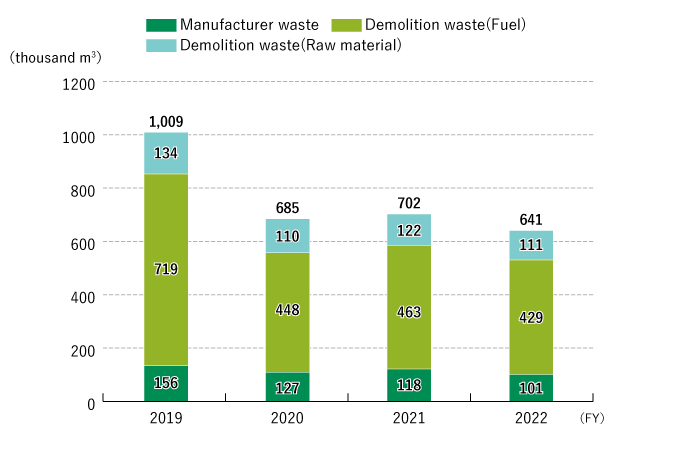 * The aggregation period for fiscal 2020 onwards is January to December of each year, and the aggregation period fiscal 2019 is April to March of the following year.
Click here for related information
Medium to Large-Scale Wooden Construction Business Initiatives
Sumitomo Forestry has been engaging in forest management for more than 330 years. In addition, we create living spaces which take advantage of wood through our expertise in the various properties of wood worldwide. The development of a truly broad scope of experience, knowledge and technology promotes the Construction (Timber Solutions) Business specialized in proposing wooden non-residential medium- to large-scale construction. Trees absorb CO2 from the atmosphere through photosynthesis and continue to fix it as carbon even after being harvested as wood products, so expanding the use of wood in this way will contribute to building a decarbonized society. In recent years, in 2017, Sumitomo Forestry formed a business and capital alliance with Kumagai Gumi, which has a large number of construction achievements in the civil engineering and building business fields in Japan and abroad. In 2021, we integrated Cohnan Kensetsu Inc. into the Group, which has expertise in steel/reinforced concrete construction and management of construction. Combining their expertise with Sumitomo Forestry's wooden constructions and interior/exterior use of wood technologies, we will expand into medium- to large-scale wooden constructions and other non-residential fields. The MOCCA (Timber solutions) business will also contribute even more to the realization of a sustainable society in harmony with the environment and economy by sharing a culture of wood and revitalizing forestry.
Medium- to large-scale Wooden Constructions Brand "with TREE"
In 2021, Sumitomo Forestry and Kumagai Gumi launched the "with TREE," a brand of medium- to large-scale wooden constructions. The concept is "architecture good for both the environment and your health." We provide new value created by "wood" in urban architecture and promote MOCCA (Timber Solutions) business in medium- to large-scale constructions. The project will combine Sumitomo Forestry's knowledge of forests and wood with Kumagai Gumi's knowledge of steel frame, RC, and large-scale construction to strengthen the cooperative framework. We have launched this brand as an initiative in the field of medium- to large-scale wooden constructions, which has been the mainstay of our collaboration since the business and capital alliance in 2017, and we will propose to enhance "environmental value" and "health value" from material procurement to construction and consulting.
Initiative Examples
Construction of "with TREE" Started in Sapporo
In June 2022, Sumitomo Forestry and Kumagai Gumi began construction of a fire-resistant wooden building with 10 stories above ground and 1 below (KAGA Project) in Sapporo, the first "with TREE" brand of medium- to large-scale wooden construction. As of December 2022, construction has been completed. The upper floors will be made of hybrid laminated engineered wood, and Hokkaido Japanese larch will be used as cladding for pillars and beams to help revitalize the domestic forestry industry. Trees absorb CO2 from the atmosphere through photosynthesis and continue to fix it as carbon even after being harvested as wood products. Sumitomo Forestry will contribute to the realization of a decarbonized society through woodification and use of wood of medium- and large-scale buildings.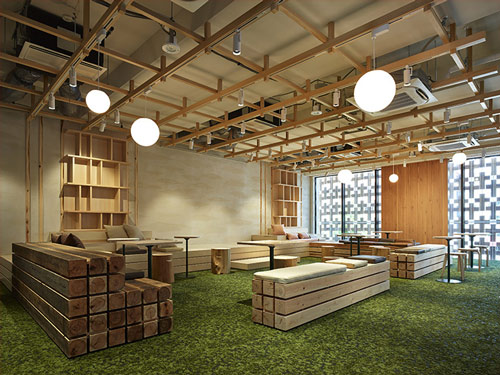 Building No. 15, Yotsuya Campus, Sophia University Completed
Building No. 15, Yotsuya Campus, Sophia University, designed and constructed by Sumitomo Forestry, was completed in June 2022.
The three-story wooden, fire-resistant structure reduces CO2 emissions during the manufacture of materials for the structural framework compared to similar facilities built with general reinforced concrete or with steel frames*1 by 15% and 20% respectively. The structural framework uses 111.85 m3 of wood and stores about 84 tons of carbon (on a CO2 basis), equivalent to the carbon storage of about 280 trees*2 of 40-year old Japanese cedar. This facility will lead to the "transform cities into forests," contributing to the achievement of the SDGs and the realization of a decarbonized society.
In January 2023, the facility received an Encouragement Prize at the Wood City TOKYO Model Architecture Award.
*1 The number of members of the facility's structural framework was calculated based on structural calculations when the facility's structural framework was made of reinforced concrete and steel, and the results were compared with the respective CO2 emissions calculations
*2 Forestry Agency's guidelines for calculation and indication of carbon storage of wood used for buildings Calculated with reference to Forestry Agency website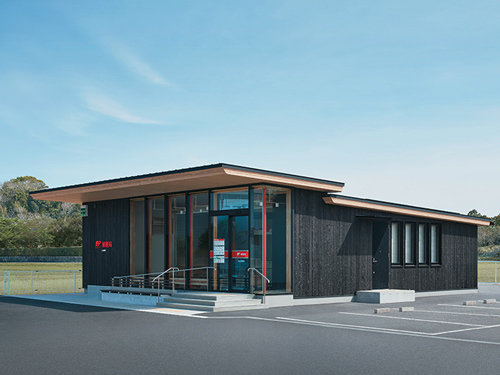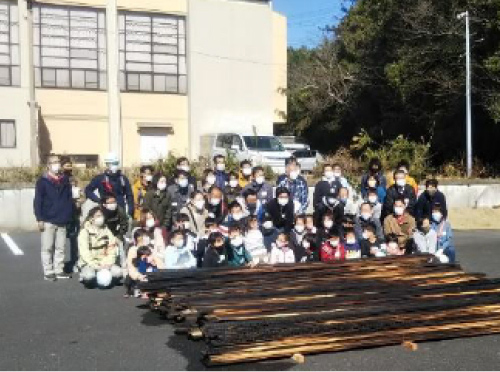 Click here for related information
Wooden Post Office with CLT
Sumitomo Forestry constructed Maruyama Post Office (Minamiboso City, Chiba Prefecture), the first post office in Japan to utilize cross-laminated timber (CLT)*1. Maruyama Post Office is the first of the environmentally sound post offices ("+ (Plus) Eco Post Offices") promoted by the Japan Post Group, which aims to achieve carbon neutrality, and opened in March 2022.
The exterior walls are made of "yakisugi*2" cedar wood produced in Chiba Prefecture. The building is loved by the community for its yakisugi production with local children as a workshop event.
In addition to utilizing "wood" as a recyclable resource, we have also installed a private power generation system using solar power.
The facility took home the Encouragement Award (Review Committee Chair Award) at the Japan Wood Design Award 2022.
*1 Cross-laminated timber. Thick panels made by laminating long planks of wood in alternating lengths and widths, providing superior strength and thermal insulation.
*2 A "burnt cedar board" is a wood board whose surface is burnt and carbonized. Its carbonized layer is fireproof, antiseptic, and termite-proof.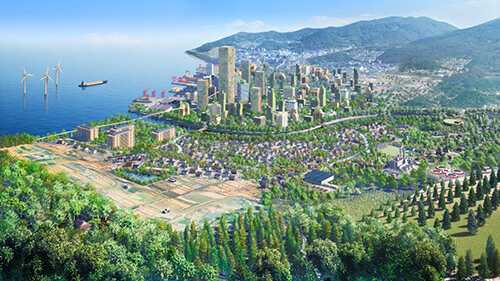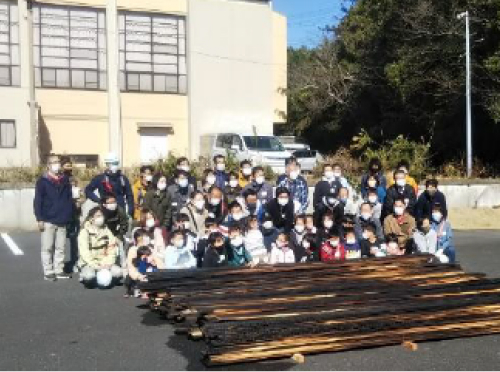 Click here for related information
Wooden Construction in Rest Area
The Izumiotsu rest area dedicated to large vehicles in Osaka Prefecture, constructed by Cohnan Kensetsu Inc., was completed in April 2022. This rest area is the first wooden structure of its kind built by Hanshin Expressway Company Limited, utilizing the former tollgate of the main line on the No. 4 Wangan Route of Hanshin Expressway.
The wood used for the structural framework is 58m3 which is equivalent to about 47 tons of carbon storage (on a CO2 basis). In addition, the walls are made of solid local Senshu Japanese cedar wood bricks and planks as interior finishing materials.
In the construction process, BIM* was utilized to enable all parties involved to share data on all members, joints, and joint angles between members of the frame, which have different 3D coordinates and angles. By visualizing and sharing each construction step from temporary construction planning, we are able to improve productivity and quality, as well as reduce material waste and environmental impact.
* Building Information Modeling. A system that reproduces a three-dimensional model (BIM model) of a building on a computer that is identical to the reality and uses it to create a better building. Workflow that creates 3D models with BIM tools and utilizes accumulated information from design to construction and maintenance to improve operational efficiency and generate innovation in architectural design.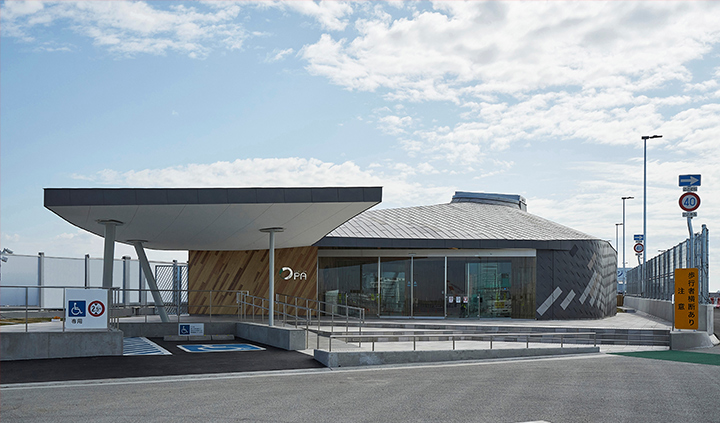 Research and development aimed at realizing a decarbonized society
The Sumitomo Forestry Group announced its W350 Plan in 2018 and Mission TREEING 2030 in 2022. In order to contribute to the achievement of Sumitomo Forestry's goal of decarbonization and the realization of a circular bioeconomy not only through housing and construction, but also through various upstream and downstream business activities centered on "wood", Tsukuba Research Institute will promote research and development with the aim of realizing a Timberized Eco City that turns cities into forests through various future technologies, including innovative construction technologies, new wood materials and new tree species.
By implementing the results of our research and development into society, we will revitalize the forestry industry with increased demand of wood and mitigate climate change with increased CO2 fixation, etc.; thus, we will contribute to invigorate the community and to realize coexistence with the global environment.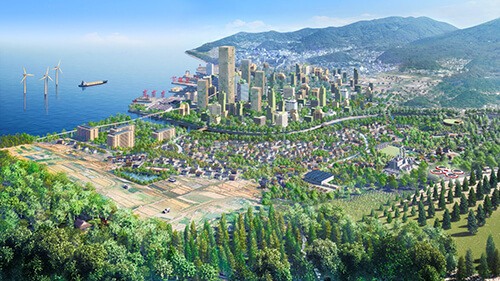 Partially Implementing the Results of R&D
One of the new technologies developed by Tsukuba Research Institute, a hybrid laminated engineered wood perforated beam*, of one-hour fire-resistant structure, has been adopted for the KAGA Project, which is under construction by a joint venture between Sumitomo Forestry and Kumagai Gumi.
The KAGA project is using hybrid laminated engineered wood on the 7th through 10th floors, and by using Hokkaido Japanese larch for the timber, the project is helping to revitalize the domestic forestry industry. The beams are made of hybrid laminated engineered wood perforated beams, which allow pipes to penetrate directly through the beams, thus ensuring a higher ceiling height than conventional hybrid laminated engineered wood beams, and increasing the degree of design freedom. It also eliminates the need to install bulky materials for equipment piping, leading to lower overall construction costs and expanded versatility.
The wood used for the facility's structural framework is 39.9 m3 , with about 31.8 tons of carbon storage (on a CO2 basis). This is equivalent to the amount of CO2 absorbed by a Japanese larch forest approximately 7.2 times the size of the planned site (139.05 m2). These facilities will transform the city into a forest and help create a decarbonized society.
* The new certification was jointly obtained by adding the beam penetration technology developed by Sumitomo Forestry to the one-hour fire-resistant certified beams of hybrid laminated engineered wood for which Japan Laminated Wood Products Association has obtained ministerial certification.
Utilization of Sustainable Forest Resources