Human Rights
Basic Policy
The Sumitomo Forestry Group formulated the Sumitomo Forestry Group Human Rights Policy in July 2019, participates internationally such as in the UN Global Compact and the World Business Council for Sustainable Development (WBCSD), complies with international human rights bills (Universal Declaration of Human Rights and International Covenants on Human Rights), the International Labour Organization (ILO) Core Labour Standards, the Ten Principles of the UN Global Compact and the United Nations Guiding Principles on Business and Human Rights. In addition, the "Sumitomo Forestry Group Code of Conduct", which is based on these international norms, states respect for human beings and the realization of a healthy workplace. In addition, the Code calls for the respect of the human rights of all individuals, including women, children, indigenous people, minorities and other socially vulnerable people and stipulates that there will be no discrimination whatsoever on the basis of race, ethnicity, nationality, gender, religion, ideology, disability, sexual orientation, gender identity or other. The Code also does not permit forced labor or child labor in any form.
Furthermore, the Sumitomo Forestry Group is permeating these policies and conducts proper assessments to ensure this same level of respect by business partners as well. We are also conducting human rights due diligence and respond to human rights risks in an effort to fully grasp and mitigate any risk to human rights.
Sumitomo Forestry Group Human Rights Policy
The Sumitomo Forestry Group respects the human rights of all people involved in our Group's operations and considers the respect for human rights a basic principle in all our activities. This thinking is rooted in Sumitomo's Business Spirit, which places prime importance on fairness and integrity for the good of society.
The Sumitomo Forestry Group Human Rights Policy (hereinafter, this Policy) has been formulated to further clarify the Group's thinking regarding the respect for human rights and to complement the Group's Corporate Philosophy, Action Guidelines, Code of Conduct, Procurement Policy and others.
A commitment to respect human rights
Based on the United Nations' Guiding Principles on Business and Human Rights, the Sumitomo Forestry Group respects human rights as defined by such international norms as the World Human Rights Declaration, the International Covenants on Human Rights (the International Covenant on Civil and Political Rights as well as the International Covenant on Economic, Societal and Cultural Rights), and the International Labor Organization (ILO) Declaration on Fundamental Principles and Rights at Work. The Group also strictly complies with all related laws in each of the countries it conducts business in.
In countries and regions that diverge from these laws and international norms, the Group strives to the greatest extent possible to undertake and prioritize initiatives that respect international norms.
Scope of application
This Policy applies to Sumitomo Forestry Co., Ltd., and its consolidated subsidiaries.
Furthermore, the Group asks all its business partners and other parties affiliated with the Group's operations to respect and not infringe human rights based on this Policy.
Measures related to the respect for human rights
● Human rights due diligence
The Sumitomo Forestry Group has created a human rights due diligence system, has incorporated it as a necessary process of our operations and applies it in an ongoing manner.
Human rights due diligence evaluates and identifies potential and actual human rights risks and takes measures to prevent or reduce those risks.

● Relief measures
If a Sumitomo Forestry Group operation has been found to have directly caused or participated in a situation that has had a negative impact on human rights, the Company shall undertake all necessary external and internal procedures and implement relief measures.
Furthermore, the Company shall create and maintain necessary mechanisms to handle grievances and evaluate the effectiveness of corrective and relief measures in an ongoing manner.

● Education
The Sumitomo Forestry Group shall conduct periodic and appropriate training for directors, employees and other parties to ensure that this Policy is integrated into the business activities of Sumitomo Forestry Co., Ltd., and all consolidated subsidiaries.

● Communication with stakeholders
Sumitomo Forestry Group shall communicate and discuss potential human rights risks, measures to counter actual influences and other related issues with relevant stakeholders.

● Information disclosure
To fulfill our reporting responsibilities, we shall disclose information and provide reports in a timely manner regarding initiatives based on this Policy and our response to potential or actual human rights issues.
President and Representative Director
Toshiro Mitsuyoshi
(Attachment)
Sumitomo Forestry Group Human Rights Material Issues
The following are the Group's material issues in relation to human rights as defined by international norms. These high priority issues may be reevaluated as appropriate according to changes in the Group's operations and state of society.
<Prohibition of discrimination>
Prohibition of discrimination on the basis of gender, age, nationality, ethnicity, race, birthplace, religion, belief, disability, sexual orientation, gender identity or other
<Workers' rights>
Prohibition of child labor and forced labor (including foreign and immigrant workers)
Respect for the freedom of association and collective bargaining
Prevention of low wage labor (labor below minimum or living wages)
Prevention of long work hours
Prohibition of power harassment and sexual harassment
Maintenance of labor safety
Maintenance of worker health (including mental health)
<Respect for the rights of vulnerable people related to our operations>
Respect for the rights of local residents and indigenous people of the regions where we operate
Respect for the rights of women, children, minorities, the elderly and others
Consideration of the environmental rights of future generations (sustainable forest management and other initiatives)
<Privacy>
Respect for the privacy and protection of personal information, including that of our customers and employees
Implementation of Due Diligence and Managing Important Risks
Through human rights due diligence, Sumitomo Forestry Group identifies factors that may have a negative impact on human rights and works to prevent or reduce them.
Internal Sustainability Survey of the Sumitomo Forestry Group
Since fiscal 2012, an Internal Sustainability Survey is conducted every year at each of the Group companies to review their sustainability initiatives including the human rights. The Sustainability Committee reports the survey results to the Board of Directors and improves the human rights due diligence process of each site. In fiscal 2021, the Sumitomo Forestry Group conducted a survey about implementation of human rights training and the setup of rescue help desks for 59 primary Group companies in Japan and overseas (29 companies in Japan and 30 companies overseas). As a result, we verified 50 of these companies are conducting human rights training and 47 have setup rescue help desks while 56 are engaging in measures to mitigate risk to human rights. For each supplier, we strive to prevent human right infringements through conducting surveys and face-to-face interviews.
Based on this survey, in fiscal 2021, we did not find any human rights violations as defined in the Sumitomo Code of Conduct.
Respect for Human Rights Through Sustainability Procurement
Sumitomo Forestry Group is conducting fair and responsible procurement under the Sumitomo Forestry Group Procurement Policy which obligates suppliers to protect human rights and basic rights of labor as well as preventing corruption. For procurement of high-risk imported materials, specifically, the Group conducts sustainability surveys of all, more than two hundreds, suppliers in two years. The surveys aim to ensure whether rights of workers and local communities in the areas where raw materials of the supplies are procured from, have not been violated; if the risk identified, then whether adequate consideration for these rights during logging is inspected. The Group also engages in on-site inspection and interviews with any suppliers which measures to mitigate risks was deemed necessary based on the risk categories.
Click here for related information
Identifying and Managing Human Rights Risks
In order to strengthen initiatives in human rights due diligence, each business division maps risks associated with stakeholders in value chain and identifies important human rights risks for each group.
We identified important risks as follows: The Environment and Resources Division - "Infringing indigenous or community land rights and managing related laws" as well as "Occupational safety and health management in mountain forests (dangerous work, etc.)". The Timber & Building Materials Division - "Infringing indigenous land rights", "Occupational safety and health management at factories (fires, dust explosions, etc.)", and "Child labor at planted forests (including dangerous operations)". The Housing and Construction Division and the Overseas Housing and Real Estate Division - "Labor conditions of migrant workers (forced labor, etc.)". In addition, we reviewed the mapping in fiscal 2020, considering the impact of spread of new coronavirus infection as a new risk factor.
Regarding the identified risks, we take measures to reduce and correct risks for each business. For example, we have identified more risks in fiscal 2020, of which we have verified the condition of respect for human rights of foreign technical trainees which is the particular importance and of major social interest in Japan. Third-party agencies gathered feedback from partner building contractors and organizations supervising technical trainees, verified materials, and interviewed technical trainees from overseas learning skills in Japan.As a result, we confirmed there were no major human rights violations. In fiscal 2021, regarding "respect for rights of indigenous peoples and communities", in order to further reduce risks and build better relationships with stakeholders in the business development areas, we confirmed the initiatives and identified places to be corrected regarding the operational status of grievance mechanism in the overseas resource environment business.As a result of online review conducted by a third-party organization, we verified that continuous consultations with government agencies and communities have been conducted by operating appropriate grievance mechanisms at three overseas tree planting sites in Indonesia, Papua New Guinea, and New Zealand.On the other hand, it was found that it is necessary to improve initiatives such as expanding external information disclosure and reflecting it in the mechanism through dialogue with rights holders.
We will further establish measures and implementation plans for prevention, avoidance, mitigation, and correction for each stakeholder, and will implement PDCA to improve our initiatives in the future.
Sumitomo Forestry Group Human Rights Impact Analysis Map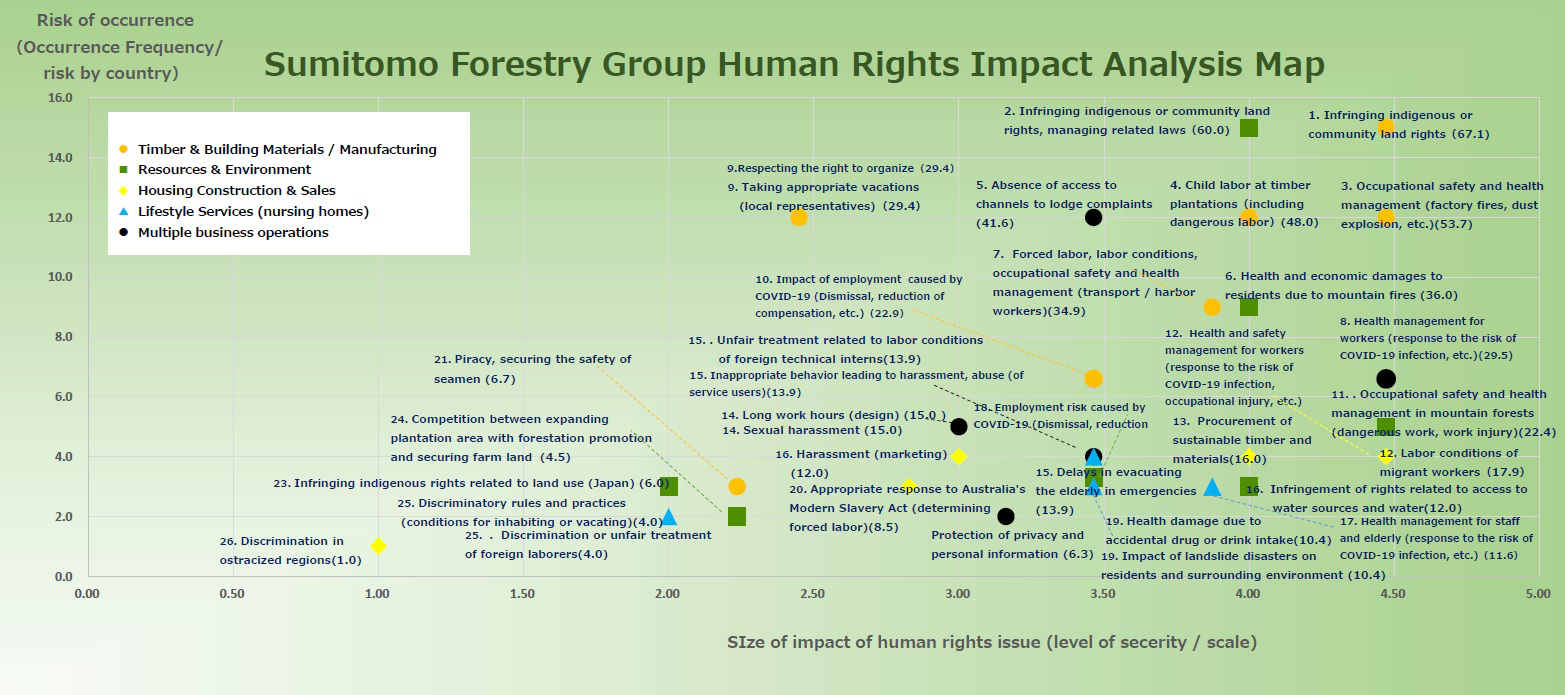 Respect for Human Rights at Overseas Planted forests
For forestry business in Indonesia's West Kalimantan, the Company signed an advisory agreement with International Finance Corporation (IFC), the World Bank's group institute in 2012. Sumitomo Forestry conducted inspections of its operational properties with the IFC to examine whether plans for use of commercial land were being implemented properly considering the rights of indigenous people and protection of cultural heritage as well as livelihood of local residents, which are indicators in the High Conservation Values Forests (HCVF) that has drawn great attention in recent years.
Sumitomo Forestry Group held hearings and invited stakeholders (local residents, neighbor corporations, academics, NGOs, and government workers) to conduct forest operations with considerations toward human rights. Hearing was held in 2013 to share the content and result of a survey and hearing held in 2015 to deepen stakeholders understanding about content of the business and environmental considerations prior to harvesting the planted forest.
In 2018, the Group built a grievance mechanism with the help of the IFC in PT. Wana Subur Lestari (WSL) and PT. Mayangkara Tanaman Industri (MTI). This mechanism provides two routes for grievances. The first allows local residents to share their opinion in writing with WSL or MTI while the second provides WSL and MTI the opportunity to conduct visits with local residents to gather feedback. WSL and MTI respond to any grievances from local residents from both routes within seven business days based on the approval from the management. PT. Kubu Muria Forestry (KMF), which started operations from 2022, starts similar initiatives.
Open Bay Timber Ltd. (OBT) in Papua New Guinea has also put in place a complaint box in which anyone from the area regardless of whether from within or outside of the company can post a complaint or comment. OBT received several complaints for example about wages in 2020, and it properly responded to any of these complaints requiring action after careful investigation. Because this complaint box does not only receive feedback from employees but also local residents and other third parties, trust in OBT has grown thanks to a means to share one's own thoughts with the company.
Moreover, Tasman Pine Forests Ltd. (TPF) in New Zealand registers any important exchanges with local residents, partner companies and other stakeholders in a stakeholder registry. Communication with a recognition of the past background helps to build smooth relationships.
Click here for related information
Human Rights Training
The Sumitomo Forestry Group provides lectures about human rights in its new employee training in Japan. Sumitomo Forestry also incorporates classes about human rights in its training for new general managers. We also require all Group employees with access to the intranet to take the "Work and Human Rights" module in e-learning every year with the intention to promote respect for human rights and a workplace where no discrimination is permitted (completed with a test score of at least 80 points). This training course also includes curriculum to encourage understanding about people with disabilities, foreign nationals, LGBT and other minorities. In fiscal 2021, 11,760 employees of whom 5,229 and 6,531 belong to the parent company and Group companies, respectively, took the class. The effort in raising human right awareness via e-learning will be continued into the future.
Initiatives in the United States
In the United States, federal and state laws prohibit any employment discrimination for reasons such as race, gender, religion, birthplace, or health condition. Sumitomo Forestry Group companies in the United States strive to share the same philosophy in prohibiting discrimination and providing fair opportunities, by including these topics in the employee handbook.
Prevention of Harassment
Sumitomo Forestry makes its policy on sexual harassment, workplace bullying and maternity harassment clear, having included in its Employment Regulations, under one category of rules to be observed by employees (discipline on the job), a provision prohibiting such harassment as well as disciplinary standards. The Sumitomo Forestry Group Code of Conduct also prohibits all forms of harassment and this is communicated via the internal website, employee handbooks and handouts. In addition, awareness within the Company is fostered by providing information with case examples and implementing regular awareness promotion notices, through human rights and ethics training and other activities. Furthermore, the Group distributes an email to every employee from the General Manager of the Personnel Department every six months to raise awareness about stopping all harassment.
Furthermore, a framework to properly handle inquiries and complaints was put in place in fiscal 2000 with the establishment of the Harassment Consultation Hotline within the Personnel Department and Compliance Hotline both inside and outside of the Company. The privacy of all those involved is protected and every effort is made to ensure that neither the complainant nor those cooperating are treated detrimentally. In fiscal 2021, we reviewed four cases that were consulted at the "Harassment Consultation Counter".
Each of the group companies in Japan and overseas also engages in various other measures, such as consultation hotlines to report harassment and discrimination in the workplace.
Sumitomo Forestry incorporates classes about harassment in its training for new general managers. We also strive to raise employee awareness through basic knowledge of harassment and courses on preventive measures by utilizing e-learning that can be used by group companies.
Click here for related information