Work-Life Balance
Basic Policy
Sumitomo Forestry recognizes employees' diverse work styles and strives to create a workplace where they can be motivated in their jobs, and still enjoy fulfilling private lives. Reflecting these aims, the Company has worked on such initiatives as providing childcare and family care programs, promoting greater participation by women, and reducing overtime.
The Workstyle Diversification Department was established within the Personnel Department, bringing together support desk functions relating to work styles and careers, including childcare and family care, career support, mental health and post-retirement re-employment. In developing a counseling system which is easier for employees to access, the Company supports diverse work styles.
Furthermore, a flextime system and a work interval system have been adopted with the purpose of reducing long hours and improving productivity. The transition is not only in working hours but also from a labor system to a true count system in addition to adopting measures such as a per hour productivity assessment.
These programs aim to improve employee motivation as well as productivity by preventing harm to health from accumulated fatigue due to working long hours in addition to heightening awareness about cost versus time to realize a work-life balance.
Addressing Long Working Hours
Sumitomo Forestry sees long working hours left unaddressed as a factor causing occupational injuries and damage to the image of plants and it recognizes the lack of a workforce in the future as a grave management risk.
Since fiscal 2019, the Sumitomo Forestry Group set critical fiscal 2021 targets "reducing long work hours through work style reforms" in the Mid-Term Sustainability Targets to promote this initiative. Each division and consolidated Group company in Japan confirms the performance toward achieving these targets every fiscal year.
In addition to the goals set in the Mid-Term Sustainability Targets, Sumitomo forestry is also using a dedicated system to input and manage work-style reform targets unique to each site, action plans, and six-month reviews. We aim to further initiatives suitable to the circumstances on each site from the type of business and regular holidays to the regional characteristics and staff composition.
Average overtime hours and individual overtime hours including management are also reported to the head of each department to increase awareness about mitigating long working hours.
In particular, close communication with customers is indispensable in the sales and construction of custom-built detached housing, and long working hours occur as a result of this need in the Housing and Construction Division.
Therefore, a Workstyle Improvement Committee has been set up at branches to implement no overtime days and other initiatives to address long working hours.
As to the working system and operational flow reform that are difficult to tackle at a branch level, the Housing and Construction Division continuously leads the long working hours mitigation campaign by making proposals for the systems improvement.
Click here for related information
Reduction of overtime working hours
FY2021 results (January to December 2021)
(Compared to FY2013)
(Non-consolidated)

33%reduction

FY2021 target
Reduction of overtime working hours
(Compared to FY2013)
(Non-consolidated)

32%reduction
Revisions to the Personnel System
In fiscal 2017, Sumitomo Forestry revised the personnel system to transition overtime work to an actual count system paying employees based on deemed number of working hours. Moreover, we are promoting a reduction in long working hours and higher productivity by adopting a flextime system, work interval system and a productivity assessment by hour.
The transition to an actual count system and the adoption of a productivity assessment primarily aim to grow the cost awareness by hour, reduce long hours as well as heighten the quality and productivity of work.
We are also striving to equalize operational working hours overall by stipulating the total working hours per month in a flextime system.
In addition, the interval work system makes sure employees have 11 hours of leisure time between the end of the work day until the start of the next work day and exempts employees from working at the start of a workday or core time if it overlaps this leisure time. These systems aim to prevent overwork and further the preservation of employee health.
Encouraging Employees to Take Paid Annual Leave
Sumitomo Forestry encourages employees to take at least 14 days of annual paid leave per year, including refresher and summer vacation days, and has promoted the taking of paid leave by posting a list of annual paid leave taken at each of its locations on the intranet.
We have also adopted half-day paid annual leave and hourly paid annual leave to provide an environment where taking time off is easy.
In addition, the Housing and Construction Division has established planned annual holidays for all departments (general rule of four days).
The yearly paid leave usage ratio in 2021 was 64.1 percent as a result of these initiatives.
We will further promote this initiative during the next three years, commencing in 2022, by setting "an average annual paid leave usage ratio of 70% or higher" as stated in the Sustainability Targets of the Mid-term Management Plan.
Paid Leave Usage Ratio
(2021)
(Non-consolidated)
64.1%
Results of Paid Annual Leave Usage Ratio
| | 2017 | 2018 | 2019 | 2020 | 2021 |
| --- | --- | --- | --- | --- | --- |
| Paid Annual Leave Usage Ratio (%) | 47.4 | 53.2 | 60.2 | 60.7 | 64.1 |
*Calculated by dividing the number of days of paid annual leave taken each fiscal year by the number of days issued
Average paid leaves taken by employees
2021 results

(Non-consolidates)12.3days

(Affiliates companies in Japan)10.3days

2021 Target
Average paid leaves taken by employees

(Non-consolidates)14days

(Affiliates companies in Japan)11.3days
Refresh Leave and Family Friendly Day Leave
So that employees can engage energetically in their jobs with healthy body and mind, Sumitomo Forestry is developing workplace environments that allow employees to take leave as they wish. As part of those efforts, employees are encouraged to take consecutive days of "refresh leave" at a time that suits them in addition to the summer and New Year holiday periods. The number of days available for the refresh leave program changed from "three days" to "five days" in 2019 to encourage employees to take consecutive days of annual paid leave and put in place an environment where employees can take leave more easily.
At branches of the Housing and Construction Division, which are regularly closed on Tuesdays and Wednesdays, employees often meet with customers on the weekends, which sometimes make it hard to take time off to participate in family events and other private occasions. This has been addressed with the introduction of Family Friendly Day leave, which allows employees to take either one Saturday or one Sunday off each month to spend with family or on a chosen pursuit. Branch employees are encouraged to cooperate on adjustment of job responsibilities and meeting schedules, thereby helping to create a workplace environment that makes it easy to take leave on the weekends.
Refresh Leave and Family Friendly Day Programs Performance (Non-consolidated)
| | 2018 | 2019 | 2020 | 2021 |
| --- | --- | --- | --- | --- |
| Percentage of Refresh Leave Program takers (%) | 32.1 | 43.7 | 31.3 | 31.3 |
| Percentage of Family Friendly Day Leave takers (%) | 28.7 | 36.8 | 30.5 | 26.6 |
Supporting the Workstyles of Employees Currently Raising Children
Sumitomo Forestry drafted its first action plan in 2005 when the Act on Advancement of Measures to Support Raising Next- Generation Children was enacted. Since then, we have continued to further initiatives even today through our seventh action plan (April 1, 2022 to December 31, 2024).
The 7th Action Plan (fiscal 2020 to fiscal 2021) raised and strived toward the three targets below to enhance the work-life balance of all employees in an initiative that began with female employees raising children.
Encourage telework system and a work environment to enable work-style options regardless of place.
Put in place consultation systems to support employee career development.
Build environments in which every employee working in a company involved in housing and lifestyles can actively participate in the valuable experiences of raising children and household chores regardless of gender.
Click here for related information
Business Reform Committee Initiatives
Sumitomo Forestry launched the Business Reform Committee in April 2019 with managers from the head office and divisions acting as members and chaired by the executive vice president. The committee has been working on company-wide themes relating to business and work style reforms by incorporating employee feedback via questionnaires and suggestion boxes, such as the promotion of telework, a transition to a paperless environment and revisions to in-person signature approval processes. We will continue to review employee operations and make them more efficient.
Family Open Day
Since July 2014, Sumitomo Forestry holds the "Family Open Day", an event for the families of employees to visit their offices. The ultimate aim of this event is to create pleasant work environment and lively atmosphere for all employees by expressing the Company's appreciation for the support provided by employees' families, assisting the families in understanding about the work at Sumitomo Forestry better, and fostering opportunities for employees to gain mutual understanding with others.
The event has been held at 18 different sites every summer thus far with participation of 149 families consisting of 433 employees and family members (canceled in fiscal 2020 and 2021 due to the impact of COVID-19 infections). Each site added their won touches in addition to the popular programs, such as participation in morning assemblies, a children's exchange of business cards made from wood plates with their names, and work interviews of work colleagues when hosting the Family Open Day.
Promoting Paternal Support for Male Employees
In the process of receiving the lump-sum childcare allowance offered to male employees with newly born children, the employees are required to submit "the questionnaire for a parental support request", which is followed by an interview with a direct supervisor about the answers to the questionnaire as well as details of the request. The supervisor then adds resulting comments on the questionnaire including instructions for the subordinate and consideration to use the program, at the end of the process. This system is believed to encourage more male employees to take part in the parenting duties and raise mutual understanding between the parenting males and their colleagues. 62 employees took childcare leave in fiscal 2021.
Main Childcare Support Programs (FY2021)
| Program | Description |
| --- | --- |
| Childcare leave | Childcare leave may be taken by employees until March 31 immediately following the child's second birthday. Male employees may take childcare leave up to two times regardless of the reason. The full salary is paid for the first five days of childcare leave. |
| Spouse Childbirth Leave | Spouse childbirth leave may be taken for five days within two weeks from childbirth of a spouse. Full salary paid. |
| Shorter working hours | Until the child completes the sixth grade of elementary school, employees may work shorter hours, work a four-day week and be exempt from overtime work, limit statutory overtime work, and limit late-night work. |
| Core time reduction for the flextime system | Until the child completes the sixth grade of elementary school, employees may reduce the end of core time by up to one hour in 30-minute increments. |
| Leave to care for child and attend special events | Employees may take the equivalent of ten days a year for their first child or 15 days a year for two or more children in 30-minute increments with full-pay to care for a sick or injured child until their children have completed the sixth grade of elementary school. Of these ten days, up to five days may be used for attending special events with their child (ten days for two or more children). Employees who have two or more children may use up to 10 days to take care of their children even if they have used five or more days for special events (however, leave that exceeds 15 days is unpaid). |
Childcare Support Programs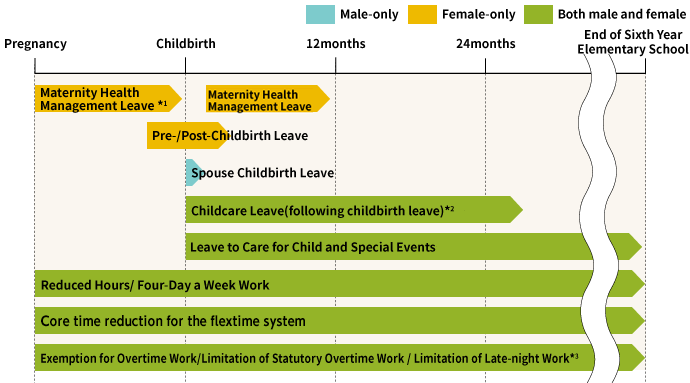 *1 During pregnancy, childbirth leave, childcare leave, within one year after the childbirth
*2 Until March 31 immediately following the child's second birthday. This can be extended for up to 14 days for childcare reasons
Roundtable Discussion for Employees on Childcare Leave
Sumitomo Forestry held a round table event online in March 2021 for employees planning to return to work from childcare leave. This program helps to alleviate concerns about returning to work, improve health and build a network between other people raising children.
Implementation of Joint Seminars for People Returning to Work from Childcare Leave and Their Supervisors
Sumitomo Forestry held a joint seminar in November and December 2021 for people returning to work from childcare leave, their supervisor and even their spouse. This seminar held classes to teach the social landscape surrounding childbirth and child raising, a balance between work and childcare as well as future career development, panel discussions with senior employees who have experience raising children and working, and group discussions with other participants. The opportunity offered a chance for everyone to think about the actions supervisors and the individual raising a child can each take to find a balance between work, raising children and developing a career.
Supporting Workstyles for Employees Caring for Family Members
Sumitomo Forestry provides support to employees who are working while also nursing family members. Family care leave was revised so that eligible employees may take up to 365 days of leave per applicable family member, and employees may also take advantage of the flextime system, work shorter hours or work a four-day week. When the flextime system was rolled out to the entire company in January 2021 (except employees on the discretionary work system), we further revised the flextime system to let employees reduce the core time according to their reasons for taking family care leave. Sumitomo Forestry has also established family illness and injury leave, enabling employees to take up to 10 days of leave each year in 30 minute increments.
In fiscal 2021, we prepared a guidebook to provide basic knowledge and information on balancing work and family care, as well as the fundamentals of facilities for the elderly and family care services.
Main Family Care Support Programs (FY2021)
Program
Description
Usage results
Family care leave
This system allows up to 365 cumulative days of leave per family member requiring care, and is available to employees
Number of family support program users: Total of 1 (Four-Day Work Week: 1)



No. of employees who took family care leave: 2
Shorter working hours
Employees may work shorter hours, work a four-day week, be exempt from overtime work, limit statutory overtime work, and limit late-night overtime work.
Employees eligible for the flextime system may reduce the end of core time up to one hour in 30-minute increments.
Family illness and injury
Regular employees may take the equivalent of ten days a year in 30-minute increments (employees may take an additional five days for two or more family members who require care). Employees may take five of the ten days of leave to take care of a sick or injured family member
Family Care Support Program Performance (Non-consolidated)
FY2018
FY2019
FY2020
FY2021
Family care leave (Persons)
1
1
2
2
Number of family support program users (Persons)
(Flextime System, Shorter Working Hours, Four-Day Work Week, etc.)
3
4
4
1
Sumitomo Forestry Holds Seminar to Support Balancing Work and Family Care
Sumitomo Forestry held an online seminar titled "Secrets to Balancing Work and Family Care" in December 2021. The goal of the seminar was to provide participants with tips on how to create an environment that allows them to balance work and nursing care in their daily lives, rather than giving up work to care for a family member, and to be physically and psychologically well and active.
About 150 people attended the seminar, including those who are currently caring for family members, those who want to begin preparing, and those who want to learn for their subordinates and coworkers. Individual consultations with the seminar instructors were held for individuals who chose to attend after the seminar.
We will continue to provide seminars and consultations to assist people in balancing work and family care.
Telework Initiatives
Sumitomo Forestry introduced the telework option in fiscal 2009 for such reasons as the time saved from commuting can be spent on work or family activities, and employees can concentrate when working in a quiet home environment.
Since fiscal 2018, Sumitomo Forestry has participated in the "Telework Days" campaign promoted by the Ministry of Internal Affairs and Communications, Ministry of Health, Labour and Welfare, Ministry of Economy, Trade and Industry, Ministry of Land, Infrastructure, Transport and Tourism, the Cabinet Secretariat, the Cabinet Office, and the Tokyo Metropolitan Government in addition to relevant associations and corporations as a special cooperative organization to promote work style innovation. Roughly 300 employees have used telework during this time. Sumitomo Forestry has promoted understanding and created a foundation for a telework system through opportunities for many employees to experience the benefits of telecommuting and working remotely first hand.
Using our response to the coronavirus disease (COVID-19) pandemic as an opportunity in fiscal 2020, we prepared an environment in which every employee could telecommute and began the use of satellite offices.
Our revisions and roll out of the flextime system to all employees (except managers, the discretionary work system and partner employees) in January 2021 have furthered work styles so that everyone can work anywhere anytime.
We also abolished the existing telecommuting rules, added provisions for satellite office work and mobile work, and set new telework rules with increased eligibility in January 2022. These rules were established to improve work-life balance and productivity, and all employees may utilize them for up to 2 days per week, based on the company-wide telework experience in the aftermath of the novel coronavirus disaster. Any utilization of 3 or more days per week can be accomplished by applying for it.
In the future, we will continue to consider further use of ICT, along with the development of an IT environment and the promotion of productivity through the use of ICT.
Application System to Request the Place of Work
In fiscal 2008, Sumitomo Forestry established a program facilitating the transfer of employees to a certain destination for reasons limited to marriage or a spouse transfer accompanied by a change of residence. The program enables employees to continue working for the Company even after marriage or their spouse being transferred.
In fiscal 2014, with the new addition of "childcare" to the reasons for application, transfers are now considered in cases where an employee wants to live with their spouse for the purpose of balancing work and parenting. A new system was also established whereby employees can submit a transfer request for reasons of "family care". Transfers are now also considered in cases where the location of employment restricts the employee from balancing work with child or family care.
As at the end of December 2021, a total 46 employees have made use of these programs to transfer to a different location.
In addition, an employee who desires a work style without transfers requiring relocation of residence from their current workplace due to unavoidable circumstances such as child raising, family care or illness may use a work style able to accommodate their unique situation using an application and approval process.