Environmental Management Structure
Environmental Management
Environmental Management Structure
Environmental Management Structure
To ensure that management is practiced in accordance with the Environmental Policy, whose objective is to contribute to the creation of a sustainable society, the Sumitomo Forestry Group has established an environmental management structure with the President of Sumitomo Forestry assuming overall responsibility.
The General Manager of Sustainability Department under the President and Representative Director acts as the Environmental Management Officer to raise the effectiveness of environmental activities by drafting a Sustainability Budget as a quantitative targets for each fiscal year for environmental activities that each department of the Group is advancing and regularly checks in with the Sustainability Committee.
Environmental Management Structure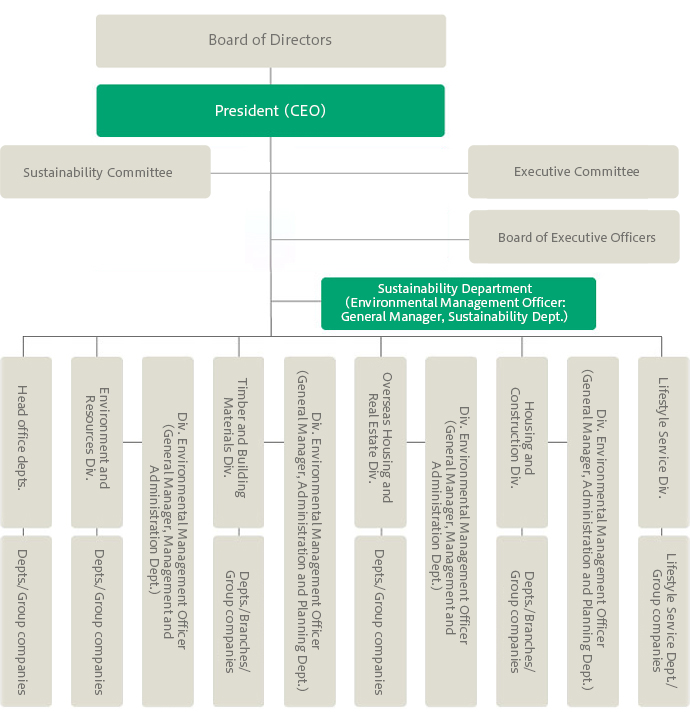 Click here for related information
Roles of Environmental Management Personnel
Group Overall Environmental Representative: President (CEO)
Group Environmental Management Officer: General Manager, Sustainability Dept.
Division Environmental Management Officers: General Manager, Administration and Planning Dept. (Timber and Building Materials Div.); General Manager, Administration and Planning Dept. (Housing and Construction Div.); General Manager, Management and Administration Dept. (Overseas Housing and Real Estate Div.); General Manager, Management and Administration Dept. (Environment and Resources Div.)
Department Environmental Managers: General Managers, presidents of group companies, etc.
Environmental activity personnel: Environmental promotion personnel
ISO 14001 Certification
Sumitomo Forestry introduced an environmental management system in fiscal 1995 and acquired ISO 14001 certification for its housing operations in fiscal 1997 ahead of other players in the housing industry. Subsequently, other divisions of Sumitomo Forestry also promoted the acquisition of certification, and in fiscal 2002, all divisions of Sumitomo Forestry in Japan had acquired this certification.
The scope of certified Group companies has been extended to businesses that have a large influence on the environment, and today the Group has four certified companies in Japan. Progress is also being made on certification of overseas Group companies, focused on manufacturing companies, with six companies already certified.
The scope of consolidated companies to be certified focuses on companies that are engaged in manufacturing business and other businesses that have a large influence on the environment. In fiscal 2021, the certification rate of consolidated organizations was 94.7% (based on sales).
ISO14001
Certification Rate
(Based on Sales)
94.7%
Sumitomo Forestry Group ISO 14001 Certification
Group companies
Date acquired
Date renewed
(valid for three years)
Multi-site Certification at Group Companies in Japan
Sumitomo Forestry Co., Ltd. (excl. overseas operations)
August 2002*1
August 2019*1
Sumitomo Forestry Landscaping Co., Ltd.
November 2002*2
Sumitomo Forestry Crest Co., Ltd.
September 2003*2
Sumitomo Forestry Home Tech Co., Ltd.
March 2013*2
Japan Bio Energy Co., Ltd.
August 2014*2
Cohnan Kensetsu Inc.*3
March 2011
March 2020
Kutai Timber Indonesia (KTI)
August 2001
February 2020
Nelson Pine Industries Ltd. (NPIL)
July 2003
October 2019
PT. Rimba Partikel Indonesia (RPI)
October 2005
December 2020
PT. AST Indonesia (ASTI)
The first factory
January 2007
January 2022
The second factory
January 2022
January 2022
Vina Eco Board Co., Ltd. (VECO)
March 2014
March 2020
Pan Asia Packing (PAP)
April 2017
April 2020
*1 Certification was acquired by individual departments and divisions from 1997 before integrated ISO 14001 certification was acquired for the entire company
*2 Acquired by inclusion in Sumitomo Forestry's integrated certification
*3 Joined the Sumitomo Forestry Group in January 2021
Audits by External Certification Bodies
Companies covered by the multi-site integrated ISO 14001 certification in Japan undergo routine reviews conducted once a year by the certification body JIC Quality Assurance Ltd. In fiscal 2021, 39 departments at five companies underwent surveillance and transition reviews for the ISO 14001: 2015 (JISQ 14001: 2015).
As a result of these reviews, no incompatibilities and 46 points of advice for improvement were identified as matters to be observed. On August 5, 2021, the companies under review were approved to sustain their registration after the assessment.
In addition to examining methods of improvement and taking action for each of the observation items, notices were issued by the Sustainability Department to share information on any issues common to the Group companies, and internal environmental audits were conducted to check the implementation of preventive measures. In particular, when preparing Environmental Impact Assessment Sheet, it was stressed that special attention shall be paid to whether environmental aspects were extracted for each business process and whether impact assessments were conducted (i.e., whether the lifecycle was taken into account), and whether the causes of improvement cases, including those that failed to meet targets, were investigated and corrective measures (measures to prevent recurrence) were taken. The audits are performed with these considerations in mind.
The impact of Coronavirus disease (COVID-19) delayed assessment periods for some overseas manufacturing companies, but the certifications were updated without problems.
Internal Environmental Audits
In addition to reviews conducted by external certification bodies, companies covered by the multi-site ISO 14001 certification periodically carry out internal environmental audits. These audits are implemented by employees who have passed an exam upon completion of an in-house training course taught by third-party instructors to become internal environmental auditors.
Following the amendments of the international standards in September 2015, requiring these courses be taken and passed by all general managers within the scope of the registration in particular enhances understanding about the revisions to these standards and strengthens leadership. As a result, the number of employees certified as internal environmental auditors has reached a cumulative total of 1,490 (as of the end of fiscal 2021).
Internal Environmental Audits were conducted in 108 departments, focusing on departments that were often highlighted in Internal Environmental Audits in fiscal 2020. With respect to observed nonconformities and improvement proposals, the audited department shall take corrective actions and submit a corrective report to the audit department and the Sustainability Department compiled the audit results and reviewed them with the management rank.
Each of our overseas manufacturing companies has acquired the certification and conducts internal environmental audits. The Sumitomo Forestry Group has a system in which any serious problems or irregularities that occur as a result of these internal environmental audits are reported to Sumitomo Forestry through the management team at each company.
Compliance and Violations of Environmental Laws
The Sumitomo Forestry Group had no significant violations* of any environment-related laws or ordinances in the past five years.
* Violation with a penalty or punishment of one million yen or more
Significant violations in the last five years
0
Environmental Management Structure