Power Generation Business Initiatives
Power Generation Business Initiatives
Power Generation Business Initiatives
In power generation business operations, incineration ash emitted by biomass boilers is blended with quicklime for reuse primarily as a forest roadbed material. In fiscal 2018, it was manufactured under the product name Rovander, and received approval as a Hokkaido Government-certified Recycled Product. We also achieved zero emissions (recycling rate of 98% or more) for the first time in the power generation business. In fiscal 2022, the recycling rate was 99.0%, achieving zero emissions for the second year in a row.
Breakdown of Waste Generated at Power Generation Business Operations (FY2022)
(Mombetsu Biomass Electric Power, Hachinohe Biomass Electric Power)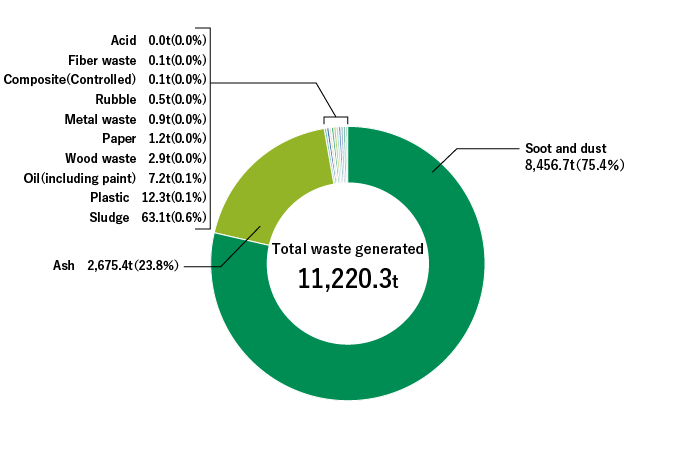 Click here for related information
Maintenance of Forest Roads, etc. Using Rovander Foundation Filler Made with Incineration Ash
At Mombetsu Biomass Electric Power, incinerator ash emitted by the biomass boiler is used to manufacture foundation fill material (product name "Rovander") for forest roads. This environmentally-conscious product is aimed at building a cyclical operation in which the amount of waste is controlled, reducing environmental impact by helping maintain forests using a by-product of power generated with forest resources.
In addition, Rovander has been recognized as meeting environmental safety standards, and is a Hokkaido Government-certified Recycled Product.
Power Generation Business Initiatives