Other Business Initiatives
Other Business Initiatives
Other Business Initiatives
At waste-generating locations of enterprises such as Lifestyle Services Business, Distribution Business, Renovation Business and Research Institutes, initiatives to reduce amounts of waste generated are implemented at a department level.
Lifestyle Services Business Initiatives
In the Lifestyle Services Business, we are promoting initiatives to reduce industrial waste in each of our diverse service offerings, such as nursing care facilities, hotels, and golf courses.
For example, Kawanokita Development, which operates the Takinomiya Country Club golf course in Niihama City, Ehime Prefecture, has eliminated plastic toothbrushes and razor blades, as well as plastic straws in favor of paper straws, in an effort to comply with the new plastic law.
Research Institute Initiatives
Sumitomo Forestry's Tsukuba Research Institute generates a variety of waste materials as a result of various tests. The majority of the waste consists of wood, and is reused as particle board raw material and fuel for biomass power generation. In addition, the chemical substances used in the experiment are outsourced to specialized dealers in industrial waste treatment to prevent leakage to the outer environment, where they, including the hazardous ones, will be treated according to their properties and rendered harmless. The residue is recycled as raw materials for cement, etc.
Breakdown of Waste Emissions from Other Business* (FY2022)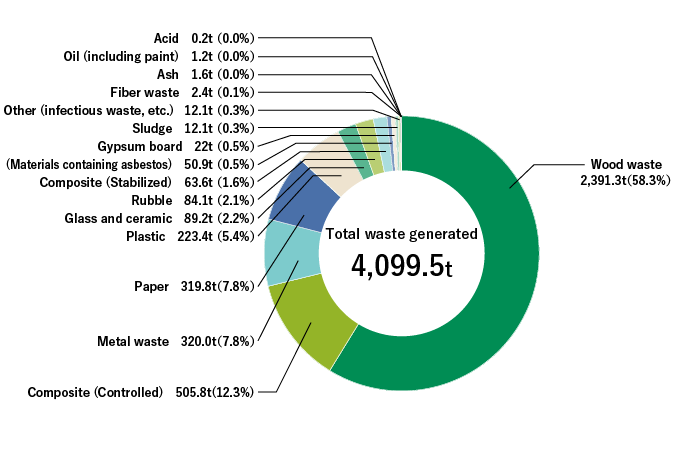 Click here for related information
Other Business Initiatives