Manufacturing Business Initiatives
Manufacturing Business Initiatives
Initiatives at Domestic Manufacturing Facilities
The Sumitomo Forestry Group is making ongoing efforts to reduce waste emissions, for example by tightening the sorting of industrial waste at each manufacturing plant, promoting its effective use as resources without simple incineration (thermal use), and selling it for a profit. The Sumitomo Forestry Group managed to achieve a recycling rate of 99.4% against the target of 99.5% in fiscal 2022. Zero emissions (recycling rate of 98% or more) were achieved at offices of Sumitomo Forestry Crest, Sumitomo Forestry Landscaping and Agro-Products division.
Recycling Rate at Domestic Manufacturing Plants*
(Sumitomo Forestry Crest, the Agro-Products division of Sumitomo Forestry Landscaping, Japan Bio Energy, Okhotsk Bio Energy, Michinoku Bio Energy)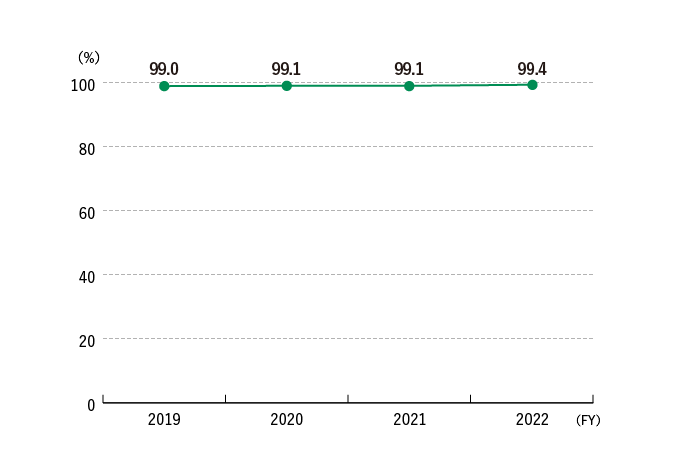 * Aggregation period for emissions after fiscal 2020 is from January to December of each year, and aggregation period for emissions before fiscal 2019 is from April of each year to March of the following year.
Breakdown of Waste Generated at Domestic Manufacturing Plants (FY2022)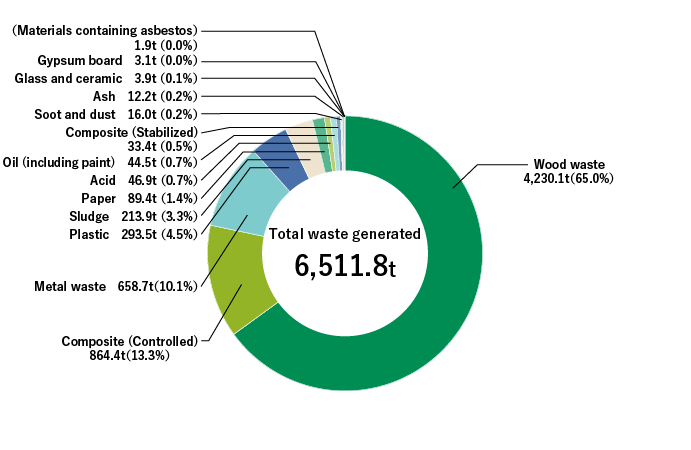 Initiatives at Overseas Manufacturing Plants
Seven major overseas manufacturing plants* are promoting zero emissions. Offcuts generated at plywood and building materials mills is reused as raw material for wooden board mills, and at wooden board mills, waste wood from the manufacturing process is reused as fuel for heat sources in the drying and thermal pressing processes. We also promote zero-emission activities by making effective use of all types of wood waste, such as using the offcuts generated at our wooden mills for novelty goods.
The recycling rate in fiscal 2022 achieved zero emissions at 98.0% against our target of 98.0%.
*Indonesia: PT. Kutai Timber Indonesia, PT. Rimba Partikel Indonesia, and PT. AST Indonesia
New Zealand: Nelson Pine Industries Ltd.
Vietnam: Vina Eco Board Co., Ltd.
United States: Canyon Creek Cabinet Company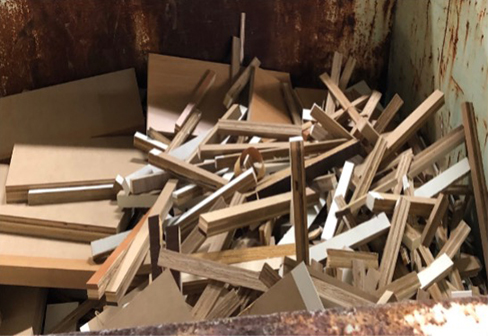 Breakdown of Waste Generated at Overseas Manufacturing Plants (FY2022)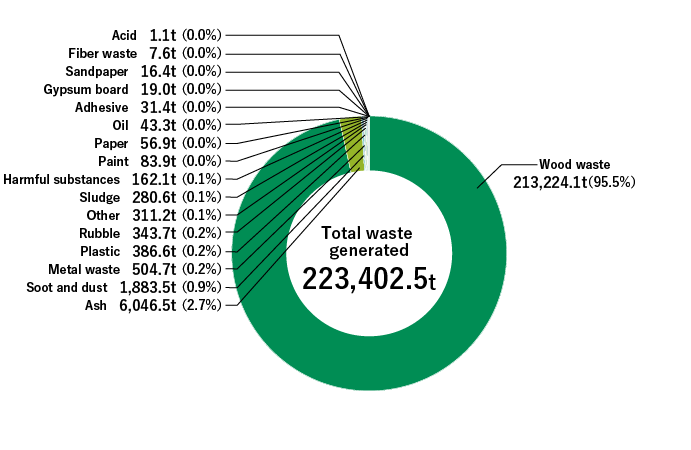 Japan Bio Energy Recognized as Superior Industrial Waste Disposal Operator
Japan Bio Energy, which manufactures and sells wood biomass chips, has been recognized as a superior industrial waste disposal operator since May 2016 by Kawasaki City.
The system to recognize superior industrial waste disposal operators evaluates and certifies superior industrial waste disposal operators through the prefecture or city. In order to receive this recognition, the business must satisfy a full set of criteria including legal compliance, business transparency, efforts in environmental conscious, and a healthy financial strength. The validity of certification in industrial waste disposal is extended from five to seven years by receiving recognition through this system. The current waste disposal business permit expires in April 2023, so the renewal of the certification as superior operator will be implemented in conjunction with the renewal of the permit.
Click here for related information
Manufacturing Business Initiatives