Promotion of Social Contribution Activities
Promotion of Social Contribution Activities
Basic Policy
The Sumitomo Forestry Group advocates "To improve the livelihood of the local communities where we operate" as one of nine material issues. Even in business processes, the Group makes considerations that include community development and local social welfare. Furthermore, we are expanding globally around fields that include the environment and education of next generation around an axis of forests and wood, which are closely related to the Group's business.
In addition to the emphasis on education in elementary and junior high schools, such as forest field trips and support for building monastic schools in developing countries, Sumitomo Forestry actively promotes reforestation of forests afflicted by disasters and cultivation of heritage and precious trees as well as other activities. Sumitomo Forestry also supports volunteer activities undertaken by individual employees in local communities to create a workplace environment that encourages people to contribute to their local communities.
Click here for related english
Social Contribution Donations
Breakdown of Donations by Category (FY2022)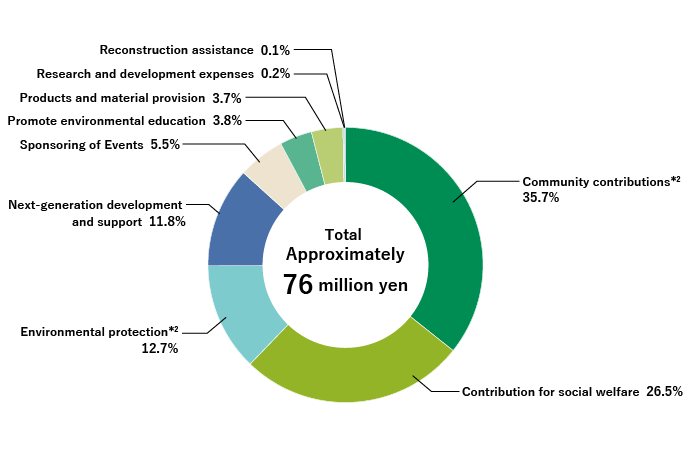 Expenditure on Social Contribution Activities
Breakdown of Expenditure on Social Contribution Activities (FY2022)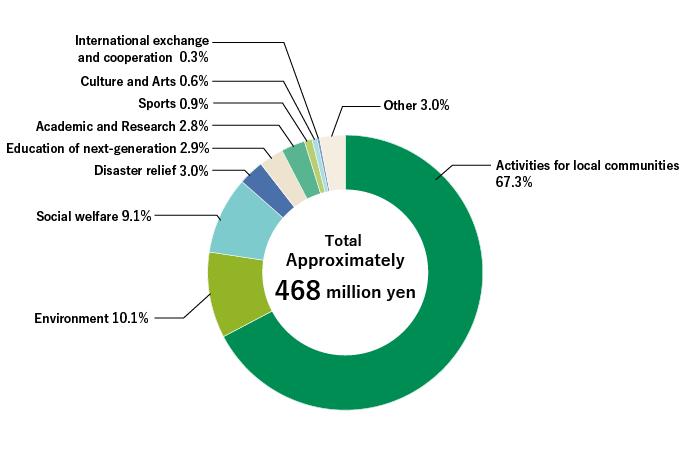 *1 Mt. Fuji Manabi no Mori operation costs, etc.
*2 Costs of community cleaning activities and the Forester House operation, etc.
Volunteer Leave Program
To support its employees' volunteering activities, in May 2011 the Company established a volunteer leave program that allows employees a total of five days of leave a year for volunteer activities.
In addition to the five days that can be taken in the current volunteer leave program, employees can now take an additional ten days of leave (unpaid) if participating as a Tokyo 2020 Games (Olympics/Paralympics) volunteer recruited by the Tokyo Organising Committee of the Olympic and Paralympic Games. Six employees took volunteer leave, including those who used the leave in participating in volunteer activities for the Tokyo 2020 Games in fiscal 2021, and one employee took volunteer leave in fiscal 2022. We will continue to support employees' volunteer activities.
Contributions to Public Policy
The Sumitomo Forestry Group coordinates and cooperates with national and local governments, the business community and others, making recommendations toward the improvement and resolution of worsening environmental and social issues.
Public Service (As of December 31, 2022)
Organization
Position
Position in the Company
Name
Council for the Promotion of Decentralization Reform, Cabinet Office
Assembly Member
Representative Director Chairperson
Akira Ichikawa
National Exchange Examination Board, National Personnel Authority
Board Member
Representative Director Chairperson
Akira Ichikawa
The 33rd Local System Study Group
Chairperson
Representative Director Chairperson
Akira Ichikawa
Japan Association of Corporate Executives
Vice Chairman and Executive Director
Representative Director Chairperson
Akira Ichikawa
Wooden Home Builders Association of Japan
Representative Supervisory Officer & Chairperson
Representative Director Chairperson
Akira Ichikawa
Japan Federation of Housing Organizations
Representative Supervisory Officer & Vice-chairperson
Representative Director Chairperson
Akira Ichikawa
The Machinami Foundation
Director
Representative Director, President and Executive Officer
Toshiro Mitsuyoshi
Japan-China Association for Building and Housing Industry
Director & Vice Chairperson
Representative Director Chairperson
Akira Ichikawa
The Building & Housing Center of Japan
Outside Director
Representative Director Chairperson
Akira Ichikawa
The Provision of Quality Housing Stock Association
Vice-chairperson
Representative Director Chairperson
Akira Ichikawa
Keidanren (Japan Business Federation)
Standing Secretary
Representative Director Chairperson
Akira Ichikawa
Keidanren Committee on Nature Conservation
Vice-chairperson
Representative Director Chairperson
Akira Ichikawa
The Tokyo Chamber of Commerce and Industry
Permanent Councilor
Representative Director Chairperson
Akira Ichikawa
The Tokyo Chamber of Commerce and Industry - Japan Committee for the Japan-New Zealand Business Council Committee
Chairperson
Representative Director Chairperson
Akira Ichikawa
Japan Indonesia Association, Inc.
Director
Representative Director Chairperson
Akira Ichikawa
Gifu Academy of Forest Science and Culture
Special guest professor
Representative Director Chairperson
Akira Ichikawa
Japan Wood Design Association
Vice-chairperson
Representative Director Chairperson
Akira Ichikawa
Aeon Environmental Foundation
Trustee
Representative Director Chairperson
Akira Ichikawa
Institute for Innovative Healthcare
Director
Representative Director
President and Executive Officer
Tatsuru Satoh
Japan 2x4 Home Builders Association
Director
Director, Managing Executive Officer
Ikuro Takahashi
The Building & Housing Center of Japan
Executive Delegate
Director, Managing Executive Officer
Ikuro Takahashi
Japan International Association for the Industry of Building and Housing
Representative Supervisory Officer & Chairperson
Chief Corporate Advisor
Ryu Yano
Organization for Landscape and Urban Green Infrastructure
Representative Supervisory Officer & Chairperson
Chief Corporate Advisor
Ryu Yano
Japan Global Exchange Forum for Housing, Building and Urban Development
Officer & Vice Chairperson
Chief Corporate Advisor
Ryu Yano
Yamaguchi Industrial Strategy Committee
Industrial Strategy Advisor
Chief Corporate Advisor
Ryu Yano
Kansai Philharmonic Orchestra
Trustee
Chief Corporate Advisor
Ryu Yano
Japan Federation of Housing Organizations - Environment Committee
Chairperson
Advisor
Hideki Nose
Japan Federation of Housing Organizations - International Foreign Relations Committee
Chairperson
Advisor
Hideki Nose
Institute for Built Environment and Carbon Neutral for SDGs (IBECs)
Director
Advisor
Hideki Nose
Japan International Association for the Industry of Building and Housing
Operational Committee
Chairperson
Advisor
Hideki Nose
Wooden Home Builders Association of Japan
Operational Committee
Chairperson
General Manager, External Relations Department
Takanori Umeki
Japan Wood Design Association
Chairperson (Representative Supervisory Officer)
General Manager, External Relations Department
Akira Sekimoto
Japan Greenery Research and Development Center
Trustee
General Manager, Forest and Landscape Research Center
Kentaro Nakamura
National Land Afforestation Promotion Organization
Director
General Manager, Forest Department
Kenji Terazawa
The Forest Culture Association
Director
General Manager, External Relations Department
Hiroyuki Wakabayashi
Costs Such as to Various Associations*1 *2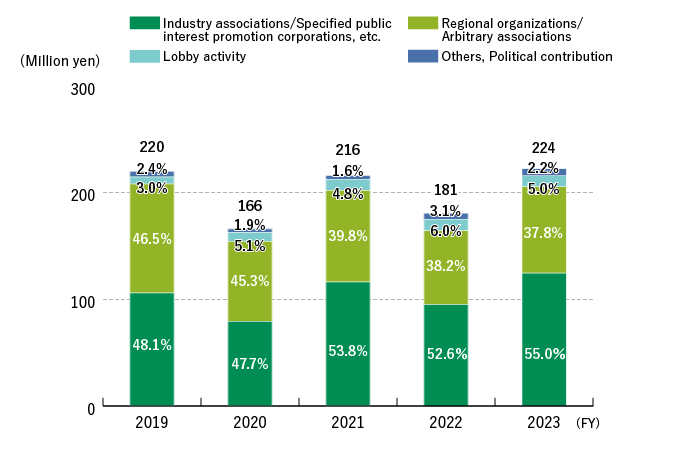 *1 The aggregation period of fiscal 2020 is from April to December 2020
*2 The aggregation period before fiscal 2019 is from April of each year to March of the following year
Promotion of Social Contribution Activities