Examples of Overseas Community Development and Regional Contribution Activities
Social Contribution
Examples of Overseas Community Development and Regional Contribution Activities
Contributing to Communities Where Sumitomo Forestry Operates
The Sumitomo Forestry Group aims to contribute to sustainable local development through its operations. When starting new businesses or expanding its overseas business sites, the Group's policy is to consider the environment, revitalize local economies and promote employment and thereby operate in harmony with local communities.
Activities in Indonesia
Support for Children Through the KTI Educational Foundation
PT. Kutai Timber Indonesia (KTI) founded the KTI Educational Foundation in 2000 to commemorate its 30th anniversary with the purpose of improving the livelihood of people in Indonesia through education as well as engaging in social activities. This foundation primarily provides educational support to impoverished children as well as school supplies to public schools in Probolinggo in the East Java province where a Sumitomo Forestry Group plant is located. In fiscal 2021, we gave school supplies to the orphaned children, made donations to facilities unable to provide a sufficient number of masks or hand sanitizer, and contributed IDR 123,338,200 (approx. 940,000 yen).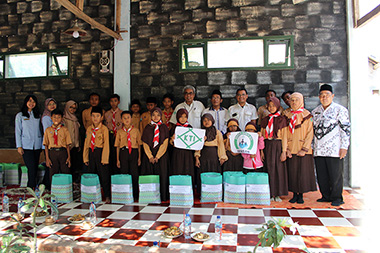 Community Development Through Project EARTH Initiatives
Sumitomo Forestry has also been involved in Project Earth since 2009 to offset CO2 (approximately 60,000 tons) emitted from the harvesting of wood used for primary building materials of Sumitomo Forestry Homes, and emitted from transport, fabrication, and construction by planting in Indonesia. This project combines "environmental reforestation" for the purpose of recovering the ecosystem of degraded forests in national parks and community-oriented "industrial tree plantations" that unify sustainable comprehensive forest management and community contributions.
Environmental Reforestation to Combat the Harsh Natural Environment and Forest Fires
In Bromo Tengger Semeru National Park located in East Java, Indonesia, Sumitomo Forestry planted about 1.1 million trees, including supplementary planting, over roughly 700 hectares of planted forest between fiscal 2009 to fiscal 2016. Mount Bromo erupted in 2010 at this national park damaging the plantation forest due to volcanic ash and gas. At the end of a severe dry season in November 2014, a large fire broke out and burned almost all of the roughly 400 hectares of forest planted up to 2013. We replanted the forest, constructed a fire belt that was six meters in width and 20 km in total length, prepared water and equipment for fire-fighting, and introduced around the clock dry season patrols. However, in October 2019, a large number of forest fires broke out in the national park and once again damaged approximately 470 hectares of planted forest.
After the afforestation completed in fiscal 2017, we continued to manage the planted forest, and transferred the environmental afforestation site to national park in March 2020 due to expiration of the agreement with the national park for the implementation of the project. Currently, the national park is maintaining and managing the afforestation site and restoring the ecosystem.
In December 2021, an eruption occurred at Mount Semeru in Rumahjan Province, East Java. The afforestation area (approximately 20 hectares in area) located within 10 km of the crater suffered ash fall damage, but this did not have a significant impact on the recovery of vegetation.
Community-oriented Industrial Tree Plantation Side-by-Side the Local People Who Wish to Plant Trees
Starting in the Lumajang Regency located at the foot of Mount Semeru in East Java, Indonesia, Sumitomo Forestry worked with the local people to cultivate about 3,800 hectares of community oriented industrial tree plantation between fiscal 2010 and 2017. The harvest and sell of the grown trees that were planted will stimulate the local economy. KTI, a Sumitomo Forestry Group company, took charge of the local activities promising to purchase future logs to give the local people confidence in their afforestation efforts. Sumitomo Forestry not only engaged in afforestation activity, but also provided local lifestyle infrastructure, building routes necessary for reforestation, and made donations such as academic supplies to kindergartens and elementary schools in addition to setting up public restrooms in villages.
After completing the afforestation efforts in fiscal 2017, the cultivation and reforestation efforts transferred to KTI and participating citizens. Thereafter, the local people involved have been planting trees they themselves cultivated and harvested in addition to seedlings provided for free from KTI. KTI provided the local people with 920,000 seedlings in fiscal 2018, 680,000 seedlings in fiscal 2019, and 570,000 seedlings in 2020, 540,000 seedlings in fiscal 2021.
66,891 houses were delivered during this project period with a roughly 400,000-ton CO2 fixation target. As of ten years since these afforestation efforts, the cumulative total estimated CO2 fixation was 430,000 tons*. This is expected to reach our carbon dioxide fixation target of 6 tons per household.
Sumitomo Forestry strives to support the local people who want to plant more trees together with KTI in Indonesia.
* Excludes CO2 fixation for environmental reforestation deemed to have a high risk of fires and other disasters
Community-oriented Industrial Tree Afforestation Area and Estimated CO2 Fixation
| FY | Number of Relevant Households | Target CO2 Fixation | Afforestation Area (ha) | Estimated CO2 Fixation |
| --- | --- | --- | --- | --- |
| 2009 | 3,014 | 18,084 | 0 | 0 |
| 2010 | 8,435 | 50,610 | 740 | 68,734 |
| 2011 | 9,253 | 55,518 | 588 | 63,115 |
| 2012 | 9,407 | 56,442 | 702 | 58,419 |
| 2013 | 9,781 | 58,686 | 505 | 62,854 |
| 2014 | 9,350 | 56,100 | 482 | 61,645 |
| 2015 | 8,759 | 52,554 | 408 | 62,161 |
| 2016 | 8,892 | 53,352 | 406 | 55,273 |
| 合計 | 66,891 | 401,346 | 3,831 | 432,202 |
* The estimated CO2 fixation value is calculated by a prescribed method from the estimated timber volume of plantation forest ten years after planting.
Click here for related information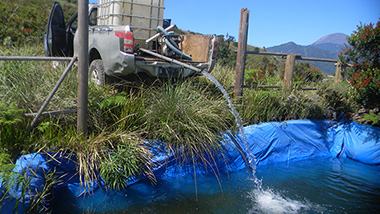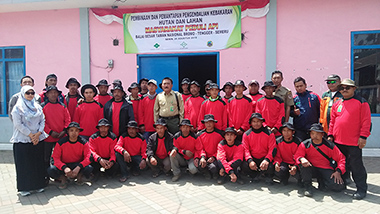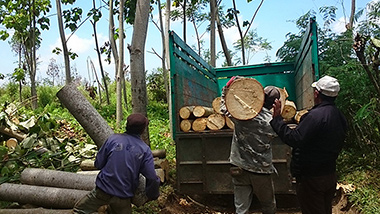 Community Contributions Through Social Forestry
As a manufacturer and seller of plywood and processed wood products, KTI contributes to the local economy and community greening through "social forestry" by distributing seedlings to local residents for free to plant on the lands they own and promising to purchase timber when the trees are mature at its market value.
Click here for related information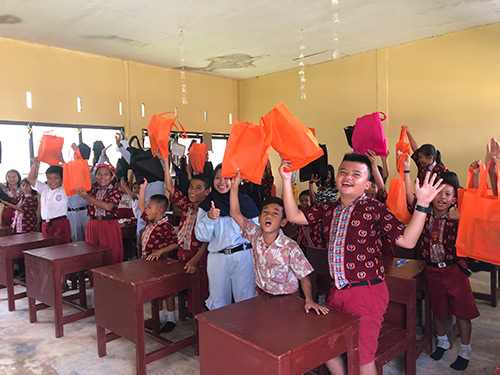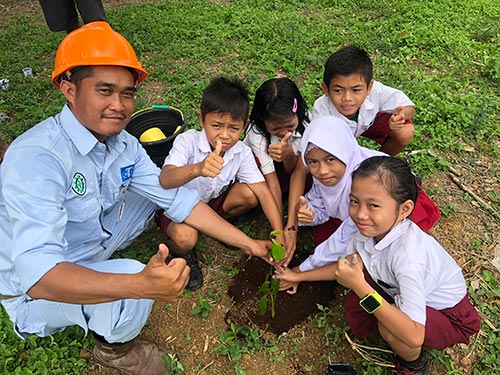 Respect for Local Tradition and Culture at Overseas Plantations
At forestry business in Indonesia, Sumitomo Forestry also deepens its understanding about the local culture and traditions by engaging in efforts to respect the traditions and cultures of local communities, such as capital support for traditional events held by local residents.
Technical Development for Sustainable Peatland Use
Sumitomo Forestry strives to develop forestry technologies together with the region through large-scale commercial afforestation project in West Kalimantan, Indonesia.
Click here for related information
Building Infrastructure and Providing Basic Educational and Medical Support in Neighboring Business Regions
PT. Mayangkara Tanaman Industri (MTI), a large-scale commercial afforestation project in Indonesia, views sustainable development of local communities as a vital managerial challenge, and thereby, undertaking community services that meet the needs of local residents in the areas through education, medicine and hygiene, infrastructure development, agriculture, and livelihood enhancement.
This forestry business acts as an invaluable employment opportunity for a local community with little industry. In particular, seedling production creates local employment opportunities for women who have few options.
Up until now, a water purifying plant was setup in villages in business regions to supply safe water for daily life to residents. In addition, Sumitomo Forestry works to provide basic educational support by building local elementary schools and deploying teachers where facilities and instructors are lacking as well as medical support by operating clinics and providing free examinations for neighboring residents.
In fiscal 2018, adoption of flood disaster prevention in neighboring communities began with the water level management technology developed through the Sumitomo Forestry business. Infrastructure that is easy to maintenance and able to effectively adjust water levels is offered to neighboring communities.
Due to the impact of coronavirus disease (COVID-19) in fiscal 2020, Sumitomo Forestry set up a mask production and distribution team from the end of March and the employees produced washable cloth masks by themselves to protect the health and safety of employees and overcome the ongoing shortages of masks throughout Indonesia. The masks produced by this team were not only given to employees but also donated to local hospitals and residents.
Total number of local residents using the MTI clinic annually*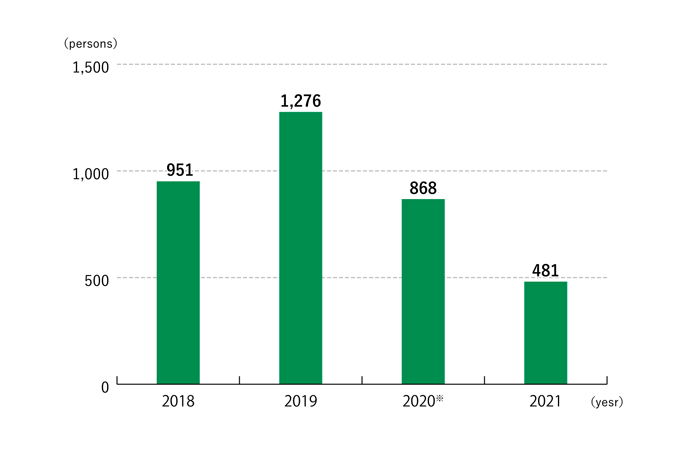 * The aggregation period for fiscal 2020 onwards is January to December of each year, and the aggregation period before fiscal 2019 is April of each year to March of the following year.
Activities in Papua New Guinea
Building Social Infrastructure
Open Bay Timber Ltd. (OBT) in Papua New Guinea has been forestry buisiness forest since 1984 and it contributes greatly to the economic development of the region. In April 2007, OBT became a Group company of Sumitomo Forestry to further healthy expansion and effective use of reforestation wood resources.
OBT also operates its own clinics and super markets for their employees and local residents to use because the preparation of social infrastructure is insufficient in Papua New Guinea. In neighboring villages, OBT nurses periodically visit neighboring villages to perform infant health checkups and provide advice to the sick as well as conduct educational activities. Patient transfers to larger hospitals are also provided.
The Open Bay Clinic is staffed day and night by health workers employed by OBT, who provide general medical care, deliveries, and medications, and also receive inpatients and transport critical patients over land and sea to large hospitals.
The patients receiving care are not only employees and their families but also many people who travel from far away for treatment.
OBT also took a variety of measures in respond to the spread of the COVID-19, such as the setup of hand-washing stations and training opportunities on public health for the local people. In Papua New Guinea, hand-washing and gargling have not been common until now, but became habits along with wearing masks indoors through these training. During mass new coronavirus vaccination, which was arranged by OBT, the state health department officials explained the COVID-19 and the vaccine, and those who agreed with the explanation were administered the vaccine. The Health Department thanked OBT for its strong support of the public-private partnership in the fight against the COVID-19.
OBT is also helping distribute textbooks and other educational materials to elementary schools in addition to its support transporting medical and sanitary supplies provided by the government slowed by the lock downs due to the COVID-19 to the Open Bay Clinic and neighboring medical facilities.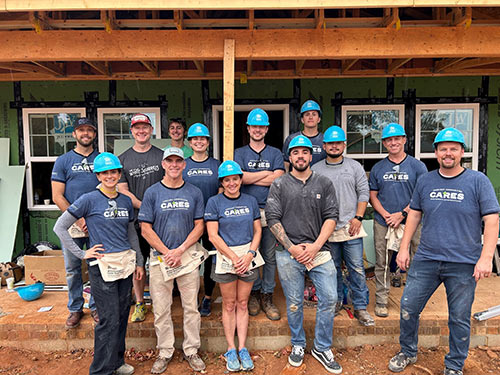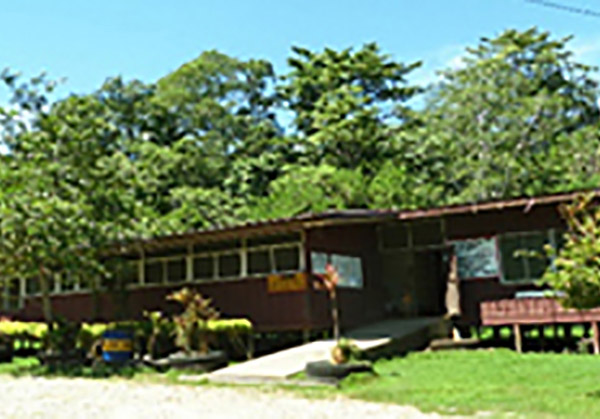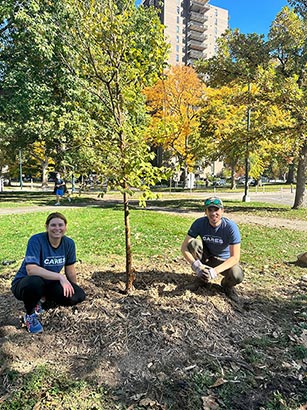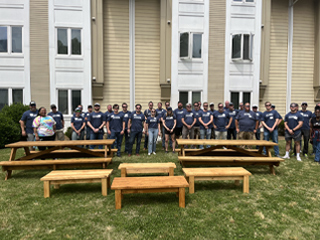 Activities in the United States
Social Contribution Activities Through the Housing Business
MainVue Homes set up MainVue Day in 2015 as a day each year for employees to participate in volunteer activities at least once. This program both works as an ongoing philanthropic activity and also an opportunity to reflect on a corporate philosophy that focuses on giving back to society.
MainVue Homes employees took advantage of MainVue Day in 2019 to participate in a volunteer effort held by the Low Income Housing Institute (LIHI)—a non-profit offering housing assistance to low-income and homeless people in Washington—to build a group of small homes. There are approximately 40,000 homeless people living in Washington, of which 7,000 are estimated to live with children. LIHI builds small homes equipped with electricity and heat for families living under such conditions. With the hope of providing at least a little more comfort in the lives of these impoverished people, MainVue Home employees pitched in wherever they could from painting both the inside and outside of homes and building front porches to cleaning the housing exteriors.
During the 2021 MainVue Day, which was held for the first time in two years due to the impact of the COVID-19, employees volunteered at a community center for the elderly in Carnation, King County, which MainVue Homes plans to build itself. The volunteers installed a set of cabinets provided by Sumitomo Forestry Group company Canyon Creek, cleaned the facility, planted trees, and demolished dilapidated houses.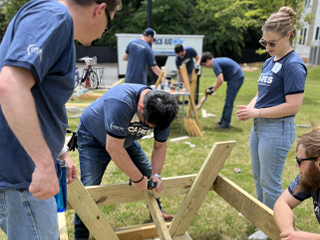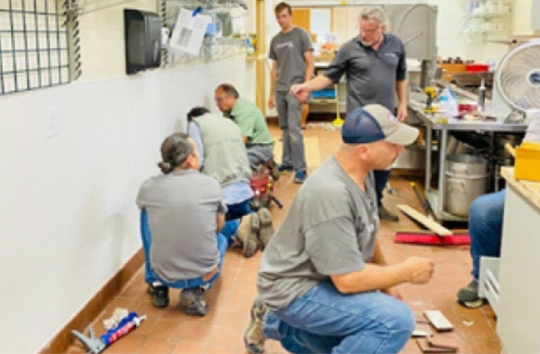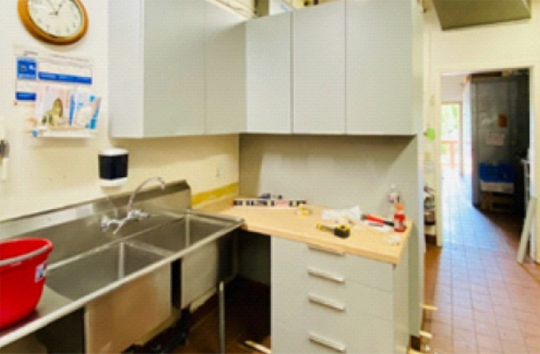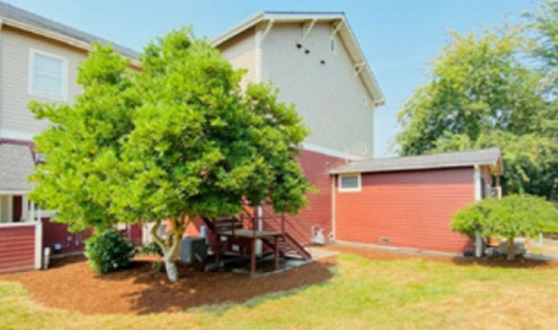 Crescent participates in various programs sponsored by Habitat for Humanity, an international non-profit organization that provides housing assistance in more than 70 countries around the world.
In 2021, 48 Crescent employees participated in Critical Home Repair, a program to repair existing homes in Charlotte, North Carolina, USA, by painting four homes. The program is designed to assist residents who are unable to contribute to the cost of repairs to homes that have deteriorated due to age and need to be reinforced and made safer.
Sumitomo Forestry Group companies DRB, Edge Homes, and Mark III Properties also donated to Habitat for Humanity and took part in housing support activities.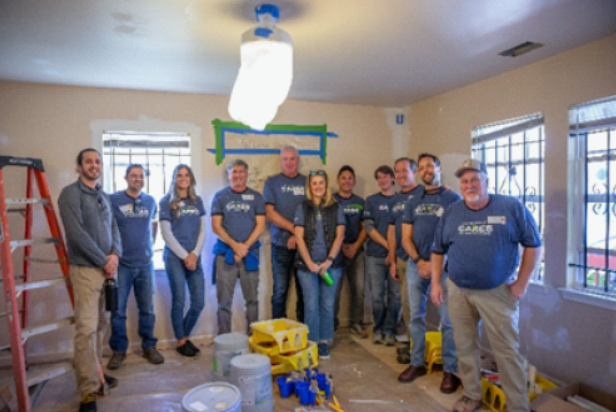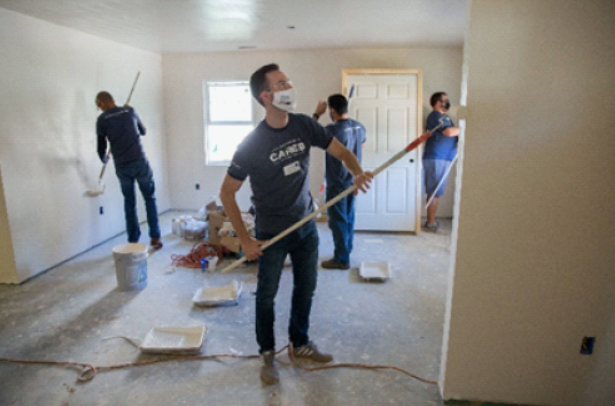 Participation in Environmental Conservation Efforts
In 2021, Crescent, in collaboration with the Catawba Lands Conservancy, which aims to preserve the land and environment around Charlotte, NC, conducted an invasive species removal and litter pickup activity around the Catawba River. Forty-five Crescent employees participated in the activity to protect native plants and environmental ecology. Crescent will continue to actively implement environmental promotion activities in the future.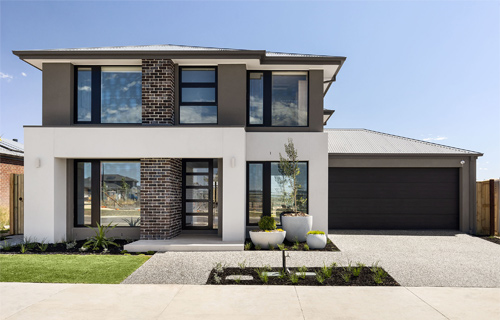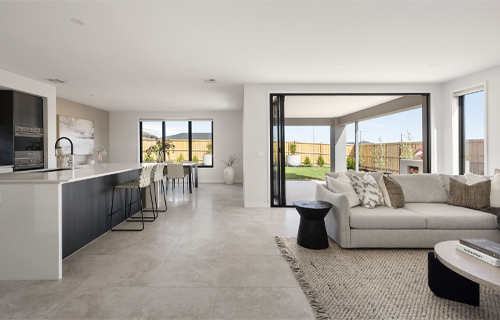 Participation in Social Welfare Activities
Crescent is also actively involved in social welfare activities.
In 2021, 20 Crescent employees visited the Second Harvest Food Bank of Metrolina, a volunteer organization that delivers donated food mainly to places of need, to pack 700 nutrition kits.
In addition, 25 Crescent employees visited BerryHill Public School in Charlotte, North Carolina, USA, to volunteer by reading books, cleaning flower beds, and replacing soil.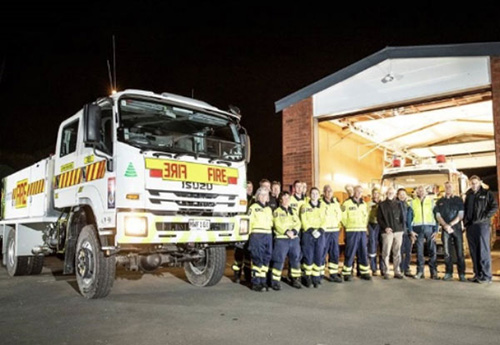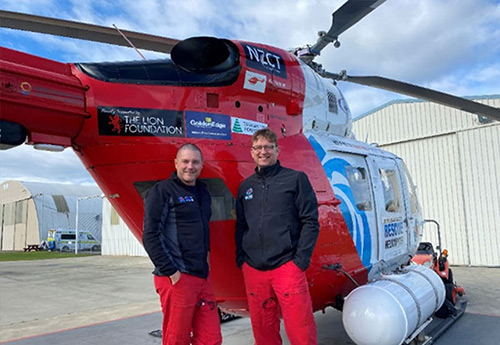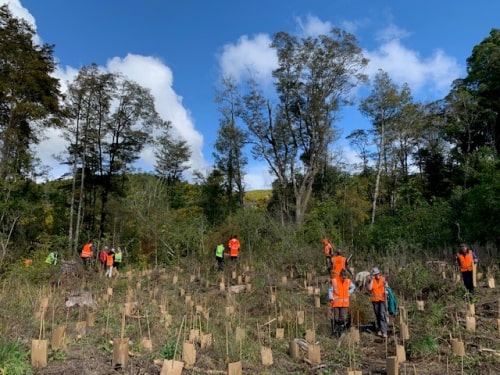 Donations of Wooden Toys by Provisions of Offcuts Produced During Manufacturing
The Canyon Creek, which manufactures and sells wooden cabinets in the United States, contributes to the region by providing offcuts of wood produced in manufacturing products to local charity organizations which donate toys to make donations of wooden toys and puzzles to child protection facilities and children's hospitals. Although we were unable to continue this activity in fiscal 2020 and fiscal 2021 due to the impact of the COVID-19, we will continue our efforts.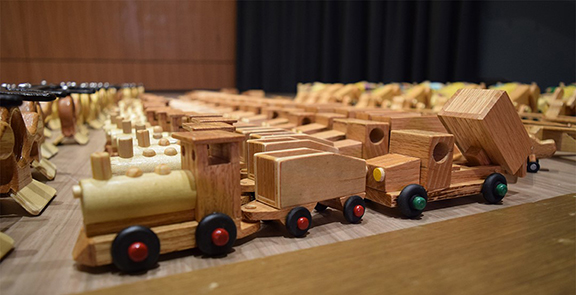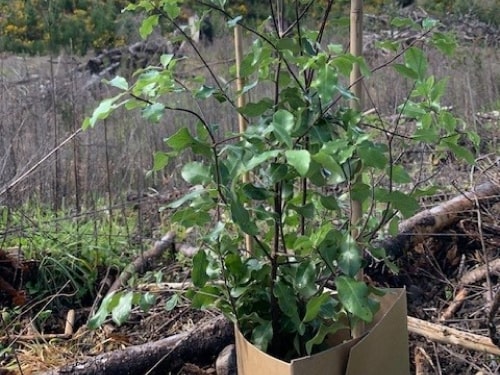 Activities in Australia
In 2021, Henley Properties, a company that builds and sells detached houses, sold one house for sale that was built with the help of a residential land developer and component suppliers, and donated the proceeds. Many people from the company's business partners participated in this activity, from providing land, designing, estimating, manufacturing and procuring materials, managing construction, and building, and constructed a two-story house in Wollert, north of Melbourne. Henley Properties donated all the earnings from the charity auction this year to a children's hospital. Since its inception in 1993, donations through the auction have totaled A$17.16 million (1,424.3 million yen) , which has been used for medical expenses for children suffering from illnesses.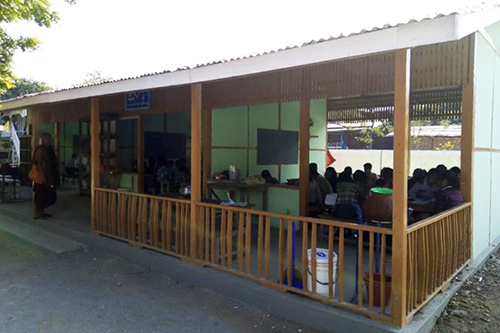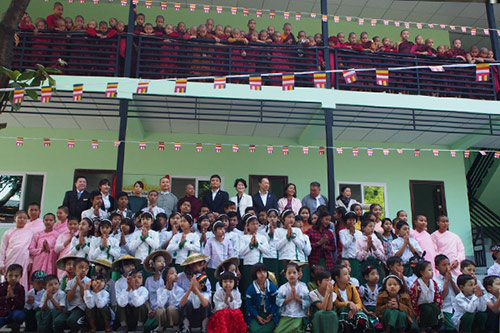 Activities in New Zealand
Contributions to Local Disaster Prevention and Rescue Efforts
Tasman Pine Forests Ltd.(TPF) contributes to integrated fire prevention/extinguishing activities in the community in cooperation with Fire and Emergency New Zealand (FENZ), a New Zealand firefighting organization, and neighboring forestry companies. Specifically, TPF contributes firefighting equipment such as fire engines to be operated by the FENZ-led local fire brigade to help prevent and extinguish wildfires in the community.
In addition, TPF employees and logging contractors are working to improve their disaster awareness and capabilities by participating in FENZ-sponsored disaster drills and attending elementary forest fire extinguishing training.
Since fiscal 2017, TPF has been donating activity capital as a sponsor to the Nelson Marlborough Rescue Helicopter Trust every year. This trust is deploying rescue helicopters roughly 500 times a year for natural disasters that occur in the region and for leisure accidents. The TPF logo is posted on the Marlborough Rescue helicopter.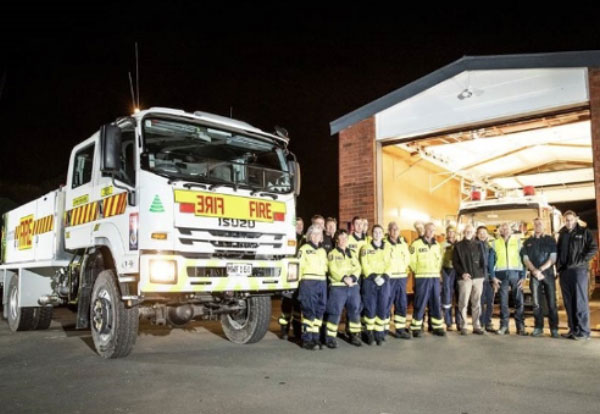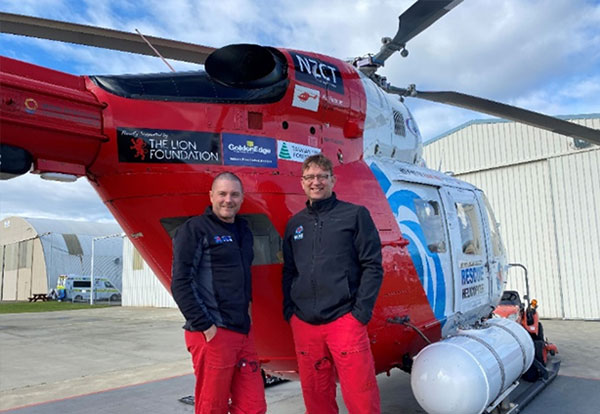 Teapot Valley Area Natural Forest Restoration Project Begins
Beginning in 2021, a project to restore natural forests damaged by the Pigeon Valley fire in TPF's mountain forests in February 2019 has begun. Teapot Valley was one of the areas most affected by the fire, and the area contained rare trees and wetlands. The project is part of the New Zealand government's Billion Tree Plantation Project, a government initiative that will last approximately four years. TPF is participating in the project from a financial and operational perspective. In 2021, we conducted work such as removing dead trees as part of before forestation work.
Activities in Myanmar
Support for Building Monastic Schools
Sumitomo Forestry is involved in the Myanmar Monastic School Support Team and the secretariat, bodies established to support the construction of monastic school-style community schools in Myanmar. Activities which began in 2014 aim to build one monastic-style school every year through donations of companies and individuals who see the benefit. Six schools have been completed to date. At the completion of a school, the donor companies held an opening ceremony with participants from advocating companies and an opportunity to engage with the local children.
Even though construction was postponed in fiscal 2021 due to the COVID-19, we plan to continue our support in the future as the Myanmar Monastic School Support Team.
Click here for related information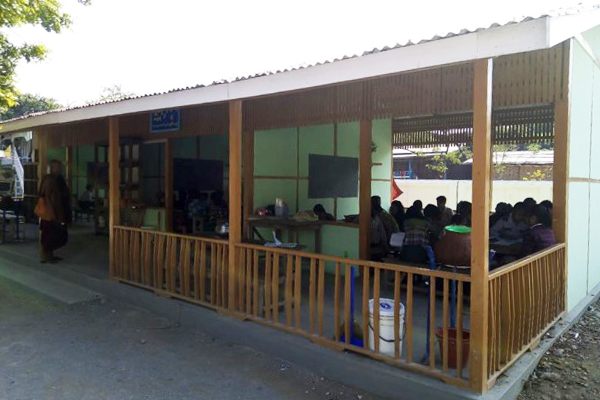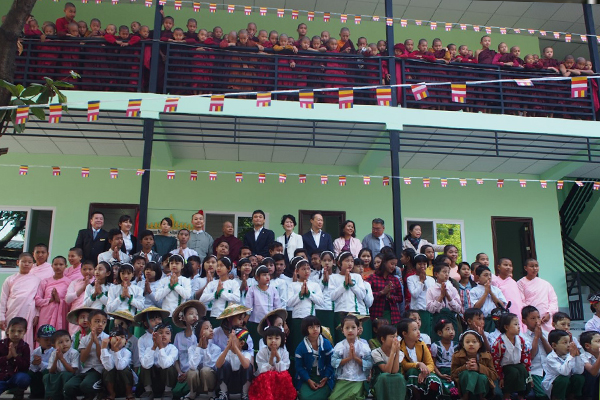 Construction of Monastic Schools by Myanmar Monastic School Support Team, in Number
| Monastic School | Completion | Construction Region | Number of Students | Sponsors |
| --- | --- | --- | --- | --- |
| Wutt Kyway Taw Pyay Monastery School | October 2014 | Mingaladon Township, Yangon City | Approx. 260 | 18 companies, 4 individuals |
| Pyin Nyar Theingi Nun School | November 2015 | Mingaladon Township, Yangon City | Approx. 130 | 18 companies, 4 individuals |
| Myittar Yaung Chi Nun School | November 2016 | South Dagon Township, Yangon City | Approx. 140 | 19 companies, 5 individuals |
| Shuepi Paremiin Monastery Elementary and Middle School | March 2018 | Aung Myay Tharzan Township, Mandalay | Approx. 520 | 20 companies, 6 individuals |
| Aung Mingalar Monastery Elementary and Middle School | January 2019 | Pyigyidagun Township, Mandalay | 305 | 19 companies, 6 individuals |
| Aung Myae Yadanar Monastery Elementary and Middle School | January 2020 | Pyigyidagun Township, Mandalay | 338 | 15 companies |
Examples of Overseas Community Development and Regional Contribution Activities