Examples of Social Contribution Activities in Japan
Social Contribution
Examples of Social Contribution Activities in Japan
Mt. Fuji Manabi no Mori Project
We are continuing the Mt. Fuji Manabi no Mori Project which began in 1998 to commemorate the 50th anniversary of the Company's establishment, setting out to restore the vitality of the rich national forest cloaking the foothills of Mt. Fuji that was extensively damaged by a typhoon. Today, this project visualizes the progress of tree growth in survey areas of planted regions and oversee natural forest recovery of Mt. Fuji Manabi no Mori.
In fiscal 2021, the Mt. Fuji Manabi no Mori was used for volunteer activities and environmental education programs. A total of 1,449 people visited Mt. Fuji Manabi no Mori from inside and outside of the Company.
Volunteer Activities in Forestry Development
Since the start of the project in 1998, up until now, a cumulative total of 28,000 volunteers have helped to plant approximately 30,000 region-specific saplings and conduct other forestry efforts.
To date, reforestation efforts of national forest damaged by typhoons were completed as the first phase by removing the hexatubes. In fiscal 2019, a tree survey began as a monitoring survey necessary to comprehensive forest management activities. As the third year of this tree survey, 79 volunteers took part in creating a database from records of 475 trees planted on approximately 1,800 m2 over four days under the guidance and cooperation of arborists and other tree experts.
The Manabi no Mori project will shift to a more suitable forest for learning by visualizing the growth of the trees that have been cultivated by the volunteers.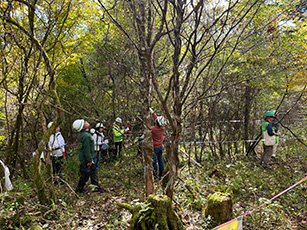 Forest Recovery Volunteer Activities Trend*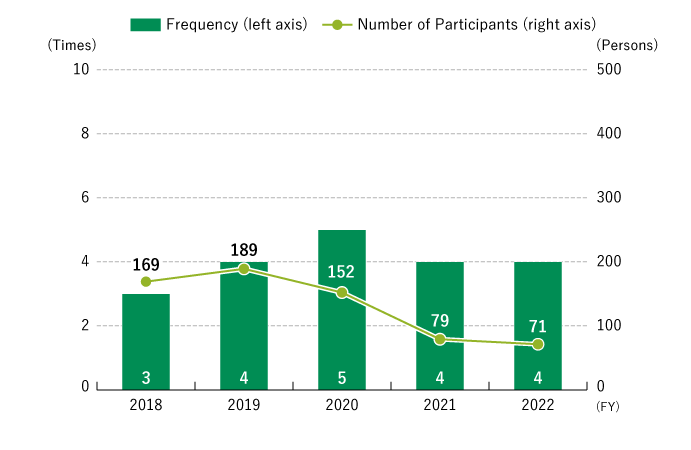 * The aggregation period for fiscal 2020 onwards is January to December of each year, and the aggregation period before fiscal 2019 is April of each year to March of the following year.
Environmental Education Program
Sumitomo Forestry has been implementing an Environmental Education Program for local elementary and junior high school students since fiscal 2006 in collaboration with the NPO Whole Earth Institute. Activities include nature observation, looking for tracks and traces of wild animals, and games incorporating the five senses. The aim of these opportunities to rediscover the natural world is for the students to learn about the importance of nature and encourage them to consider new ways in which people can coexist with nature in the future. In fiscal 2021, a total of 1,101 students and children from 14 schools were invited to the program. A cumulative total of more than 12,000 students and children have been invited as of fiscal 2021.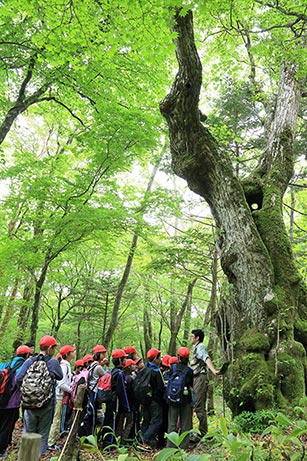 Environmental Education Program Trend*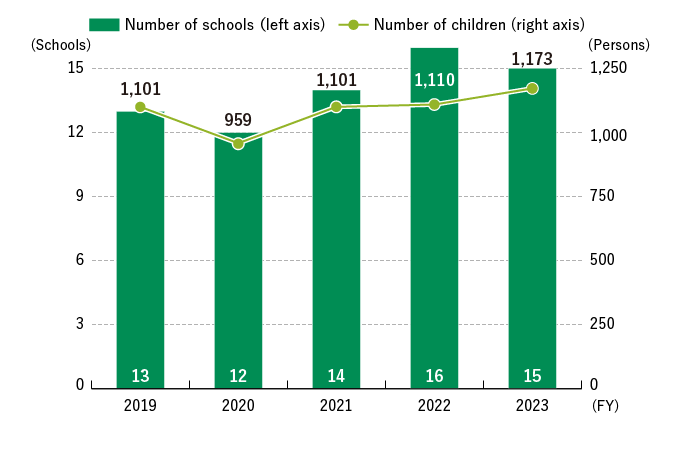 * The aggregation period for fiscal 2020 onwards is January to December of each year, and the aggregation period before fiscal 2019 is April of each year to March of the following year.
Vegetation Monitoring and Wildlife Habitat Survey
We have been conducting vegetation surveys since fiscal 2000 to monitor the recovery of the natural forest under the guidance of Vegetation Management Science Laboratory, Tokyo University of Agriculture and Technology. From the same year, we have been conducting wildlife habitat surveys with the cooperation of the Minami Fuji Branch of the Wild Bird Society of Japan.
The vegetation monitoring has been able to confirm the gradual growth of beech, Japanese zelkova, and other trees that were planted as well as dogwood and amur cork trees that grew naturally after the damage caused by the typhoon. Over the last 20 years, the survey revealed that the planted trees had not only gotten larger but entire species in the forest also recovered.
The environment where the ground was bare after the removal of fallen trees gradually transformed from grasslands to forests. With this, on the wildlife habitat survey, the population of pheasants and shrikes is declining, and in their place, the population of such birds of the forest as narcissus flycatchers and varied tit is increasing with opportunities to view them becoming more frequent, indicating that the forest is steadily recovering.
Since fiscal 2019, we have started an entomological survey with the cooperation of Tokoha University professors.
Cultivating a forest is a never-ending job and Mt. Fuji Manabi no Mori, too, is a 100-year project. To ensure that the project is still running 100 years from now, forest management and environmental activities will be continued as a way to communicate the importance of nature to as many people as possible.
Vegetation Shift in the Wind-afflicted Area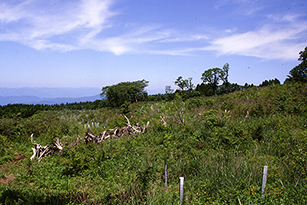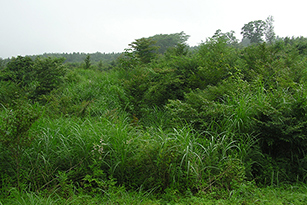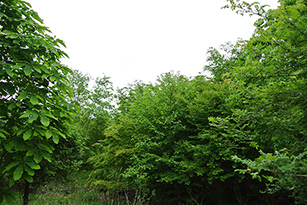 Click here for related information
Tree Planting Activity Oku Matsushima Natural Recovery Volunteer
Sumitomo Forestry entered into a partnership agreement on restoration property development coordination and cooperation with Higashi Matsushima City, Miyagi Prefecture in 2012 after the Great East Japan Earthquake to make every effort toward restoration. Higashi Matsushima City aims to revitalize tourism by bringing back the wetlands in the Suzaki district near the Nobiru coast devastated by the tsunami. As part of this effort, Sumitomo Forestry began trial tree planting activities in fiscal 2017. A soil investigation discovered a high concentration of acidity, which needed considerations about the tree species and techniques for planting. We then formulated a tree-planting plan taking into account third-party insight from the Tohoku Research Center of the Forestry and Forest Products Research Institute. We could check and make sure the seedlings had been growing with support by local community, so that the Higashi Matsushima Nature Recover Volunteer Planting Activity started near Oku Matsushima "Kizuna" Solar Park along the Nobiru coast of Higashi Matsushima City In fiscal 2019.
In 2021, tree planting activities were held twice, with a total of 213 people participating. Local residents, children from Higashi-Matsushima Municipal Miyanomori Elementary School, Sumitomo Forestry's subcontractors, and Sumitomo Forestry Group employees worked together to plant 880 local indigenous plants from five species: evergreen shrubs, resistant red pine, resistant black pine, Japanese hill cherry and Japanese cheesewood. In addition to the tree planting, this volunteer activity included clearing the undergrowth so that the seedlings in the planted area would grow to a large size by 2020. We also provided environmental education to third-year students of Miyanomori Elementary School, and are working together with the local community on medium- to long-term activities.
Since a soil survey conducted when we started experimental tree-planting activities suggested that the soil was highly acidic, we have been tree planting using crushed oyster shells as a neutralizing agent. In March 2022, the Tsukuba Research Institute gave a lecture on the neutralizing effect of crushed oyster shells at a public symposium hosted by The Japanese Society of Forest Environment under the title of "Natural Regeneration of Seawall Surfaces for Tsunami Disaster Prevention: Tree Planting Activities on Acidic Soil and Their Aftermath." We will continue to conduct monitoring surveys of the soil and planted trees, and will continue tree-planting activities while paying attention to effects of highly acidic soil.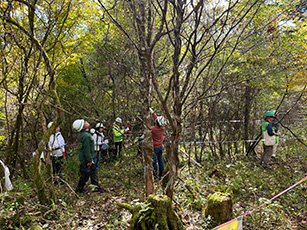 Cooperation with Local Communities
The Sumitomo Forestry Group conducts biodiversity conservation in surrounding areas where it engages business in and conducting and activities tied to local communities with local residents.
Forest Maintenance Activities at Gunma Manabi no Mori
In July 2012, Sumitomo Forestry and Gunma Prefecture signed a prefectural forest maintenance partnership agreement, and are working with the prefectural authorities to promote the maintenance of forest at the foot of Mt. Akagi.
Located within the jurisdiction of Maebashi City, Akagi Forest is owned by Gunma Prefecture, which promotes maintenance and conservation of its forests in cooperation with companies and organizations. The Sumitomo Forestry Gunma Branch holds the annual Gunma Manabi no Mori event as a forest maintenance activity. With the cooperation of local forestry associations, the activities which included planting of Japanese cypress seedlings and thinning. Although the activity was cancelled in fiscal 2021 due to the impact of the coronavirus disease(COVID-19), employees, subcontractors, and their families, as well as family members of owners, have participated in the activity so far.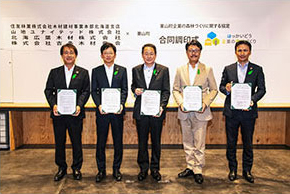 Advocating the Kanagawa Zero Plastic Waste Declaration
The problem of plastic waste in the oceans is internationally acknowledged as an extremely serious environmental problem for the major impact it exerts on aquatic ecosystems and human lives. In February 2019, the Sumitomo Forestry sales offices in Kanagawa (Yokohama Branch, Yokohama North Branch, Kanagawa West Branch, Shonan Branch, and Tokyo South Branch of Housing and Construction Division) pledged their support for the Kanagawa No Plastic Waste Declaration*. Although the activity was cancelled in 2021 due to the impact of the COVID-19, as part of the activity, we have been conducting beach cleanup activities jointly with construction stores mainly in Yokohama and Shonan branch offices every year. The trash included not only plastic waste but also syringes and old tires. This activity was a great chance to reflect once again on the environment around us.
* As an "SDGs Future City," area, Kanagawa Prefecture announced its "Kanagawa Zero Plastic Wasted Declaration" as part of its specific SDG targets for a sustainable society, publicized as a "Message from the Whales" in September 2018. The project aims to achieve "zero plastic waste" by 2030 or earlier if possible by spreading efforts among the municipalities, private-sector companies and residents of the prefecture to eliminate and collect plastic straws, shopping bags, etc.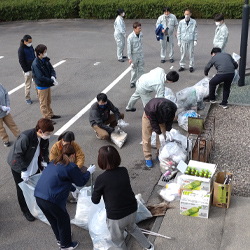 Kanagawa Zero Plastic Waste Declaration logo

Giving on-site classes Project for Comprehensive Forestry Education
In October 2021, Sumitomo Forestry launched "morino de van," a comprehensive forestry education Giving on-site classes Project in collaboration with the Gifu Academy of Forest Science and Culture (monoris*1). This project is an initiative to deliver a wide range of programs including nature observation, fire-making experience, and a hands-on forest museum, using a Wald-car*2 to provide a comprehensive program of forest experiences.
Nature Experience Program were jointly developed with Monoris, monoris provided instructors and training, and arranged and operated the program equipment. Sumitomo Forestry donated Wald-car* and wooden boxes made from company-owned timber, as well as offcuts generated after lumbering.
The program aims to realize a society in which all people and forests are connected and "coexist" through the nature experience programs offered by the delivery of classes.
*1 morinos: Nickname of the Forestry Education Center within the Gifu Academy of Forest Science and Culture. Its purpose is to connect all people with forests and pass on the joy of living with forests and the richness of forest culture to the next generation.
*2 Wald-car: means "forest car." Wald (WALD) means forest in German.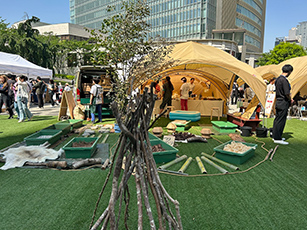 Development of Technology to Pass Down Heritage and Precious Trees to the Next Generation
Sumitomo Forestry uses the most cutting-edge biotechnology in addition to conventional grafting and cutting based on the request of owners to pass down heritage and precious wood to the next generation. We are also putting our strength into breeding seedlings that provide the properties in the flowers and leaves of heritage and precious wood as a way to pass down both heritage and precious wood to the next generation. In addition, we are building a DNA database for trees to further advance a sophisticated program to identify individual varieties.
Exhibition of the Culture Samples and Seedlings of Japanese Apricot Bonbai Successfully Propagated Through Tissue Culture
Sumitomo Forestry exhibited the culture samples and seedlings of Ume Bonbai* successfully propagated through tissue culture at the Bonsai Exhibition of Ume Trees with Blossoms. On display were flasks and cultured seedlings propagated by tissue culture from Furo and Fuyoho, precious Ume Bonbai between 350 to 400 years old*, and Beniwakonbai, a Tobiume plum tree sacred to the Kitano Tenmangu Shrine. This will be the second exhibition of Furo and Fuyoho seedlings since 2021, and the first time for Beniwakonbai seedlings to be shown.
The culture samples and seedlings cannot generally be viewed by the public because they are grown in a sterile chamber that controls temperature. At this exhibition, we created a system to very carefully control the temperature to achieve this special presentation of the Ume Bonbai. The exhibition treated many visitors to the Ume Bonbai trees passed down for generations as well as leading-edge biotechnologies.
* Dwarfed Japanese apricot tree
■Bonsai Exhibition of Ume Trees with Blossoms
Bonsai Exhibition of Ume Trees with Blossoms began in 1952 at the Keiunkan in Nagahama City, Shiga Prefecture and is the most historic and largest Ume Bonbai exhibition in Japan. At this event, about 300 pots are replaced according to the flowering time, and about 90 pots of Bonbai are exhibited in the best condition. The exhibition this year was held from January 9 to March 10, 2022.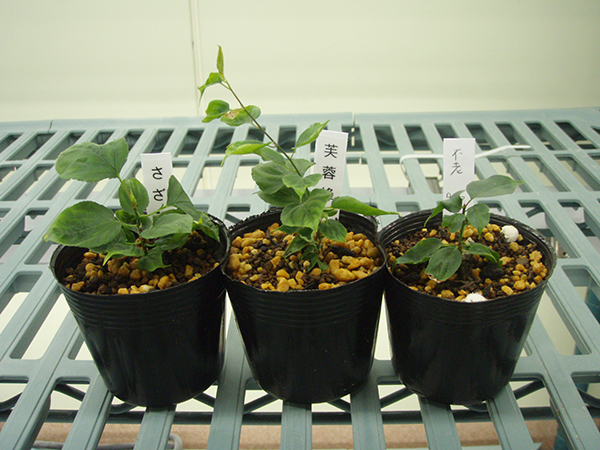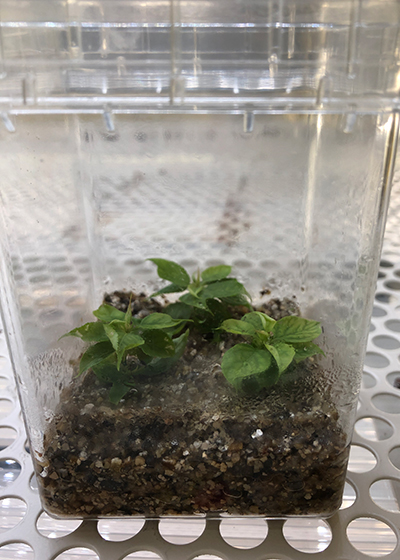 Commemorative Tree Planting of Cherry Trees Associated with Okumura Togyu "Daigo" at the Yamatane Museum of Art
In October 2021, Sumitomo Forestry donated Taiko-shidare-zakura cherry trees from Daigoji Temple, which were propagated by tissue culture, to the Yamatane Museum of Art. The Taiko-shidare-zakura at Daigoji Temple, the head temple in Kyoto, known for Toyotomi Hideyoshi's Daigoji Cherry Blossom Viewing, is said to be 170 years old, and is also called Togyu's cherry tree because the Japanese painter Okumura Togyu, who is closely associated with the Yamatane Museum of Art, painted it in his masterpiece "Daigo."
A tree-planting ceremony was held on November 15, 2021 to coincide with the Yamatane Museum of Art's [Special Exhibition Commemorating the 55th Anniversary] The Art of Okumura Togyu - A Master of Nihonga Whom Yamazaki Taneji Loved, Part2.
Training and Education for the Next Generation
Conducting Corporate Research Seminars for Ministry of Education, Culture, Sports, Science and Technology-Designated Ehime Prefectural Matsuyama Higashi High School
Students of Matsuyama Higashi High School visit Niihama, Ehime, where the Sumitomo Forestry Group was founded, to take part in a seminar every year, as part of reforms of education curriculum as well as research and development projects (human resource development of future leaders through the development, practice, and systemization of high-quality curriculum) that help nurture leaders in high schools launched by the Ministry of Education, Culture, Sports, Science and technology since 2014. We had also planned to hold seminars in fiscal 2020 and fiscal 2021, but the event had to be canceled unfortunately due to the COVID-19.
| | |
| --- | --- |
| FY2014 to FY2018 | Super Global High School Program |
| Since FY2019 | Program to Promote Education Innovation at High Schools in Cooperation with Local Communities |
The seminar was made up of two sections; a lecture to introduce the businesses of the Sumitomo Forestry Group as well as a discussion about the experiences of employees working abroad among other things in Niihama Office as well as field work at the Forester House in Kyubesshi. These students learned about the corporate spirit passed down through the close to 330-year history of Sumitomo Forestry as well as the contributions to current business expansion overseas.
In fiscal 2014 and fiscal 2015, students visited the Djakarta office to experience the Sumitomo Forestry business expansion in Indonesia.
Sumitomo Forestry sponsors and cooperates with the Ministry of Education, Culture, Sports, Science and Technology in reforms of education curriculum as well as research and development programs that help nurture leaders in high school through this series of activities.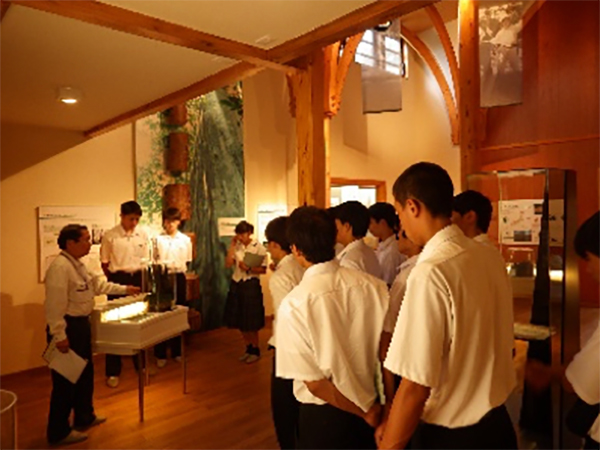 Support for Social Contribution Activities of Other Companies
Supporting Tree-Planting Activities at BAUM Oak Forest
Sumitomo Forestry supported tree-planting activities conducted by Shiseido Company's brand "BAUM" at the "BAUM Oak Forest" in Morioka City, Iwate Prefecture. In 2021, the first year of the project, approximately 600 oak saplings procured by Sumitomo Forestry were planted.
Shiseido's "BAUM" brand, which is based on the theme of "coexistence with trees" has the brand philosophy of "To not just receive the blessings of trees, but to also give back to nature." Oak saplings used as wooden parts of the packaging will be cultivated in BAUM stores, and the cultivated saplings will be planted to realize recycling of forest resources. Sumitomo Forestry has been supporting the brand's activities since June 2020 when BAUM was launched, by providing and maintaining saplings grown in the stores and further cultivating the saplings grown in the stores for tree planting.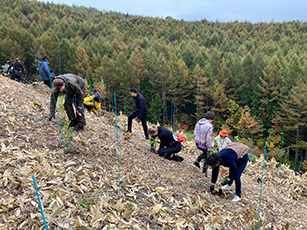 Examples of Social Contribution Activities in Japan