Policies and Targets for Biodiversity Conservation
Biodiversity Conservation
Policies and Targets for Biodiversity Conservation
Declaration of Biodiversity and Biodiversity Action Guidelines
Sumitomo Forestry established its policy on Biodiversity Conservation in Company-owned Forests in Japan in fiscal 2006, and its Timber Procurement Philosophy and Policy in fiscal 2007. The Company also revised its Environmental Policies in fiscal 2007 to incorporate biodiversity considerations. Then in March 2012, the Sumitomo Forestry Group established its Declaration of Biodiversity, setting out the Sumitomo Forestry Group's understanding of and stance on biodiversity; Biodiversity Action Guidelines, specifying an internal set of guidelines; and Biodiversity Long-Term Targets as specific goals of activity.
In July 2015, the Group initiated the Sumitomo Forestry Group Environmental Policy, bringing together the Environmental Philosophy*, the Environmental Policies, the Sumitomo Forestry Group Declaration of Biodiversity, and the Sumitomo Forestry Group's Biodiversity Action Guidelines. Therefore, the efforts in biodiversity are also operated based on the policies integrated in the Sumitomo Forestry Group Environmental Policy.
* The Sumitomo Forestry Group formulated the Environmental Philosophy in 1994 and the Environmental Policies in 2000.
Click here for related information
Company Structure for Biodiversity Conservation
In accordance with our environmental management structure, the Representative Director and President is the person in charge of Sumitomo Forestry Group's biodiversity conservation initiatives, and the Executive Officer in charge of the Sustainability and the General Manager of the Sustainability Department manage Sumitomo Forestry Group company activities.
Commitment to Protected Areas
To manufacture and secure timber resources, Sumitomo Forestry Group owns or manages many forests both in Japan and overseas. None of these forests is located in areas designated as world heritage sites. Furthermore, we have not and will not operate in areas designated as world natural heritage sites. Regardless of land ownership, national parks in Japan, which has a small land area, operate under the Regional Natural Park System and many national parks include private property. A portion of Sumitomo Forestry's Company-owned forests are located inside national park areas, and as is the case for other areas designated as protected forests or other, we operate in strict compliance with all legal regulations.
Furthermore, in terms of risk assessment, in areas determined to be important from a biodiversity perspective, we not only strictly adhere to all legal regulations, also work to mitigate our impact through reevaluation, minimization, revitalization, offsetting and other efforts.
We manage approximately 48,000 hectares of Company-owned forests in Japan and approximately 230,000 hectares of forests overseas. These managed forests are categorized as "Conservation Forests" and "Working Forests" etc. In both Japan and overseas, "Conservation Forests" are, in principle, natural protection areas where no operations are carried out.
However, the borders of these lands set by the government do not always match the boundaries of the ecosystem. Affiliated companies PT. Wana Subur Lestari (WSL), PT. Mayangkara Tanaman Industri (MTI), and Kubu Mulia Forestry (KMF) conducted thorough animal and plant surveys that included conservation forest neighboring areas under governmental management before defining preservation areas and business areas. WSL and MTI also worked with local organizations to build a conservation network that defines a net of green corridors to prevent closed off islands which would isolate the regions where orangutans, long-nose monkeys and other rare flora and fauna live. These protected areas account for over 20% of our operating land, higher than the 17% goal for protected regions set out in the Aichi Biodiversity Targets.
Managed Area of WSL/MTI/KMF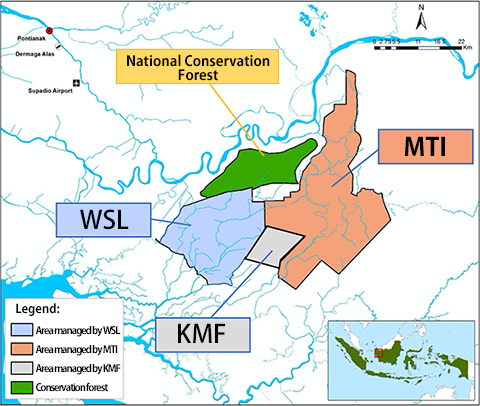 Conservation Network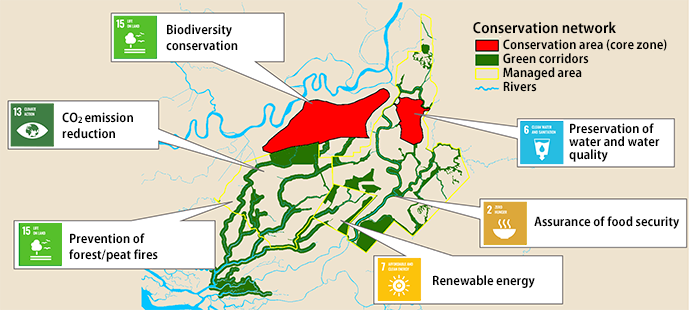 Stakeholder's Evaluation of Initiatives
The concept and specific initiatives of the conservation network advocated by WSL and MTI have attracted attention both in Japan and overseas as unprecedented efforts worldwide. At the Indonesian Pavilion of the United Nations Framework Convention on Climate Change (COP25) held in Madrid, Spain in 2019, representatives from international organizations, researchers, and non-profit organizations highly praised our presentation of these initiatives as a representative of private organization.
In addition, in our urban greening business, we obtain third-party evaluations by actively encouraging our customers to register for "Ikimono Kyozon Jigyousho®" certification set by the Association for Business Innovation in Harmony with Nature and Community (ABINC) or the Social and Environmental Green Evaluation System (SEGES) green certification implemented by the Organization for Landscape and Urban Green Infrastructure.
Support of Related Initiatives and Cooperation with Organizations
Sumitomo Forestry participates in many organizations that are actively involved in biodiversity conservation. The chairman of Sumitomo Forestry serves as vice chairman of the Keidanren Committee on Nature Conservation, made up of Keidanren member companies. In addition, employees are temporarily assigned to serve as secretariat members* and committee members are dispatched to the planning task force, which is in charge of operations. In June 2020, Sumitomo Forestry committed to the Keidanren Declaration of Biodiversity and Action Policy (Revised Edition) proposed by the Keidanren Declaration on Biodiversity Initiative. We also participate in the Japan Business Initiative for Biodiversity (JBIB), made up of companies passionate about biodiversity, and conduct joint research on corporate biodiversity initiatives in subcommittee meetings.
In the Double 20 Project in Japan to achieve the targets for Aichi, we have registered three projects as of June 2016; The Sumitomo Forestry Group's Biodiversity Long-term Targets, Sumitomo Forestry-owned Forest Operations Friendly to Biodiversity, and the Environmental Education Program at Mt. Fuji Manabi no Mori Project. These three projects are highly praised for many reasons that include the creation of many independent links, content with a great impact that utilizes the features of the company in its efforts and for the ripple effects to related industries that can be expected thanks to the relationship outlined with Aichi targets. In March 2017, these projects were bundled and recognized as a business tie-up with the Japan Committee for United Nations Development Business (UNDB-J; 10th).
In addition, Sumitomo Forestry Landscaping Co., Ltd. is actively striving toward the registration of "Ikimono Kyozon Jigyousho®" certification for Sustainable Business Sites promoted by the Association for Business Innovation in harmony with Nature and Community (ABINC) and the SEGES Green Certification promoted by the Organization for Landscape and urban Green Infrastructure for properties undertaken with the environmental greening business. Moreover, the Chief Corporate Advisor of Sumitomo Forestry acts as the chairman of the Organization for Landscape and Urban Green Infrastructure.
* Until fiscal 2019 Temporary Staffing
Participation in Drafting the Guidelines for Private Sector Engagement in Biodiversity
The Ministry of the Environment drafted the Guidelines for Private Sector Engagement in Biodiversity (Ver. 1) in 2009 for business proprietors as a means to advance biodiversity conservation and sustainable use with recognition that corporate activities play a vital role in those efforts. Sumitomo Forestry was involved in drafting these guidelines as a member of the investigative committee.
The Guidelines for Private Sector Engagement in Biodiversity brings together basic information and approaches necessary to conserve biodiversity and reduce loss in a way that is easy for private sector organizations not yet addressing biodiversity issues to understand while also offering a means for business proprietors already engaged in efforts to play an even more effective role.
In December 2017, the second version was released in light of growing interests and expectations about conserving biodiversity driven by the SDGs and other international targets. These guidelines presented the sustainable wood procurement of Sumitomo Forestry as one excellent example initiative.
Click here for related information
Signing of Commitment to the Business for Nature's Call to Action
Business for Nature is a global business coalition founded in July 2019 for the purpose of bringing together the voices of business and conservation organizations and forward-thinking companies as one to amplify their call to governments. In May 2020, the Coalition devised a Call to Action to encourage the adoption of legislation to reverse nature loss in this decade when formulating the Post-2020 Global Biodiversity Framework. Sumitomo Forestry signed its commitment to the Call to Action in September 2020.
Click here for related information
Policies and Targets for Biodiversity Conservation