Biodiversity Conservation in Company-Owned Forests in Japan and Planted Forests Overseas
Biodiversity Conservation in Company-Owned Forests in Japan and Planted Forests Overseas
Biodiversity Conservation in Company-Owned Forests in Japan
Our Policy on Biodiversity Conservation applies to the company-owned forests in Japan. We conserve "diversity of ecosystems" through proper management of conservation areas and consideration of forest continuity, "diversity of species" through protection of rare plants and animals, and "genetic diversity" through maintenance of wildlife populations. In keeping with these policies, forests are subject to appropriate zoning and management according to certain criteria, such as the increment of trees. We also strive to prepare an endangered species list and a waterside forest management manual, and check for rare species when clear-cutting and opening work roads.
Policy on Biodiversity Conservation in Company-Owned Forests in Japan (Excerpt) (June 2006)
Diversity of ecosystems
We will properly manage strictly protected areas designated under the Natural Parks Law of the Japanese government and other legislation in a manner stipulated by the law. In other areas, we will ensure continuity of forests by limiting the area of forest harvested, particularly when clear cutting is conducted.
Diversity of species
We will work to prevent a decline in the number of species existing in natural forests by refraining from expansive planting projects and other extreme activities involving the replacement of species that would have a major impact on existing ecosystems. We will also give the utmost consideration to the protection of rare flora and fauna in all operations, making reference to the Sumitomo Forestry Red Data Book.
Genetic diversity
Genetic variation and the maintenance of populations to support them will become issues in the future. However, analysis is complicated and therefore we will closely watch monitoring activities carried out by government and public institutions and their findings.
Creation of the Sumitomo Forestry Red Data Book
Sumitomo Forestry creates a Sumitomo Forestry Red Data Book listing flora and fauna at threat of extinction which may exist in company-owned forests and distributes it to employees and contractors involved in forest management. By carrying the book with them during operations, personnel can refer to the opinions of specialists when they come across flora and fauna included in the book and take action. While using the latest version of this book, we will continually advance measures focused on biodiversity and update the content of the text as necessary.
Creation of the Riparian Forest Management Manual
The company has also created the Riparian Forest Management Manual to ensure the appropriate management and preservation of areas around bodies of water that are rich in biodiversity.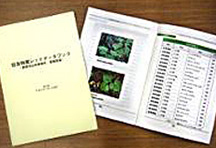 Wildlife Monitoring Surveys
Sumitomo Forestry monitored wildlife inhabiting company-owned forests. Surveys were conducted in four areas— Mombetsu (Hokkaido), Niihama (Shikoku), Hyuga (Kyushu) and Kinki region (Honshu). The results were used to create basic reference materials relating to biodiversity and to ascertain the impact of forestry on the surrounding environment over the long-term.
The results of the nine surveys showed that the number of population and species of mammals and birds change during the gradual transition of small clear-cut areas to forest, indicating that biodiversity is maintained by forestry.
While a number of species decline temporarily, small size of clear-cut areas have been shown to distribute places suitable for umbrella species* such as hawks and land appropriate for hunting in a mosaic shape in addition to realizing a favorable environment for life such as the species above to thrive.
In the future, we will consider monitoring results to date as we work to properly sustain functions such as maintaining environmental conservation and biodiversity in company-owned forests.
*Consumers at the top of the food chain, the ecological pyramid structure in the area
Species of Mammals and Birds Confirmed by Past Surveys
Managed Area
Verified mammal and avian species
(ha)
2008
2009
2010
2011
2012
2013
2014
2015
2016
Company-owned forests in Shikoku
14,782
Mammals
14
11
10
Birds
31
34
24
Company-owned forests in Kyushu
9,182
Mammals
11
12
Birds
33
29
Company-owned forests in Hokkaido
18,199
Mammals
10
9
Birds
38
40
Company-owned forests in Honshu

*2013
acquisitions in Okayama, Hyogo, and Mie

5,804
Mammals
12
(Wakayama)10
(Hyogo)6

*2015
additional acquisitions in Wakayama

Birds
25
(Wakayama)29
(Hyogo)21
Total
47,967
*Conducted in two areas in 2015; Wakayama and Hyogo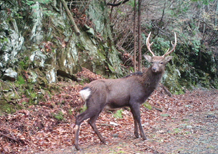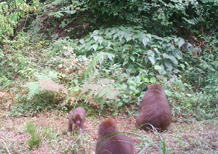 Appropriate Control of the Deer Population
In recent years, the increasing numbers of wild deers throughout Japan has raised concerns about feeding damage on young leaves and bark, and other harm to forestry in addition to soil runoff and the loss of biodiversity caused by the animals eating herbaceous plant on the forest floor, which decreases the variety of vegetation.
Sumitomo Forestry Group captures and exterminates deer and installs tree shelters and protective nets that protect planted trees to control feeding damage and prompt the growth of healthy forests.
Properly controlling the deer population contributes to comprehensive forest management of next generation through sustainable forest growth, biodiversity conservation by sustaining diverse vegetation on the forest floor, and prevention of local disasters by preventing soil runoff.
Biodiversity Conservation in Planted Forests Overseas
Wana Subur Lestari (WSL), Mayangkara Tanaman Industri (MTI) and Kubu Mulia Forestry (KMF) Initiatives
More than half of living species throughout the world live in rainforests, which are said to be the treasure troves of life. However, rainforests are slowly disappearing today due to a variety of issues from disordered development and illegal logging to forest fires. Sumitomo Forestry Group subsidiary companies PT. Wana Subur Lestari (WSL) , PT. Mayangkara Tanaman Industri (MTI) and Kubu Mulia Forestry (KMF) conduct operations balancing working forests and environmental conservation in the West Kalimantan province of Indonesia.
Each operation begins with detailed measurements and surveys to determine conservation areas, buffer zones and forestation areas. Conservation areas are subject to regular animal and plant surveys. In addition to population monitoring of orangutans and proboscis monkeys, which are rare animals, studies are conducted on fruit-bearing trees, their source of food.
Observations in the dark for the numerous animals active in the early morning or late at night require proficient skills. Sumitomo Forestry is attempting to directly observe proboscis monkeys and orangutans in the early morning and night by setting up automatic photography using camera traps or drones equipped with heat sensors.
Camera traps installed in conservation areas photographed 31 species and 494 animals in 2022.
We photographed an adult orangutan with its child for the first time in fiscal 2019 and confirmed a higher population than in surrounding areas in fiscal 2020. These results verify the growing orangutan population.
Peatlands store a tremendous amount of water. Sumitomo forestry surveys not only ecosystems on land but also in aquatic habitats due to concerns about the impact of our operations on rivers. In the lower basin of an area managed by WSL, we have discovered a habitat of Irrawaddy dolphins, which are designated as an endangered species. Examples of monitoring surveys of aquatic creatures in rainforest peatlands are few and far between. These Sumitomo Forestry surveys are pioneering the work worldwide.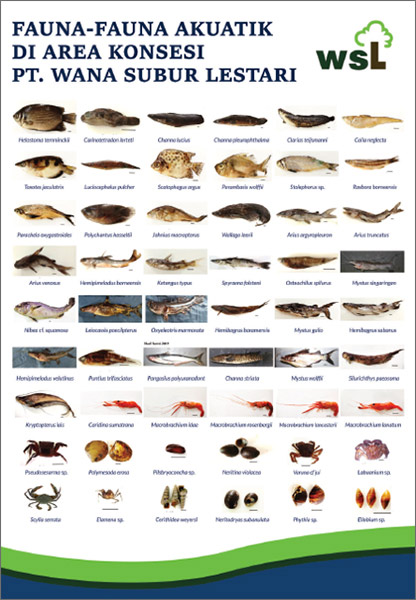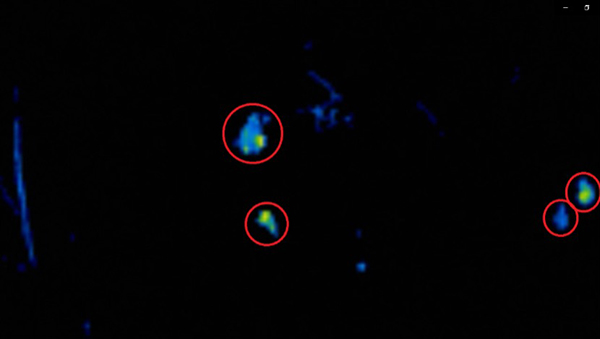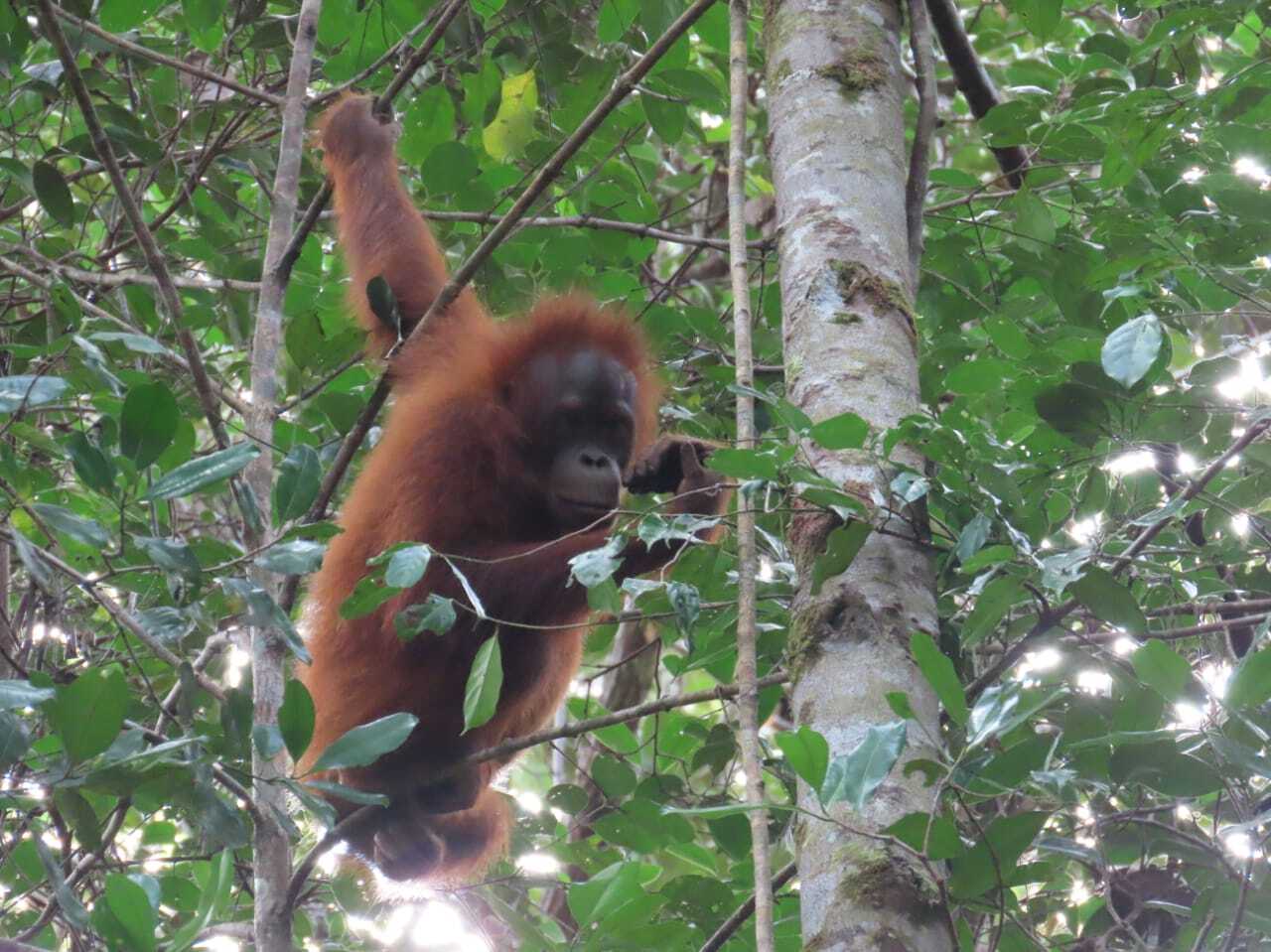 Tasman Pine Forests (TPF) Initiatives
Sumitomo Forestry strives to protect Kea (Large Parrot Species), which isa parrot unique to the South Island of New Zealand. Kea is the only parrot in the world to live in mountainous areas, and it is considered one of the smartest birds on the planet. It is a bird that is protected as an endangered species (about 5,000 birds throughout New Zealand), and adored by the people. It has been confirmed that nesting is carried out in the drainage clay pipe in the forest of TPF. In cooperation with the Kea Conservation Trust, we strived to set up traps and fences around the area to protect eggs from natural enemies. As a result, it has been confirmed that one chick has successfully hatched in 2021. In October 2022, three chicks were found to have hatched in the TPF forest. We will continue to make efforts so that the birds can leave the nest in the future.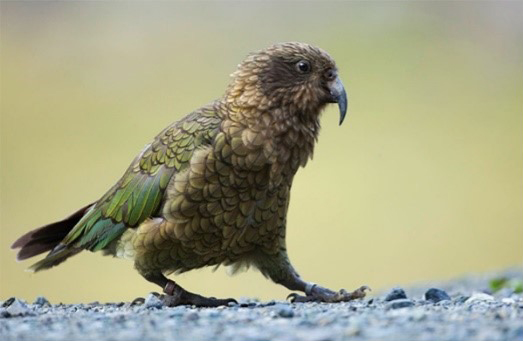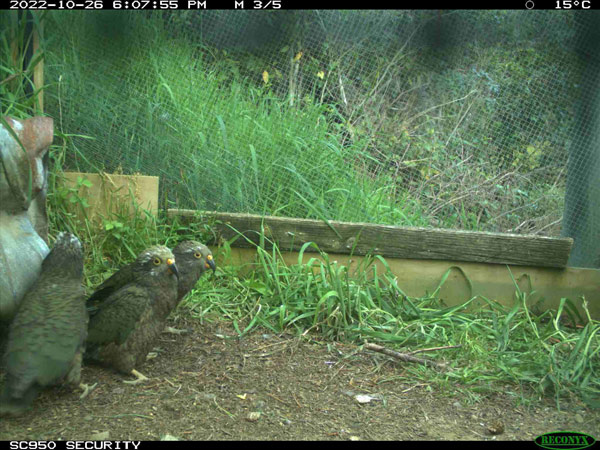 Click here for related information
Biodiversity Conservation in Company-Owned Forests in Japan and Planted Forests Overseas