Contributions to Eco Cities Through Greening
Biodiversity Conservation
Contributions to Eco Cities Through Greening
Basic Policy
The use of as many plants as possible which are native to the region in property development is a growing trend as society shifts toward a goal to co-exist with nature.
In the midst of these trends, Sumitomo Forestry Landscaping has defined Harmonic Plants® guidelines for selecting plants species based on greening areas with the concept that using indigenous and local species in greening plans is in the best interest of natural revitalization. The Company has been promoting this model up until now.
There are plants that have grown in Japan since long ago (native plants) and plants that have come to Japan from abroad (migration plants) for trees. Among these migration plants, there are species that will overrun areas where native plants live due to their characteristics, which endanger the biodiversity of the region (invasive plants*).
Garden vegetation plans are separated into four areas that take into account the conservation level (protected areas, conservation areas, satoyama areas, urban areas) to select plant species based on these areas. For example, in urban areas when building gardens for residences, the colorfulness is represented by selecting a balance of greening plants from non-invasive migration plants around a main selection of native plants, including garden variety plants. In addition, the Group has in place a policy of not using invasive plants that clearly have an adverse impact on local ecosystems and a division responsible for coordinating technology at Sumitomo Forestry Landscaping Co., Ltd. checks that such species are not used.
* Specified alien species and alien species requiring caution as stipulated by the Invasive Alien Species Act
Approach to Planting Areas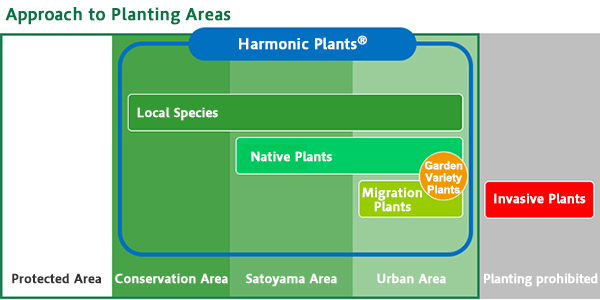 Contributions to Property Development
Forest Garden Hadano Receives the First ABINC Certification As a Detached Housing Complex
Sumitomo Forestry strives in the residential property development business by providing roughly 300 high-quality single-family spec homes each year through technical expertise accumulated in new custom-built housing and landscaping businesses. We develop long-lasting properties by taking advantage of nature with the goal of realizing a sustainable and prosperous society.
Forest Garden Hadano, a detached housing complex in Hadano City, Kanagawa Prefecture, received the first ABINC (Association for Business Innovation in harmony with Nature and Community) certification under the detached housing complex and city area category in 2018. The ABINC certification system certifies results of biodiversity preservation activities of companies to promote coexistence of nature and people. The certification began the certification of office buildings and commercial facilities from 2014 and has expanded its scope to include housing complexes and factories. Furthermore, detached housing complex and city area category and logistic facilities have been newly added.
The property design of Forest Garden Hadano is green property that coexists with life. It realizes rich greenery through the use of local tree species and Harmonic Plants®. Consideration toward sustainable circulation of water utilizing spring water was one of the major factors of receiving the certification.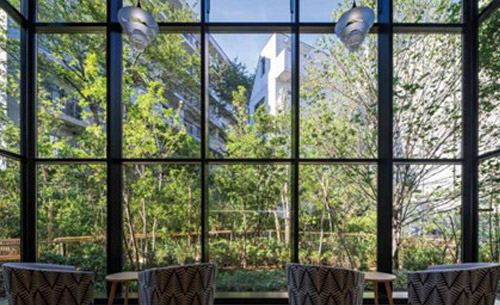 A High-Rise Japanese Garden That Conveys the Beauty of Nature and Harmony
Hotel Yaenomidori Tokyo opened in the Yaesu Hatchobori area of Tokyo in 2020. The hotel's concept is to present the multiple aspects of Japan's beauty. On the very top floor is a Japanese garden for guests to experience a spiritual, Japanese-style, sophisticated calm despite being in the middle of the Tokyo business district. By using Shishiodoshi (water-filled bamboo tubes that clack against stones when emptied to frighten the wild) away, water basins and other waterscape devices, by planting trees that respond to the change in seasons, Sumitomo Forestry Landscaping carefully designed and constructed a space that conveyed the beauty of nature and Japanese culture through the five senses.
It harnessed its experience and technology to secure trees both below and above ground, to consider load limits of high-rise buildings, and to commit to planting native species.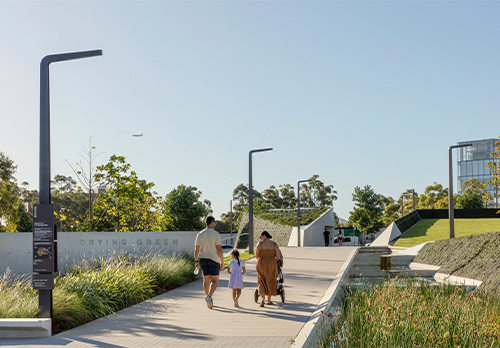 Tokiwadaira Danchi (Apartment Complex) of the UR Urban Renaissance Agency is the first green space for residential usage approved by the "Sodateru-green" of SEGES (Social and Environmental Green Evaluation System)
The SEGES (Social and Environmental Green Evaluation System) (Sponsored by: Organization for Landscape and Urban Green Infastruction) has certified the green space in the UR Tokiwadaira Urban Renaissance Agency's Tokiwadaira Danchi as an Excellent Stage 2 green space in the category of "Sodateru-green", which evaluates green spaces that contribute to society and the environment. This is the first green certification for residential areas.
On August 5, 2020, the independent administrative Urban Renaissance Agency and Sumitomo Forestry signed a "Research Agreement on Effective Utilization of Residential Outdoor Space with Environmental Certification System", and have been conducting research on effective outdoor space utilization in apartment complexes. Tokiwadaira Danchi's green space was certified as Excellent Stage 2 in the SEGES "Sodateru-green" category in April 2021.
UR and Sumitomo Forestry are studying methods to utilize the rich green space that has been fostered over the years and has become a natural asset for the community, using the SEGES evaluation.
We aim to accomplish a town development in harmony with nature, where diverse generations can continue to live actively and safely, by utilizing the results of the research and supporting local activities and communication among residents of the complex.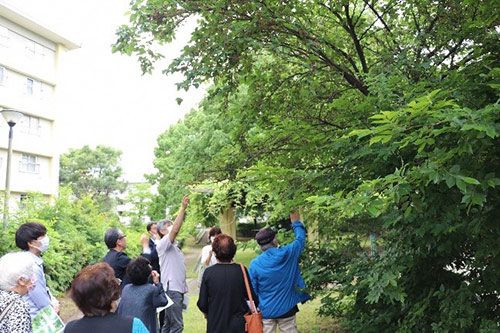 Received the Minister of Land, Infrastructure, Transport and Tourism Award in the Housing Townscape Contest
Sumitomo Forestry Landscaping's Forest Garden Hadano and Queen Forest Nagareyama Ootakanomori won the Minister of Land, Infrastructure, Transport and Tourism Award and the Townscape Award, respectively, in the 16th Housing Townscape Contest in FY 2020.
The Foundation for Promotion of Housing Production's "Housing Townscape Contest" aims to promote districts and groups that have achieved a desirable townscape via the efforts of local inhabitants, especially residents, in maintaining and managing their homes. One project got the Minister of Land, Infrastructure, Transport and Tourism Award, and four projects obtained the Residential Townscape Award, two of which were awarded to Sumitomo Forestry Landscaping-constructed properties, out of the many entries received in the competition this year.
This is a result of Sumitomo Forestry Landscaping's contribution to attractive town planning that takes advantages of local characteristics. Sumitomo Forestry Landscaping will continue to expand its business domain to realize the goal of "Creation of a complete town."
* Sumitomo Forestry Landscaping did not receive the award directly, but applied through the local community association or the management association.
Education for Biodiversity Conservation
Publish of Biodiversity Handbook Vol. 2: Local Vegetation
We are receiving a wide range of concerns for information about what the local vegetation is to the production, distribution and consumption of native plants and the cultivation plans for native plants in addition to future trend of local vegetation required for greening that consider biodiversity.
Sumitomo Forestry Landscaping has responded to these concerns by publishing the Biodiversity Handbook Vol. 2:Local Vegetation in 2018.
This handbook offers explanations while interweaving cutting-edge examples that use locally cultivated plants to address primarily the information below.
Reconstruction projects for the Great East Japan Earthquake using local plants
The development of large-scale test driving course using local plants in
Beach plant revitalization project using local plants
Urban redevelopment using local plants from the Edo period
Regeneration of thickets by inhabiting areas on large-scale artificial grounds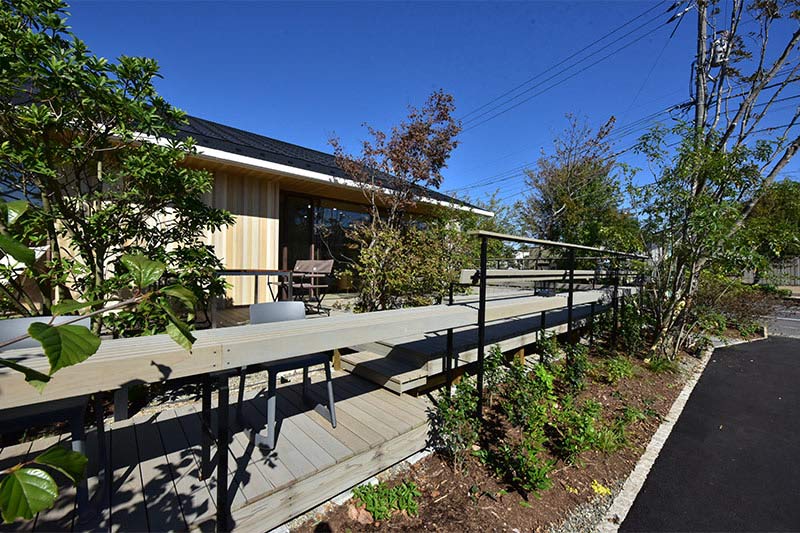 Publish of an Illustrated Guide to Home Trees Revised Edition
Sumitomo Forestry Landscaping restructured its own criteria for alien species, taking further effects on the ecosystem into consideration, and published the revised edition in A revised edition was published in March 2017,replacing some of the tree species previously listed in the "An Illustrated Guide to Home Trees Revised Edition", in response to the establishment of the "Forestry and Fisheries of Japan newly released a list of alien species which harm biodiversity of Japan (list of potentially harmful alien species for biodiversity)" by the Ministry of the Environment and the Ministry of Agriculture, Forestry and Fisheries. A revised edition was released in response to changes to the Plant Variety Protection and Seed Act and the addition of original species in March 2021. The revised edition contains 508 species, including 6 original varieties. The main revisions are as follows.
(1) Revision of descriptions in response to the revision of the Plant Variety Protection and Seedling Law.
The "Variety Registration Number" and other information were added to the original trees for sale and the trees registered as varieties in the illustrated book in compliance with the modification of the Seed and Seedling Law, as registered varieties are now obliged to be labeled.
(2) SDGs (Sustainable Development Goals) initiatives were added.
Through its green business, Sumitomo Forestry Landscaping Co., Ltd. is implementing initiatives in line with the SDGs, such as protecting biodiversity through the concept of "Harmonic Plants" in the consideration of sustainability, and creating comfort, enjoyment, and beauty in society by constructing homes and communities that harness the "Power of Greenery". We are putting these initiatives into action. These initiatives have been included in this revision.
Overseas Landscaping Businesses
In North Melbourne, Australia, we are leveraging our expertise in a design partnership with Tract Landscape, a local landscape design firm, for the Annadale estate project (1,087 total lots for sale), which is a joint residential development project between Sumitomo Forestry and NTT Urban Development.
In this design partnership that began in 2017, Sumitomo Forestry Group proposed a concept, Growing Wellness Life & The Five Sense, for the basic design of Tract. Tract highly evaluated this proposal as a fantastic reference because a story is not usually incorporated into standard design plans in Australia and playground equipment using natural stone and logs was employed to better the motor skills of the children as well as the vegetation plans. Sumitomo Forestry Group proposed basic concepts even in the second stage of park planning conducted thereafter and completed the basic design founded upon this idea in November 2020. In 2021, Sumitomo Forestry also collaborated on concept proposals and drafting work for a local government public park project in Sydney.
Green zones in Australia and the U.S. is imperative to raise the value of the estate development and pursue the creation of efficiently green open spaces. Sumitomo Forestry Group has just begun our efforts in the overseas landscaping business, but will continue to further these businesses in the future with the aim of creating beautiful and comfortable spaces loved by residents overseas.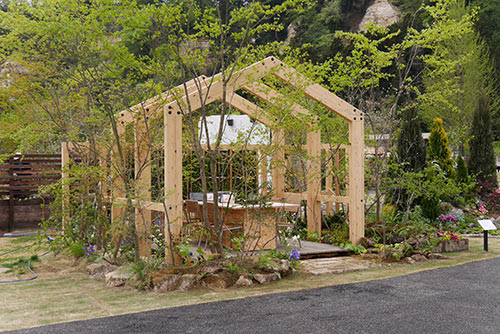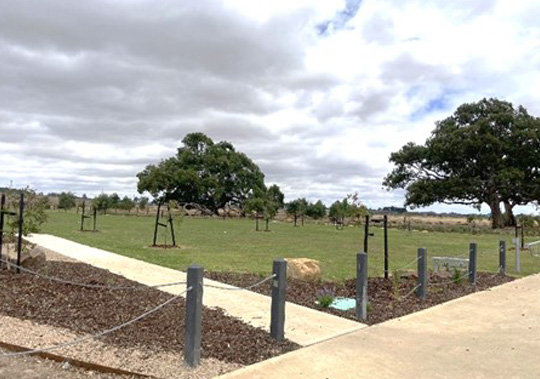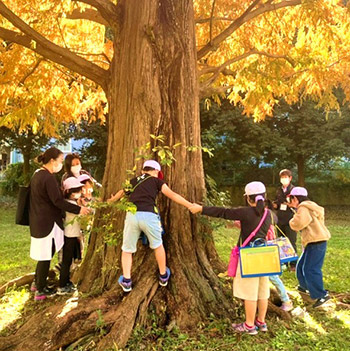 Contributions to Eco Cities Through Greening