Occupational Health and Safety Management
Occupational Health and Safety
Occupational Health and Safety Management
Basic Policy
Sumitomo Forestry Group established the Sumitomo Forestry Group Occupational Health and Safety Policy in order to further improve occupational health and safety activities in its corporations in August 2021. Based on the fundamental concept of "SAFETY FIRST" and the implementation of the policy, we seek to create a thriving workplace by maintaining a healthy and safe work environment.
We also require each and every employee to work on a daily basis to pursuit Occupational Health and Safety as the foundation of corporate management, in accordance with this policy.
The policy reflects the expectations of stakeholders for quality improvement, which were gathered through a questionnaire survey of Group employees on their quality values and activities, as well as interviews with internal executives, senior managers, and major business partners.
In addition, Sumitomo Forestry has established Rules for Safety and Health Management with an aim of fostering a workplace environment in which employees can perform their jobs in a safe and healthy manner. The rules prescribe that a general OHS manager is to be stationed at each place of business regardless of how big it is, and every year, the Company checks on the status of the officer and OHS committee meetings.
Sumitomo Forestry Group Occupational Health and Safety Policy
Based on the fundamental concept of "SAFETY FIRST", the Sumitomo Forestry Group seeks to create a thriving workplace by maintaining a healthy and safe work environment.
Full employee participation in health and safety initiatives
All employees of our Group's operations shall consciously participate in health and safety initiatives.
Thorough compliance
We shall strictly comply with all laws, ordinances, safety standards and other rules related to occupational health and safety.
Reducing risk and creating a thriving workplace
We shall identify hidden risks in the work environment and continuously make improvements to create a thriving workplace.
Securing safety with state-of-the-art technologies and labor-saving measures
We shall create a safe workplace by actively promoting the use of state-of-the-art technologies and labor-saving measures that will help address personnel shortages and technical transfer issues.
Nurturing a culture of mutual respect
We shall nurture a culture where everyone respects both the processes and the results of health and safety initiatives to increase motivation to pursue them.
Developing human resources through health and safety training programs
We shall provide all employees health and safety training and we shall actively pursue initiatives to develop human resources who will take on the responsibility of creating a thriving workplace.
Promoting active communication
Through the active pursuit of mutual dialogue, including with stakeholders, we shall build good relationships that help ensure a sense of psychological security.
President and Representative Director
Toshiro Mitsuyoshi
Occupational Health and Safety Management System
Promotion System
Sumitomo Forestry Group has established Quality Control and Worker Safety Management Department as an office directly under the president strives to consistently improve product and service quality and eradicate occupational accidents. The office provides guidance and advice to the entire Group in Japan and overseas, as well as developing and strengthening the quality and occupational health and safety management system. In addition, the Sustainability Committee considers and reports on important occupational health and safety issues that affect the entire Group. We conducted a survey of the current status of quality management systems at 62 Group companies in Japan and overseas in fiscal 2021 and presented the findings at the Sustainability Committee and other entities.
Personnel department manages non-consolidated OHS of the Sumitomo Forestry, and heads of the personnel department provide OHS instructions and support branches in establishing OHS systems. In addition, OHS committees chaired by the general manager of each business division (General Manger of Personnel Department at the head office) and composed of members such as health and safety managers, industrial physicians, and labor union members were established in each business division, and matters discussed each month are posted on the intranet for the purpose of information sharing and enlightenment.
We have established individual policies and manuals for safety and health management in each of our businesses, such as Forestry, Manufacturing, Environment and Energy, and Housing, based on the characteristics of each business, aiming to prevent accidents at work sites and ensure workers' health.
Awareness education in the Company
To encourage deeper awareness and understanding among Group employees, posters were delivered to all our workplaces, branches, and offices, as well as offices and plants of Group companies in Japan and overseas, in accordance with the establishment of the "Occupational Health and Safety Policy." The slogan posters represent the president's own opinions on occupational health and safety and quality for the Sumitomo Forestry Group as a whole. "SAFETY FIRST" means that the safety shall be put at the first place, and it applies to all of the Group's businesses and occupations. Sumitomo Forestry Group Occupational Health and Safety Policy is regularly disseminated to all employees through the Sumitomo Forestry Group Handbook and the business intranet, in addition to posting policy posters in easily visible locations.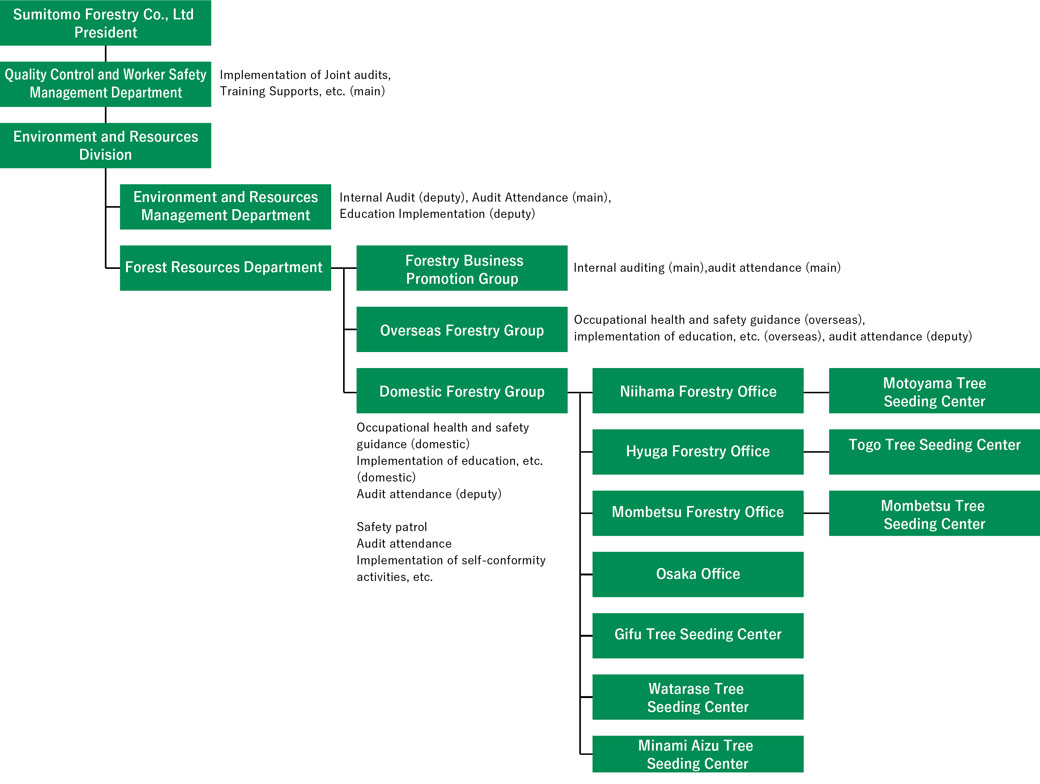 ISO 45001 Certification and Human Resource Development
Sumitomo Forestry Group is promoting ISO 45001 Occupational Health and Safety Management System certification and ISO 45001 "Declaration of Self-Conformity*". In order to develop human resources, we provide training for internal auditors, including Group employees, in addition to supporting the implementation of internal audits and training sessions for companies considering the introduction of internal audits. We hosted an ISO 45001 internal auditor training seminar in fiscal 2021, which was attended by 37 employees. In addition, we have established a "Occupational Health, Safety and Quality" course on our intranet e-learning site, as well as a new course on ISO management systems and ISO 45001 management systems to promote safety and health education.
We will continue to strengthen our safety system, by providing guidance and advice to the entire Group.
In addition, occupational safety-related certificates have been obtained by 31.4% of Sumitomo Forestry Group manufacturing businesses (based on sales).
* Self-Conformity Declaration: An ISO-based management system has been established, operated, and conformed to by the Company.
Acquisition Status of Occupational Health and Safety Certifications at Each Group Company
| Company | Country | Type of certification | Date acquired | Date renewed |
| --- | --- | --- | --- | --- |
| Environment and Energy Department, Sumitomo Forestry | Japan | ISO45001:2018 | August 2021 | - |
| Sumitomo Forestry Crest | Japan | ISO45001:2018 | February 2013 | February 2022 |
| PT. Rimba Partikel Indonesia (RPI) | Indonesia | ISO45001:2018 | March 2019 | July 2021 |
| Kutai Timber Indonesia (KTI) | Indonesia | ISO45001:2018 | January 2020 | - |
| Nelson Pine Industries (NPIL) | New Zealand | ISO45001:2018 | October 2019 | - |
Targets and Performance Concerning Occupational Injuries
In the Mid-Term Sustainability Targets as part of the Sumitomo Forestry Group Mid-Term Management Plan, Sumitomo Forestry Group sets critical targets by fiscal 2024 as "zero occupational injury and lost work time". The Sumitomo Forestry Group aims to achieve its critical targets and defines priority sustainability measures in each division. The performance toward achieving these targets is reviewed each fiscal year.
Occupational Injuries (Non-Consolidated)*1 *2
| | FY2018 | FY2019 | FY2020*5 | FY2021 |
| --- | --- | --- | --- | --- |
| Number of occupational injuries (incidents)*3 | 2 | 1 | 1 | 2 |
| Lost-time injury frequency rate*4 | 0.2 | 0.2 | 0.29 | 0.19 |
| Work-related illness frequency rate | 0 | 0 | 0.29 | 0 |
*1 The aggregation period for fiscal 2020 onwards is January to December of each year, and the aggregation period before fiscal 2019 is April of each year to March of the following year.
*2 One fatal occupational injury in fiscal 2020.
*3 The number of work-related accidents resulting in payment of compensation benefits for absence from work in accordance with the Industrial Accident Compensation Insurance Act is disclosed (including the number of cases in which applications for compensated absences from work are pending)
*4 Lost-time injury frequency rate = Number of occupational fatalities or injuries resulting in an absence from work of at least one day ÷ Total number of working hours × 1,000,000
*5 Figures for fiscal 2020 have been retroactively adjusted due to the approval of workers' compensation.
Occupational Health and Safety Management