Occupational Health and Safety on Construction Sites
Occupational Health and Safety on Construction Sites
Occupational Health and Safety on Domestic Construction Sites
Sumitomo Forestry prioritizes occupational health and safety above all else on housing construction sites. Therefore, we raise awareness about occupational health and safety information and important items about safety in employees of the Sumitomo Forestry Group and also every worker involved with Sumitomo Forestry homes, such as on-site construction contractors.
At the beginning of every fiscal year, the Divisional Manager of the Housing Division formulates an Occupational Health and Safety Policy to provide notification based on circumstances such as the accidents that occurred in the previous period, the state of occupational health and safety promotion as well as compliance with relevant laws. In addition, permeating a safety culture has been designated as a basic policy, and we are working to achieve this in primarily three ways; compliance with the law, promotion of occupation health and safety education and eradication of occupational injuries.
Always raising awareness toward the recognition of safety first permeates this safety culture. Offices, branches and building contractors set important management targets for the fiscal year to eliminate five-types of major accidents; falls, accidents with tools, things tipping over, accidents with heavy machines and heat strokes.
The Occupational Health and Safety Policy for fiscal 2023 is "Safety First". In addition, we incorporated the slogan "STOP Five Major Accidents!" in Our Values. Initiatives that require special consideration are established as focal points. In order to ensure compliance with and control of safety standards for each process, we calculate hazards before work begins and promote the elimination of hazards and assurance of safety in order to eliminate occupational injuries, focusing on the five major injury factors (falling, tools, falls, heavy machinery, and heat stroke).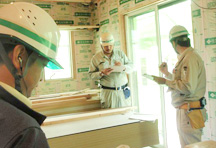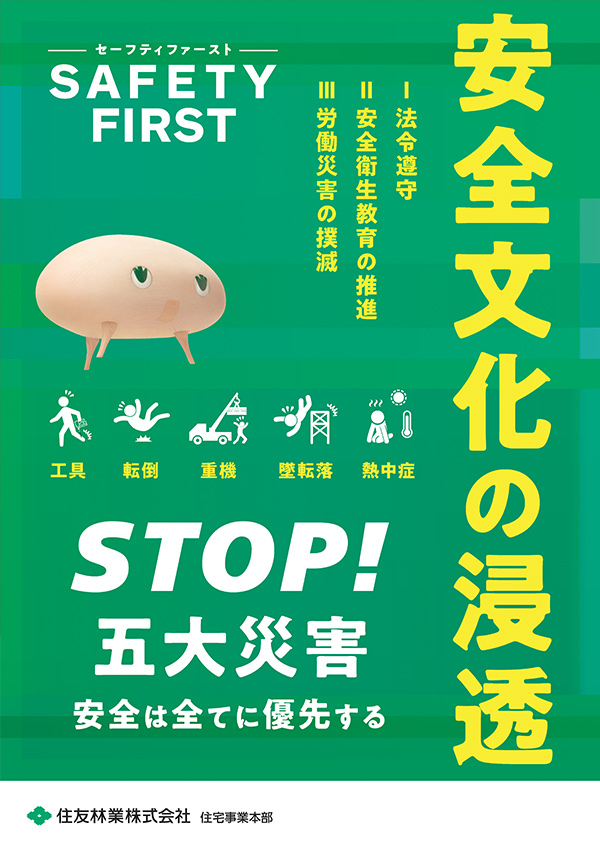 Occupational Health and Safety System for Housing and Construction Business Site

Occupational injuries of contractors on housing construction sites*4
| | FY2019 | FY2020 | FY2021 | FY2022 |
| --- | --- | --- | --- | --- |
| Number of occupational injuries*1 | 20 | 21 | 24 | 19 |
| 1000-building rate*2 | 2.56 | 2.62 | 2.77 | 2.22 |
| Lost-time injury frequency rate*3 | 4.13 | 5.12 | 3.49 | 4.22 |
| Number of fatal accidents | 0 | 0 | 0 | 0 |
| Work-related illness frequency rate | 0 | 0 | 0 | 0 |
*1 Disclose number of work-related accidents with 4 or more days of lost worktime (including sole proprietorship, excluding commuting accidents)
*2 1000-building rate=Number of work-related accidents with 4 or more days of absence per 1000 buildings
*3 Lost-time injury frequency rate = Number of occupational fatalities or injuries resulting in an absence from work of at least one day ÷ Total number of working hours × 1,000,000
*4 The aggregation period for fiscal 2020 onwards is January to December of each year, while for fiscal 2019 and the years before, it was April of each year to March of the following year.
Click here for related information
Initiatives at Construction Sites
The Housing Division is implementing various measures to eliminate occupational injuries.
At the beginning of each fiscal year, risk assessment targets are set for each contractor and building contractor to manage implementation. In addition, safety, health, and environmental conventions are held at each branch during the fiscal year, and lecturers are dispatched from the headquarters to give safety lectures. The content of the lectures is to raise awareness of occupational health and safety by explaining the Sumitomo Forestry Group Occupational Health and Safety Policy and the Housing Division Health and Safety Management Policy, explaining key measures, the Company's roles and responsibilities under laws and regulations, accident statistics, and accident case studies.
In the event of an accident, we are required to make a first notification to all parties concerned within two hours of the occurrence and to prepare an accident report by the next day. Within 7 days of the occurrence of an accident, a recurrence prevention meeting is held, and minutes of the meeting, a list of attendees, and a report on the accident investigation and countermeasures are promptly prepared and submitted to the headquarters to ensure the prevention of recurrence. In addition, after an accident occurs, the headquarters prepares a preliminary report on the accident, which includes measures to prevent recurrence, and disseminates it to the contractors concerned and workers under its jurisdiction at regular safety and health council meetings and on-site safety meetings.
As one of the measures to promote DX at construction sites, "in-out auto (beacon)" was introduced in April 2022 to automate entry/exit records at construction sites. By changing entry and exit records from manual to automatic, we are able to eliminate record omissions and errors and to accumulate more accurate work history. At the same time, the system reduces the burden on workers to record their entry and exit, and distributes useful information to them when they enter, thereby improving work efficiency and ensuring safe operations.
Image of "in-out auto (beacon)" operation

Association of Sumitomo Forestry Safe Building Contractors
Association of Sumitomo Forestry Safe Building Contractors aims to prevent occupational injuries and fires at construction sites, improve work efficiency and the welfare of victims, and enhance quality, while contributing to the development of members' businesses by improving technology and management skills of construction and deepening friendship and exchange among members.
The group is chaired by the Divisional Manager of the Housing Division of Sumitomo Forestry, and its members include Group companies Sumitomo Forestry Home Engineering and Sumitomo Forestry Landscaping, as well as 63 branches (as of June 2022) of construction companies throughout Japan.
Annual Plan for Safety, Health and Environmental Management
At the beginning of each fiscal year, the Housing Division prepares an "Annual Plan for Safety, Health and Environmental Management" for each branch and office. Based on the risk assessment enhancement items, we systematically implement and manage safety, health, and environmental conferences, regular safety and health council meetings, special safety patrols, safety guidance, and other activities throughout the year.
"ISO45001:2018" Certification
Sumitomo Forestry's homes utilize traditional Japanese techniques in wooden constructions, but with the aging of construction craftspeople, it is becoming increasingly difficult to pass on the skills of wooden constructions.
Sumitomo Forestry School of Professional Building Techniques is an in-house training school established in 1988 for the purpose of training technicians to construct "Sumitomo Forestry Homes". In addition to honing their construction skills, students can cultivate a foundation as a member of society through group living. Courses are divided into carpentry training, plastering training, and framework training, and are designed to foster technicians and engineers specializing in wooden house construction.
We have been providing training and guidance placing the highest priority on safety education. In order to visualize our past initiatives and aim for further improvement, we implemented a "Self-Conformity Declaration*" for ISO45001 management system in December 2021, and obtained ISO45001:2018 certification in September 2022.
Those who received training at the school are active throughout Japan as carpenters, plasterers, and other craftspeople and engineers involved in the construction of Sumitomo Forestry homes. We will utilize ISO45001 to systematize the management system for occupational health and safety, and to identify issues at an early stage and implement measures to address and prevent them.
*An ISO-based management system has been established, operated and adapted by the company.
Training Designed to Improve Awareness for Occupational Health and Safety
Reports and feedback of safety and quality inspections as well as safety and health patrol are made by holding regular safety and health council meetings at the Housing Division, each branch, and branch office. We also provide safety and health training with concrete examples for safety and health managers, construction site safety and health supervisors (contractors), and personnel in various occupations. Special education (Article 59, Paragraph 3 of the Industrial Safety and Health Act) is provided for securing safety of work using the fall prevention equipment (full harness safety belts) as well as during use of circular saws, grinders* and other electric tools which are susceptible to accidents due to misuse despite being simple and easy to use.
Most of the employees who were required to receive special training on the full-harness safety belt, which became mandatory in January 2022, had completed the training by fiscal 2021, and from fiscal 2022 onward, the training will be provided to new graduated technical positions and new construction workers at Sumitomo Forestry. In addition, the original safety and health training programs (training for workers handling circular saws and nailers, safety and health training for sole proprietorship, and training to improve the skills of supervisors and safety and health managers) were newly introduced in fiscal 2022 and held 67 times, with 2,256 employees attending.
This course provides more practical knowledge of safety and health at Sumitomo Forestry housing construction sites, than standard special training courses provided by external organizations.
*An electric tool to cut by rotating a grinding stone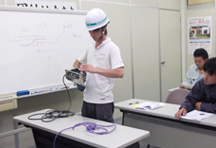 Special Training Condition
Project Name
FY2019
FY2020
FY2021
FY2022
No. of events held
No. of participants
No. of events held
No. of participants
No. of events held
No. of participants
No. of events held
No. of participants
Training for supervisors and health and safety managers
7
154
2
77
1
21
2
42
Safety training for workers handling circular saws
6
132
4
124
8
218
3
75
Special training for replacing free grinding wheels
6
131
7
171
9
242
3
70
Special training for workers engaged in assembly of scaffolding, etc.
2
38
1
14
1
1
-
-
Special training on the use of full-harness safety belts
26
1,203
88
3,084
94
2,862
8
217
Total
47
1,658
102
3,470
113
3,344
16
404
Occupational Safety Initiatives in MOCCA (Timber Solutions) Business
Construction Department, Construction Business Sub-Division, Global Housing, Construction and Real Estate Division, is actively engaged in exchanges related to occupational safety with Kumagai Gumi, with whom we have a business and capital alliance. Safety lectures have been held twice with lecturers from Kumagai Gumi, explaining the company's safety standards and reviewing accident case studies and legal standards.
Commendations for Safety and Health Activities
The Housing Division presents commendations to branches and offices, and branches of the Association of Safe Building Contractors, for their proactive implementation of safety and health activities. The criteria for commendation are 1,000,2,000, and 3,000 days of no accidents or disasters of occupational injuries (excluding those with less than four days of absence from work).
Preventive Measures for Coronavirus Disease (COVID-19)
Sumitomo Forestry formulated on-site guidelines to combat the COVID-19 as one measure to prevent the spread of the COVID-19 in an effort to maintain an environment where employees can continue to work on-site. In addition, we have created posters and put them up around work sites to constantly alert all concerned parties.
Preventive Measures for COVID-19
Provisions of soap, hand sanitizer, masks and other necessities on site
Strict guidelines such as hand washing, gargling, and wearing masks for coughing
Ventilation and masks when working with multiple people in a department or on a site open to customers
Close attention to ventilation to bring in fresh air, especially during internal operations
Adjustments to internal work processes when unable to open a window for ventilation, such as external spray work.
The posters for call for attention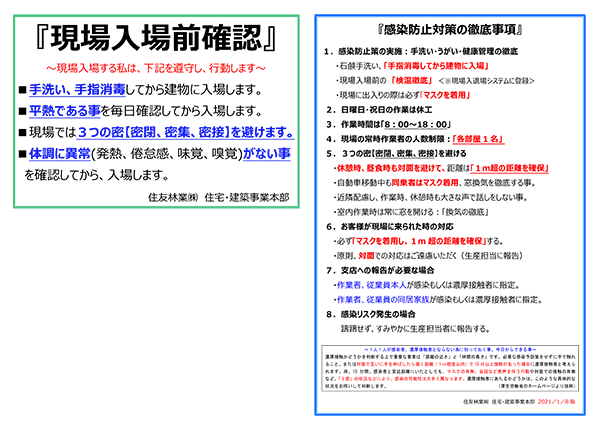 Safety Training for Construction Contractors
Sumitomo Forestry publishes monthly Safety, Environment and Quality Inspection Department Information that includes information and topics about occupational health and safety as well as the environment to help prevent accidents and avoid risks by repeatedly raising awareness at branches and construction contractors.
Sumitomo Forestry conducts safety training throughout Japan by visiting building and demolition contractors throughout Japan. Sumitomo Forestry promotes safety and environmental activities onsite by offering the aforementioned specific training and other direct guidance to workers, ensuring that they comprehend the Company's direction of "Penetration of Safety Culture".
Sumitomo Forestry holds monthly health and occupation councils at branches for the purpose of preventing occupational accidents by promoting health and safety. On-site health and safety patrols help bring awareness about safety to construction contractors and provides advice to enhance knowledge, such as confirming the state of sites and improving guidance.
In addition, the District Safety Improvement Committee launched in fiscal 2018 is advancing system development to raising awareness and verify policies and measures in divisions related to safety by strengthening links with offices, divisions, and branches.
Occupational Health and Safety on Construction Sites