Occupational Health and Safety on Construction Sites
Occupational Health and Safety
Occupational Health and Safety on Construction Sites
Occupational Health and Safety at Domestic Construction Sites
Sumitomo Forestry prioritizes occupational health and safety above all else on housing construction sites. Therefore, we raise awareness about occupational health and safety information and important items about safety in employees of the Sumitomo Forestry Group and also every worker involved with Sumitomo Forestry homes, such as on-site construction contractors.
At the beginning of every fiscal year, the Divisional Manager of the Housing and Construction Division formulates an Occupation Health and Safety Policy to provide notification based on circumstances such as the accidents that occurred in the previous period, the state of occupational health and safety promotion as well as compliance with relevant laws. In addition, permeating a safety culture has been designated as a basic policy, and we are working to achieve this in primarily three ways; compliance with the law, promotion of occupation health and safety education and eradication of occupational injuries.
Always raising awareness toward the recognition of safety first permeates this safety culture. Offices, branches and building contractors set important management targets for the fiscal year to eliminate five-types of major accidents; falls, accidents with tools, things tipping over, accidents with heavy machines and heat strokes.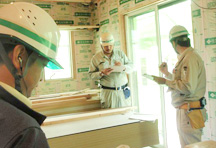 Occupational Health and Safety System for Housing and Construction Business Site

Occupational Injuries of Contractors on Housing Construction Sites*4
| | FY2018 | FY2019 | FY2020 | FY2021 |
| --- | --- | --- | --- | --- |
| Number of occupational injuries*1 | 9 | 20 | 21 | 24 |
| 1000-building rate*2 | 1.12 | 2.56 | 2.62 | 2.77 |
| Lost-time injury frequency rate*3 | 2.79 | 4.13 | 5.12 | 3.49 |
| Work-related illness frequency rate | 0 | 0 | 0 | 0 |
*1 Disclose number of work-related accidents with 4 or more days of lost worktime (including sole proprietorship, excluding commuting accidents)
*2 1000-building rate=Number of work-related accidents with 4 or more days of absence per 1000 buildings
*3 Lost-time injury frequency rate = Number of occupational fatalities or injuries resulting in an absence from work of at least one day ÷ Total number of working hours × 1,000,000
*4 The aggregation period for fiscal 2020 onwards is January to December of each year, and the aggregation period for fiscal 2019 and before is April of each year to March of the following year.
Click here for related information
Training Designed to Improve Awareness for Occupational Health and Safety
Reports and feedback of safety and quality inspections as well as safety and health patrol are made by holding regular safety and health council meetings at the Housing and Construction Division, each branch, and branch office. We also provide safety and health training with concrete examples for safety and health managers, construction site safety and health supervisors (contractors), and personnel in various occupations. Special education (Article 59, Paragraph 3 of the Industrial Safety and Health Act) is provided for securing safety of work using the fall prevention equipment (full harness safety belts) as well as during use of circular saws, grinders* and other electric tools which are susceptible to accidents due to misuse despite being simple and easy to use.
In the past three years, we have held 208 special training sessions on full-harness safety belt, which became mandatory in January 2022, with 7,149 trainees in attendance. In addition, we plan to introduce three new original safety and health training programs in fiscal 2022 (training for workers handling circular saws and nailers, safety and health training for sole proprietorship, and training to improve the skills of supervisors and safety and health managers).
This course provides more practical knowledge of safety and health at Sumitomo Forestry housing construction sites, than standard special training courses provided by external organizations.
* Grinder: An electric tool to cut by rotating a grinding stone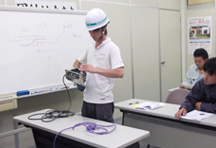 Special Training Condition
Project Name
FY2019
FY2020
FY2021
No. of events held
No. of participants
No. of events held
No. of participants
No. of events held
No. of participants
Training for supervisors and health and safety managers
7
154
2
77
1
21
Safety training for workers handling circular saws
6
132
4
124
8
218
Special training for replacing free grinding wheels
6
131
7
171
9
242
Special training for workers engaged in assembly of scaffolding, etc.
2
38
1
14
1
1
Special training on the use of full-harness safety belts
26
1,203
88
3,084
94
2,862
Total
47
1,658
102
3,470
113
3,344
Preventive Measures for Coronavirus Disease (COVID-19)
Sumitomo Forestry formulated on-site guidelines to combat the COVID-19 as one measure to prevent the spread of the COVID-19 in an effort to maintain an environment where employees can continue to work on-site. In addition, we have created posters and put them up around work sites to constantly alert all concerned parties.
Preventive Measures for COVID-19
Provisions of soap, hand sanitizer, masks and other necessities on site
Strict guidelines such as hand washing, gargling, and wearing masks for coughing
Ventilation and masks when working with multiple people in a department or on a site open to customers
Close attention to ventilation to bring in fresh air, especially during internal operations
Adjustments to internal work processes when unable to open a window for ventilation, such as external spray work.
The posters for call for attention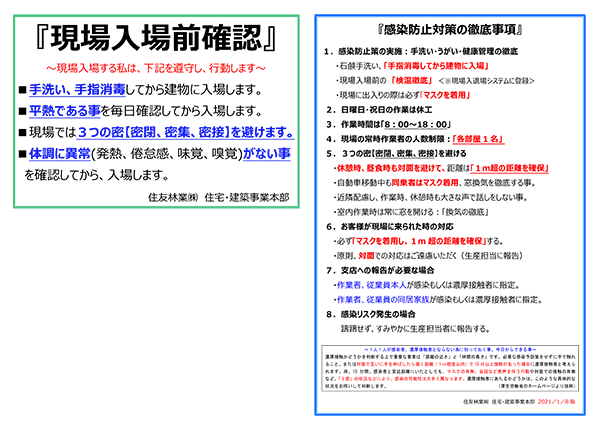 Safety Training for Construction Contractors
Sumitomo Forestry publishes monthly Safety, Environment and Quality Inspection Department Information that includes information and topics about occupational health and safety as well as the environment to help prevent accidents and avoid risks by repeatedly raising awareness at branches and construction contractors.
Sumitomo Forestry conducts safety training throughout Japan by visiting building and demolition contractors throughout Japan. Sumitomo Forestry promotes safety and environmental activities onsite by offering the aforementioned specific training and other direct guidance to workers, ensuring that they comprehend the Company's direction of "Penetration of Safety Culture".
Sumitomo Forestry holds monthly health and occupation councils at branches for the purpose of preventing occupational accidents by promoting health and safety. On-site health and safety patrols help bring awareness about safety to construction contractors and provides advice to enhance knowledge, such as confirming the state of sites and improving guidance.
In addition, the District Safety Improvement Committee launched in fiscal 2018 is advancing system development to raising awareness and verify policies and measures in divisions related to safety by strengthening links with offices, divisions, and branches.
Occupational Health and Safety on Construction Sites