Occupational Health and Safety in Environmental Energy Business
Occupational Health and Safety
Occupational Health and Safety in Environmental Energy Business
Environmental Energy Business Initiatives
In addition to safety patrols by employees, the Environment and Energy Department and the Quality Control and Worker Safety Management Department conduct annual internal audits at the fuel chip plant of the Environment and Energy Business to prevent occupational accidents for employees and business partners who enter and leave the plant. Improvements and corrections are made at the work site.
In fiscal 2021, there were 3 instances of occupational injury requiring payment of compensation benefits for absence from work in accordance with the Industrial Accident Compensation Insurance Act at the work sites of our environmental and energy business. As a result, with the contractors involved, response measures to prevent recurrence were discussed and agreed. Additionally, warnings were issued to other contractors through the Workplace Safety Conferences.
Number of occupational accidents involving employees and contractors at work sites in environmental energy business
| FY2018 | FY2019 | FY2020 | FY2021 |
| --- | --- | --- | --- |
| 0 | 0 | 3 | 1 |
* The number of work-related accidents resulting in payment of compensation benefits for absence from work in accordance with the Industrial Accident Compensation Insurance Act is disclosed.
* The aggregation period for fiscal 2020 onwards is January to December of each year, and the aggregation period before fiscal 2019 is April of each year to March of the following year.
Occupational Health and Safety System for Environmental Energy Business
The company is responsible for comprehensive management of health and safety of consolidated subsidiaries such as Mombetsu Biomass Electric Power, Hachinohe Biomass Electric Power, Okhotsk Bio Energy, Michinoku Bio Energy, and Japan Bio Energy, as well as equity method associated Kawasaki Biomass Electric Power, Tomakomai Biomass Power, and Kanda Biomass Energy. The Group also performs quarterly disaster drills, frequent inspections of firefighting equipment, and safety training to confirm progress, in addition to reporting occurrence of occupational Injuries and sharing information how to prevent recurrence at monthly meetings. For example, we installed laser lights on the ceiling, so that drivers can see the truck stop location through mirrors. We have discovered risk of accidents when an inductor stands behind a truck and are taking countermeasures.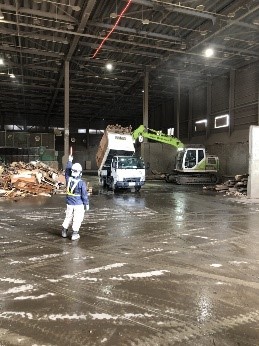 "ISO45001:2018" Certification
ISO45100 Self-Conformity Declaration* was implemented by Japan Bio Energy in February 2020. As Sumitomo Forestry's environment and energy department, Japan Bio Energy, Sumitomo Forestry's management department of the Environment and Resources Division, and Quality Control and Worker Safety Management Department jointly acquired ISO45001:2018 certification in August 2021. ISO45001 is an international standard for the Occupational Safety and Health Management System, entered into force by the International Organization for Standardization (ISO) in March 2018, with the aim of reducing possibility of labor accidents and associated management risks.
By utilizing the ISO45001 scheme, management system for occupational health and safety is systematized, making it possible to discover problems at an early stage, deal with them, and implement effective preventive measures. A decrease in workplace accidents will lead to a reduction in both human and economic losses.
* Declaration of Self-Conformity: An ISO-based management system has been established, operated and adapted by the company.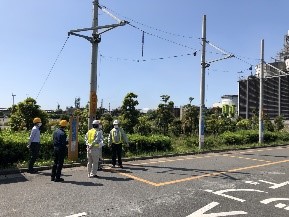 Occupational Health and Safety in Environmental Energy Business