Afforestation Consultancy
Afforestation Consultancy
Domestic Case Example
Supporting Municipalities in Introducing Forestry ICT Platforms
While quantitative forest resources are analyzed through aerial surveys and forest resource data systems are prepared in some advancing areas, many of the forests in Japan do not have sufficient forest resource information. Sumitomo Forestry built the Forestry ICT Platform together with AS Locus Corporation as a measure to address this situation. The Forestry ICT Platform is a holistic system with a wide range of functionality related to advance forest resource information as well as forests and forestry that has been provided to municipalities throughout Japan and organizations in the forestry business since fiscal 2013. The key distinctive feature of this platform is that it is provided in regionally customized form, with a variety of forest and forestry-related data and functions optimized for local characteristics. We have supported 19 municipalities with the platform as of the end of fiscal 2022.
Forestry ICT Platforms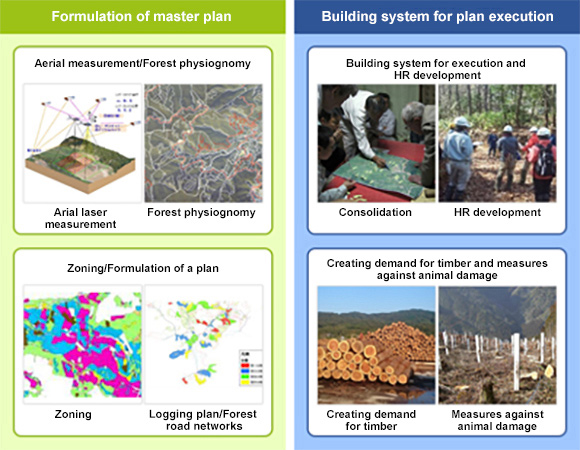 Supporting the Creation of a Forest and Forestry Master Plan for Itoshima City, Fukuoka Prefecture
Sumitomo Forestry is providing consulting in planning of forest maintenance and forestry development conducted by local municipalities by taking advantage of its wealth of knowledge in forest management cultivated in company-owned forests over a long period of time. As part of these efforts, we supported the creation of a Forest and Forestry Master Plan in Itoshima City, Fukuoka Prefecture as an initiative to use local forest resource since January 2016.
Positioning of the Master Plan
The Forest and Forestry Master Plan is the foundation for measures related to proper forest maintenance and effective use of locally produced wood in Itoshima, which is positioned as the basic plan under which businesses are to build supply chains for city use of wood that takes advantage of ICT promoted by Itoshima.
Creation of Master Plan
For methods to create this master plan, we are zoning areas that consider attributes such as the growth rate and accessibility of forests as well as the environmental conservation functions after grasping the amount of forest resources within the city limits through aerial laser measurement. Sumitomo Forestry formulated a harvesting plan and a plan for forest road networks that would be optimal to haul wood cultivated in the forest out by defining policies for conducting operations in the forest for each zone. Moreover, we also examined the systems to build to execute measures in line with this master plan.
The Forestry Agency's model project for regions with initiatives for making forestry a growth industry is currently being used to assist in the development of a framework for implementing the plan, and we will provide an assistance so that this master plan will contribute to regional forestry promotion.
Comprehensive Partnership Agreement to Turn Forestry to a Growth Industry with Nagato City, Yamaguchi Prefecture
Sumitomo Forestry entered into a comprehensive partnership agreement to turn forestry and timber industry to a growth industry with Nagato City, Yamaguchi Prefecture in September 2019 for the purpose of promoting development of the forest and timber industry in Nagato City in order to revitalize the local economy.
Past Initiatives
In April 2017, the Forestry Agency selected Nagato City was selected as a region to turn forestry and timber industry to a growth industry by the Forestry Agency and has worked toward that goal. The Nagato City launched a committee to promote turning forestry and timber industry to a growth industry with various subcommittees to conduct repeated assessments through local representatives and experts toward revitalization of forestry. As a result, Nagato City and other local relevant bodies took the lead in establishing Refore Nagato in July 2020 as a general incorporated association to handle local forest management.
Effects of the Comprehensive Partnership Agreement
The partnership agreement between Sumitomo Forestry and Nagato City aims to increase local production of logs, secure and train forestry workers, and expand wood demand. By treating the forests throughout Nagato City as a single entity, we will also execute efficient forest maintenance and promote sustainable forest management to further turn forestry to a growth industry.
In 2022, we conducted on-site proof of concept, surveys, and proposals to support the establishment of an intra-regional supply chain for locally produced wood, on expanding material production, and insuring demand for lumber through the use of smart technology and other means.
Partnership Agreement Overview
Promote harvest and replanting
Stably produce and use container seedlings
Develop and standardize container seedling production technology and train business operators
Establish and manage organizations central to forest management
Identify the quantity of forest resources and the intention of forest owners
Adopt and effectively utilize ICT in forestry and wood industries
Adopt and effectively utilize forestry machinery in forest
Take advantage of business approaches that heighten motivation of forest owners and forestry businesses
Secure human resources and support their retention in forestry and wood industries
Build a cooperative supply chain with local city sawmills and other forestry businesses
Drive demand for locally produced wood both inside and outside of the city
Comprehensive Partnership Agreement with Nishiawakura Village, Okayama Prefecture and Sumitomo Mitsui Trust Bank
Sumitomo Forestry entered into a comprehensive partnership agreement with Nishiawakura Village, Okayama Prefecture and Sumitomo Mitsui Trust Bank in August 2020 to promote regional redevelopment measures with focus on the forest industry.
Partnership Agreement Scheme
This partnership agreement assigns roles to each of the three parties. Sumitomo Mitsui Trust Bank is entrusted by forest owners through forest trust agreements while Sumitomo Forestry provides management support as a forestry expert from driving efficiency in forest management procedures and operations handled by firms specializing in forest to marketing and promotion of wood. Nishiawakura Village offers support from a governmental stance and deliberates on building road network, forest information and other infrastructure.
Initiatives to Resolve Issues
Japan's forestry is currently in the midst of a period of utilization of its abundant forest resources while at the same time facing the challenges: wood prices have fallen to one-fourth of their peak levels, forest owners have less motivation, and there is a shortage of forest management and forestry workers. To resolve these issues, a trend of outsourcing forest management to local municipalities and motivated forest management companies has begun. Forest trusts are one of these measures. We will expand the forest trust initiatives both inside and outside Nishiawakura Village with our two partners by leveraging each of our individual strengths. The Sumitomo Forestry Group will contribute to work to promote regional revitalization founded in forestry.
In 2022, we conducted research, analysis, and recommendations to Nishiawakura Village and Hyakumori Corporation, a company specializing in forest management, with respect to improving operational productivity and reducing distribution costs.
Specific Items of the Partnership Agreement
Items on Forestry and Regional Development Emphasizing Forestry Underway in Nishiawakura Village
(1) Provide forest information to forest owners and enhance the efficiency of forest management through the use of forest information
(2) Promote cyclical forest management friendly to the environment and improve the supply capabilities and increase demand for wood produced in the village
(3) Create a new service industry using forests (including special-use forest products)
Items on Business and Management of Forestry Businesses in Nishiawakura Village
(1) Improve various services for forest owners in forestry businesses
(2) Lower costs of forest management and forestry and facilitate effective marketing of materials for forestry businesses
(3) Strengthen the management structure of forestry businesses
Items on the Introduction and Expansion of Forest Trusts
(1) Identify problems and investigate solutions to expanding forest Trusts
(2) Standardize forest management and forest management procedures through the use of forest Trusts
(3) Effectively use wood produced from forests related to forest Trusts
(4) Promote the expansion of forest trusts to other regions
Partnership Agreement Scheme

Improvement of Forest Value Through Visualization of CO2 Absorption
Background of Visualization
Appropriate forest management is required to realize regional revitalization based on forest resources. However, an increasing number of forests remain unutilized due to a decline in forest owners' awareness of management issues and the high cost of forest management and maintenance.
Sumitomo Forestry, together with Nippon Telegraph and Telephone West Corporation and others, conducted a joint verification experiment in Maniwa City, Okayama Prefecture, aiming to increase the value of forests through the creation of high-quality carbon credits, so as to improve forest value and achieve sustainable forest management in the future, thus realizing the visualization of CO2 absorption.
Details of Initiatives
Forest information was digitized through interviews with forest operators, on-site plot surveys, and analysis of data acquired from drone photography, to build a cost simulation model for forest management and calculate forest CO2 absorption. This model will enable appropriate forest management and wood production by identifying forest management costs in advance, which is an issue in forests in various regions. The project also aims to generate carbon credits based on the CO2 absorption data obtained from the demonstration.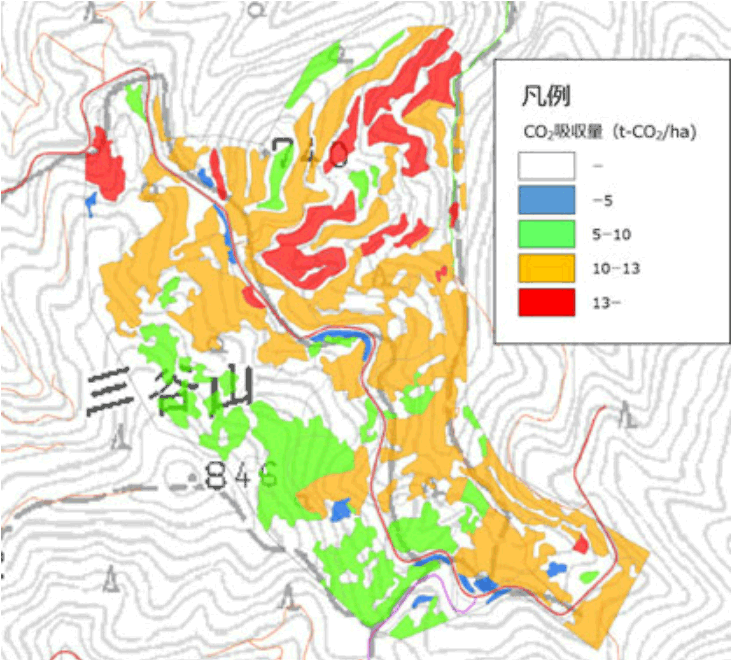 Overseas Case Example
Corporate needs for forest management are diverse. In recent years, a considerable number of companies have been conducting forest conservation and planting activities in developing countries to mitigate the impact on forests in overseas countries and regions where they engage in business activities, and to otherwise fulfill their corporate social responsibilities.
Drawing on its knowledge of forest management in Japan and overseas, Sumitomo Forestry implements its consulting business for the restoration of degraded forests in tropical regions, the rehabilitation of biodiversity, and for the protection and cultivation of forests that takes into account local communities.
Wildlife Conservation Forest Restoration and Regeneration Business
Mitsui Sumitomo Insurance Co., Ltd. has been involved since 2005 in efforts to restore the devastated forests in the Paliyan Wildlife Sanctuary (Gunung Kidul Regency in the Special Region of Yogyakarta) in Indonesia. Sumitomo Forestry has provided associated consulting services.
During the first phase of activities to March 2011, around 300,000 trees were planted on 350 hectares of land. As a second phase of activities since April 2011, Sumitomo Forestry has been organizing agricultural societies to improve the livelihoods of the local people, providing support for an agricultural guidance program aimed at improving the livelihoods of local residents, the establishment of an inclusive organization to examine ways of managing protected forests, and an environmental education program in cooperation with local schools. As a third phase of activities since April 2016, we have been supporting additional planting in areas with few trees in protected forests as well as social forestry through local communities around protected forests. We are also growing seedlings to distribute as social forestry. It is now in its fourth phase and activities and support are ongoing. In recognition of these activities, in September 2020, Mitsui Sumitomo Insurance Co., Ltd. received the Nature Conservation Award (business entity element category) from the government of Indonesia.
As part of this project, the Company has also opened the doors to its planted forest, seminar house and other related facilities in a positive effort to make information on its experiences and know-how on forest restoration available to the public.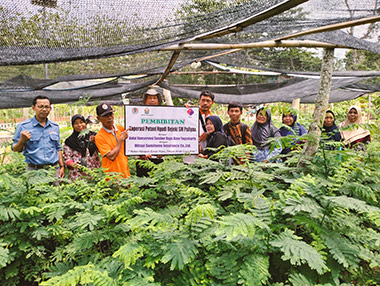 Toward the Commercialization of "Tropical Peatland Consulting" and "Quality Carbon Credits"
Sumitomo Forestry and IHI Corporation established NeXT FOREST in February 2023, a joint venture for "Forest Management Consulting Business" and "Development of the Sustainable Business that Optimizes the Value of Natural Capital". NeXT FOREST provides consultancy services for the appropriate management of tropical peatlands, and the creation and sale of high-quality carbon credits*1 through the appropriate assessment of the value of natural capital, such as carbon stocks in forests and soils.
Sumitomo Forestry's major strengths include forest management technologies it has created in Japan and abroad, as well as the tropical peatland management technologies it has developed in Indonesia and the data it has accumulated on the ground. IHI Group's strengths lie in its satellite data utilization technology, weather observation and forecasting technology, which it has developed over many years of space research. By combing strengths of the two companies, we are aiming to establish a way for extensively disseminating tropical peatland management technology across the world, and to start a consulting business. We will also develop a method for precisely evaluating and monitoring amount of CO₂ absorbed by vast forests. In addition to the value of carbon absorption as a measure against climate change, we will also aim to create "High-quality Carbon Credits" by adding value as "Natural Capital*2" such as biodiversity and water cycle conservation, as well as contribute to local communities.
*1A tradable Greenhouse Gases Emissions Reduction Certificate. Emissions are considered as credits when dispersed within enterprises or globally, and the trade unit is 1t-CO2.
*2For example, trees absorb CO2 and provide clean water, and nature as a stock (capital) that provides valuable services.
Afforestation Consultancy