Business Continuity Management
Governance
Business Continuity Management
Business Continuity Management System
Sumitomo Forestry Group has established BCM Subcommittee in order to respond to business interruption risks, such as natural disasters and new strains of influenza, which are extremely difficult to prevent through corporate efforts and may have a significant impact on functions of the head office. We disseminate and strengthen the Business Continuity Management System (BCM system) and formulate, review, and improve the Business Continuity Plan (BCP), and conduct training based on the plan.In fiscal 2021, the BCM Subcommittee encouraged each organization to promote independent and active support by meeting twice to create an opportunity to organize and understand the importance of the BCP, and to explain that the coordinated Group-wide response had a significant impact on the effectiveness of the BCP.
To respond to global spread of Coronavirus disease (COVID-19) since March 2020, the Sumitomo Forestry Group has established a task force headed by the President and promoted countermeasures. However, in light of the lifting of the state of emergency declaration in all prefectures on March 31, 2021, the task force was dissolved on the same day, and measures against the COVID-19 are continuing in normal operations. To be specific, we have set up a "one-stop" service where employees can consult about special prevention of infection outbreak measures and questions about attendance management. In addition, we have installed anti-splash acrylic partition and stocked up on hygiene products such as non-woven fabric masks and disinfection of fingers solutions. In addition, the COVID-19 occupational vaccination was held in the summer of 2021 at three sites in Tokyo, Nagoya, and Osaka, which expanded to include executives and employees, their families, and employees of related construction sites.
Resilience certification
On July 31, 2021, Sumitomo Forestry acquired "National Resilience Organization Certification" (hereafter referred to as Resilience Certification), which is given to business operators who are actively engaged in business continuity and social contribution.
Sumitomo Forestry has set acquisition of "Resilience Certification" as one of the indicators to evaluate the achievement of the qualitative goal of "strengthening risk management and compliance systems" set forth in the "Medium-Term Management Plan Sustainability Edition." Since fiscal 2019, we have been reviewing and improving our BCM system. In addition, since the Great East Japan Earthquake, through the Japan Wooden Housing Industry Association, to which we belong, we have concluded agreements on disaster prevention and reduction with local governments around the country, and are working to revitalize local communities and solve social issues in addition to building safe and secure communities. As a result of these efforts, we have been awarded certification. We will continue to accelerate our efforts to increase resilience in order to minimize the impact of business disruptions and recoveries from major disasters and pandemics.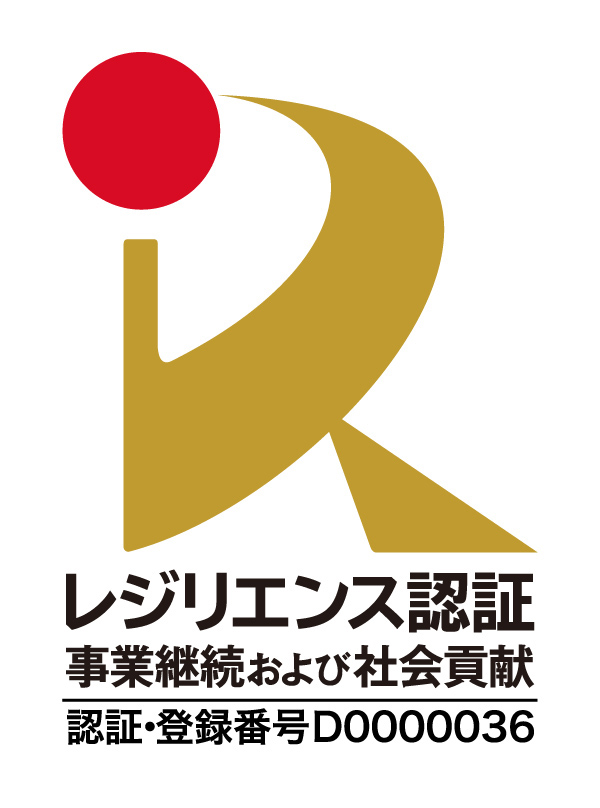 Ensuring the safety of employees
Sumitomo Forestry Group places the highest priority on ensuring safety of employees and their families as a principle of response in the event of an emergency.
Therefore, we have established an emergency communication system for each organization. In addition, we have introduced a safety confirmation system that automatically transmits information in conjunction with a disaster to each domestic Group company so that more safety information can be obtained before communication becomes concentrated or disconnected after a disaster.In addition to establishing a safety confirmation system through multiple routes, the Safety Confirmation Manual summarizes the matters that each employee should be equipped with on a daily basis in an easy-to-understand manner and is regularly disseminated. Every year, Group companies in Japan conduct safety confirmation drills. A total of 15,332 employees participated in 2021.
To ensure safety of our overseas employees, we introduced a safety confirmation system for overseas employees in 2019. This system enables us to quickly confirm their safety in the event of an emergency such as an earthquake, terrorist attack, or volcanic eruption in the host country.
In addition, we are striving to prevent secondary disasters due to insufficient information by operating a crisis management portal site that can be accessed from external networks as a tool for disseminating information from the company after a disaster has occurred, and by building a system in which employees and their families can obtain various information even in the event of an emergency.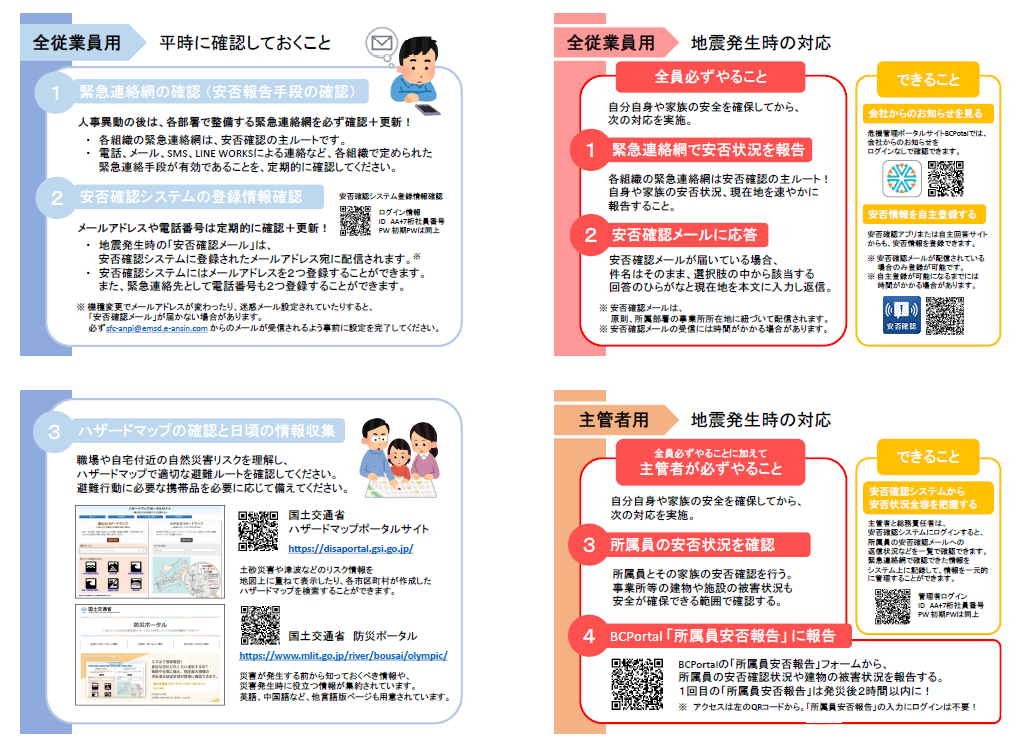 Initiatives for continuity of critical operations
Sumitomo Forestry Group established the BCM Regulations in October 2019 and has formulated a Business Continuity Plan (BCP) based on the assumption of a crisis event that may cause suspension of the head office functions and a crisis event that may cause damage to the residential safety of a large number of homes, etc.Specific important operations, such as employee safety confirmation and payment, are specified in this BCP. In addition to building a system that enables the continuation of important operations at the two bases in Tokyo and Osaka, and working to minimize the impact, such as preparing IT equipment for emergencies, we also take measures such as remote backup of various systems and data necessary for the execution of operations in an emergency.
At each disaster site, even in a situation where the chain of command with the head office is disconnected, it is necessary for the responsible person to make flexible decisions and respond quickly to the initial response. Therefore, "Simulated Initial Response Training" is implemented to enhance response-ability.This training has been implemented since 2011. It was not implemented due to measures against COVID-19 in 2020. However, the training format was changed to an online format, and training was implemented for a total of 81 operational managers of different sites in 2021.
In addition, in preparation for people unable to return home due to the occurrence of a massive earthquake, who can stay at offices or walk home for long distances, we have established standard disaster prevention stockpiles that should be deployed at a minimum in each workplace and are deployed at all Group sites.In particular, in major urban areas (Tokyo metropolitan area, Osaka city, and Nagoya city) where a large number of people are expected to be unable to return home, we store emergency supplies in anticipation of three days of work stays.
When selecting a new office, the head office disaster prevention manager is involved not only in cost and convenience but also from the perspective of disaster prevention and mitigation. At the same time, office disaster prevention and mitigation measures are taken, including measures to prevent office equipment from falling over and to prevent the movement of multi-function machines with casters.
Strengthening Supply Chain Business Continuity Plan
In readiness for potential disruption of its housing and construction business supply chain following a disaster, Sumitomo Forestry shares the specifications and processes for property construction along with site progress status information with business partners including component makers and building contractors. By enabling advanced procurement of materials and production in this way, the Company is striving to reduce the risk of a disruption to operations. However, there were some delays in material procurement and constructions due to the worldwide spread of the COVID-19 in 2020.
In light of this situation, we are examining reporting methods for suppliers to report the status of disaster and systemization of history management in cases the suppliers are affected by natural disasters such as earthquakes or calamities such as fires. In addition, Sumitomo Forestry works to build a purchasing system which has at least two companies that can supply the same materials as a general rule to ensure readiness for these types of unforeseen situations (including at least two production sites for the same materials).
We plan to take measures to prevent delays in procurement materials caused by the COVID-19 through discussions with suppliers. We are reducing risks by increasing inventory at each material supplier where delays occurred as a short-term measure and decentralization of production facilities as a medium- to long-term measure, such as setting up production sites from single to multiple countries.
Sumitomo Forestry also reviews its suppliers of building and construction materials, with supplier evaluations conducted every year for determining whether to continue business with them. Business continuity items, such as systems for ensuring alternative supply routes during a disaster, have been added to these evaluations. These efforts will work to further reduce risks that may interrupt business operations in the future.
Continuity of Customer Service
Sumitomo Forestry has setup call centers in Tokyo and Okinawa, thereby facilitating 24-hour after-sales service.
Sumitomo Forestry has also developed a mechanism whereby any call center can back up the functions of another call center in the event it is affected by a disaster. Through a unified emergency system, the Group can share damage information pertaining to owners nationwide, enabling us to respond quickly to disaster and requests for repairs.
Business Continuity Management