Contributions to the SDGs and Material Issues
Contributions to the SDGs and Material Issues
Basic Policy
The Sustainable Development Goals (SDGs) adopted by the United Nations General Assembly in 2015 set 17 goals on subjects such as poverty, equality, education, and the environment for all nations and regions to achieve by 2030. The SDGs work to solve various global issues raised as principles toward building a better international society that leaves no one behind. Our initiatives to address social issues identified in the SDGs will result in the creation of new business opportunities and business growth. On the other side, if the initiatives are not fully implemented, there is a risk of delays in complying with laws and regulations, as well as a risk of reputational damage.
Sustainability Targets of Mid-Term Management Plan in fiscal 2024 and SDGs
In February 2022, in anticipation of 2030, Sumitomo Forestry Group newly formulated a long-Term vision "Mission TREEING 2030" and Medium-Term management plan "Mission TREEING 2030 Phase 1" (2022 - 2024), which incorporated the ideal form of the Sumitomo Forestry Group into the business concept, with an aim of realizing a decarbonized society. One of the five basic policies is "Further Integration of Business and ESG," and the Group has established "Sustainability Targets as part of Mid-Term Management Plan in fiscal 2024," which incorporates the Group's sustainability strategy and material issues. As for "Sustainability Targets as part of Mid-Term Management Plan in fiscal 2024," specific numerical targets are set for each business division while incorporating SDGs perspectives to address the nine material issues identified by Sumitomo Forestry Group until fiscal 2024. We shall aim to contribute to realization of a sustainable and prosperous society.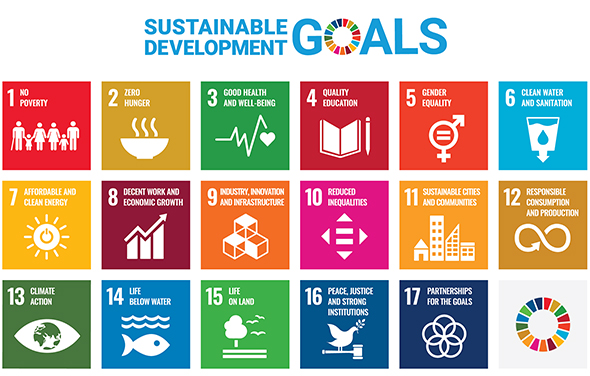 Material Issues and SDGs (Goals and Targets)
To integrate the material issues that we have identified and SDG initiatives, the Sumitomo Forestry Group has associated SDGs (goals and targets) with the 15 qualitative targets of material issues as shown below. In these activities, each division always promotes use of the PDCA cycle to establish a system for achieving the SDGs by first using indicators for evaluation (numerical targets) with fiscal 2024 set as target based on the Mid-Term Sustainability Targets.
Nine Material Issues
Details of Material Issues
Relevant SDGs
(Goals and Targets)
1) To enhance the value of forests and wood through sustainable forest management
Nurturing forests to enhance and harness the value of wood and other forest resources.

13.1

15.1
15.2
15.3
15.4
2) To realize carbon neutrality by leveraging forests and wood resources
Contributing to the decarbonization of society by reducing our own GHG emissions, by offering timber and wood products that sequestrate carbon, and by providing low-carbon/carbon-free products and services.

7.2

13.1
13.2
3) To realize a circular bioeconomy by leveraging forests and wood resources
Realizing a circular society by making the most of wood, a renewable and natural resource from the forest ecosystem.

7.2
11.6

12.2
12.5

15.1
15.2
15.4
4) To provide comfortable and secure spaces for society at large
Providing safe, comfortable, and secure spaces to society at large.

3.9

9.4

11.6
5) To improve the livelihood of the local communities where we operate
Creating jobs through our businesses and contributing to the development of local communities.

3.9

8.3

11.3
6) To create a vibrant environment for all workers
Creating a work environment where everyone throughout the supply chain is safe, healthy and motivated.

3.9

5.5

8.5
8.8
7) To create new markets with forests and wood
Creating new markets that enrich the economy through the resourceful use of forests and wood.

9.4

11.3
8) To transform markets through DX and innovation
Enhancing economic efficiency and added value through business transformation brought about by DX and innovation.

9.4
9) To establish a robust business structure
Contributing to a stable economy by continuously providing value with a structure that is resilient to contingent circumstances.

16.5
16.7
Dissemination of SDGs
The Sumitomo Forestry Group believes that it is crucial to disseminate and foster an understanding of SDGs to contribute to the SDGs through business. We conduct various initiatives to raise awareness in not only our employees but all of our stakeholders (examples below).
Implementation of SDGs Workshops and Recognition Surveys
The Sumitomo Forestry Group holds employee workshops and training by external lecturers for employees to provide learning opportunities that link SDGs to business operations.
As one example of our workshops, participants play a card game in which participants envision the achievement of their life goals at the year 2030, such as wealth acquisition, comfortable leisure lifestyle, and environmental conservation in light of economic, social and environmental barometers that reflect global circumstances. Participants were divided into groups, which then used Lego blocks as a tool to discuss what they can do based on the results as members of the Sumitomo Forestry Group to help realize a world in which "No one will be left behind".
Recognition surveys about the Sumitomo Forestry Group's SDG initiatives were also conducted for Group employees in Japan, which showed 87% of respondents knew about the SDGs.
The workshops and other efforts at the Sumitomo Forestry Group aim to further disseminate SDGs understanding and action toward achieving the goals, both internally and externally.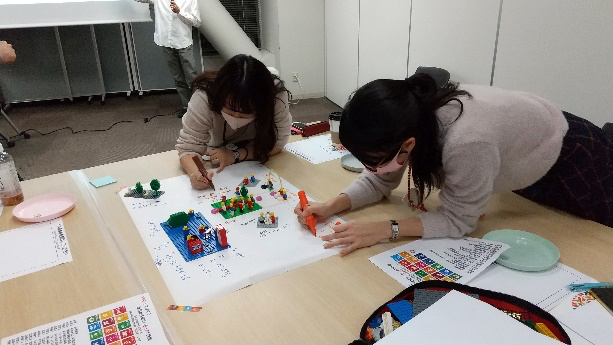 Registration as a Company Promoting SDGs in Niihama City
The Niihama City SDGs Promotion Company Registration System that supports companies actively working to achieve the SDGs welcomed the Sumitomo Forestry Niihama General Administration Office as a member in February 2021.
In Niihama where the Sumitomo Forestry Group was founded, we will continue to advance activities to achieve the SDGs from encouraging the employment of people with disabilities and procuring plantation wood and certified timber which considers sustainability and biodiversity to creating public forest benefits through the management of company owned forests.
In March 2022, we reported on the progress of our efforts and activities to achieve the SDGs and on the targets for fiscal 2024, which will serve as a new indicator.
"ESD (Education for Sustainable Development) Assistant Supervisor Workshop in Niihama City" was held
In November 2021, a training session for 26 Assistant Supervisors from elementary and junior high schools in Niihama was held at Forrester House, our forest information dissemination facility, at the request of Niihama Board of Education.
Training session included classroom lectures about the Sumitomo Forestry Group's businesses and the forest ecosystem, as well as field work such as walking around the neighborhood and visiting the experimental forest (fixed standard trees) to learn about Sumitomo Forestry's history, initiatives, and philosophy etc.
We will continue to assist Niihama City in achieving the SDGs in the future, such as by giving on-site classes at schools.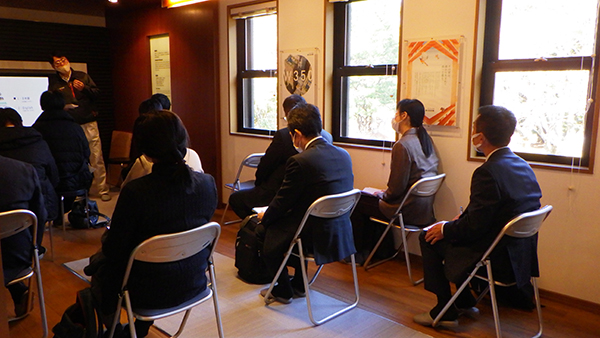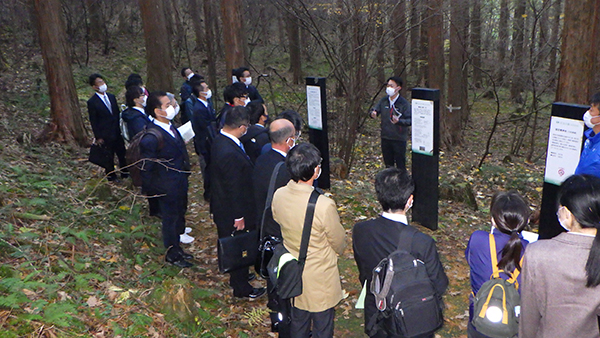 Giving on-site classes at elementary schools in Niihama City
The Niihama City Board of Education is developing educational activities in collaboration with schools and local communities in order to nurture leaders of a sustainable society. In response to a request for cooperation in environmental education, Sumitomo Forestry visited each elementary school and held classes.
In the on-site classes, participants learned about the workings of trees and forests and their public benefits while introducing examples of Sumitomo Forestry's work and initiatives.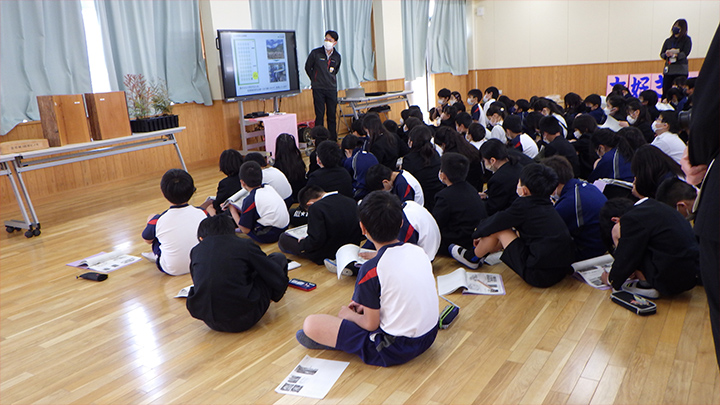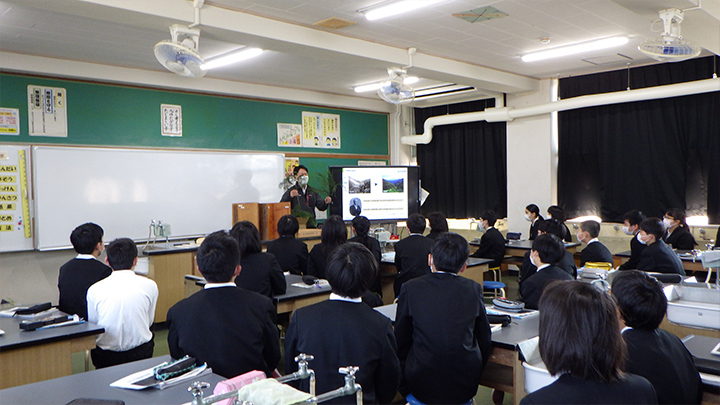 Registration as a Kanagawa SDGs Partner
The Kanagawa SDGs Partner program is a registration program to encourage cooperation in efforts between the prefecture and corporations and other entities working to achieve the SDGs in the prefecture. Sumitomo Forestry has been registered as a Kanagawa SDGs Partner on April 13, 2020. Broader standardization of ZEH to reduce greenhouse gas emissions aims to help combat climate change, energize the economy and bring greater environmental awareness. In addition, we internally announce our progress every quarter regarding ZEH penetration in the Kanagawa area with a goal of raising awareness of employees who belong to affiliate companies. The ZEH ratio at the time of order receipt grew from 67.7% in 2021 to 78.7% in 2022, as a result of these and other initiatives.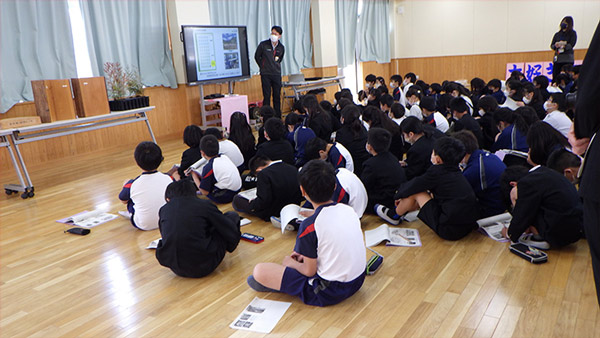 Committing to the Shizuoka City SDGs Declaration
The Shizuoka Branch of the Housing Division at Sumitomo Forestry is committed to the Shizuoka City SDGs Declaration which has been encouraging SDG activities through offices and associations in Shizuoka City in addition to develop and broadly share excellent case studies since November 2019. As a target of initiatives, we have set an 80% standardization rate for Net Zero Energy Houses (ZEH).
In addition, Hamamatsu Kita High School in Shizuoka Prefecture interviewed us online about the SDGs in February 2022 and explained our initiatives to 10 first-year students enrolled in the international course.
Click here for related information
Registered under the Maebashi City SDGs Partner Program
In November 2022, based on the philosophy of SDGs, the Gunma Branch of the Housing Division was registered in the "Maebashi City SDGs Partner Program" as a company, an organization, or the like that works together to solve regional issues and to create sustainable communities without leaving anyone behind, and stated that the Gunma Branch aims at 80% spread of ZEH in the action declaration for achieving SDGs.
Publication of Examples to the Educational "EduTown SDGs" Website for Elementary and Junior High School Students
Tokyo Shoseki provides educational materials on the educational EduTown: Let's Build Our Future website for the SDGs to inspire elementary and junior high school students to think about the future of our planet from a global perspective through each sustainable development goal and learn what they can do. This website also includes our activities since fiscal 2020 to foster circular forest resources by planting and using trees as an example for Goal 15 of the SDGs.
Click here for related information
Education on the SDGs among owners of Sumitomo Forestry Houses
Reborn vegetables were introduced in the issue 101 of Lovely Family, an information magazine for owners of "Sumitomo Forestry homes" published in June 2022. In the issue 102 of Lovely Family published in November 2022, we introduced the wood cycle and afforestation under the title of "Sumitomo Forestry × Decarbonization."
In addition, beginning with Lovely Family issue 101, we changed the envelope for sending from vinyl to paper.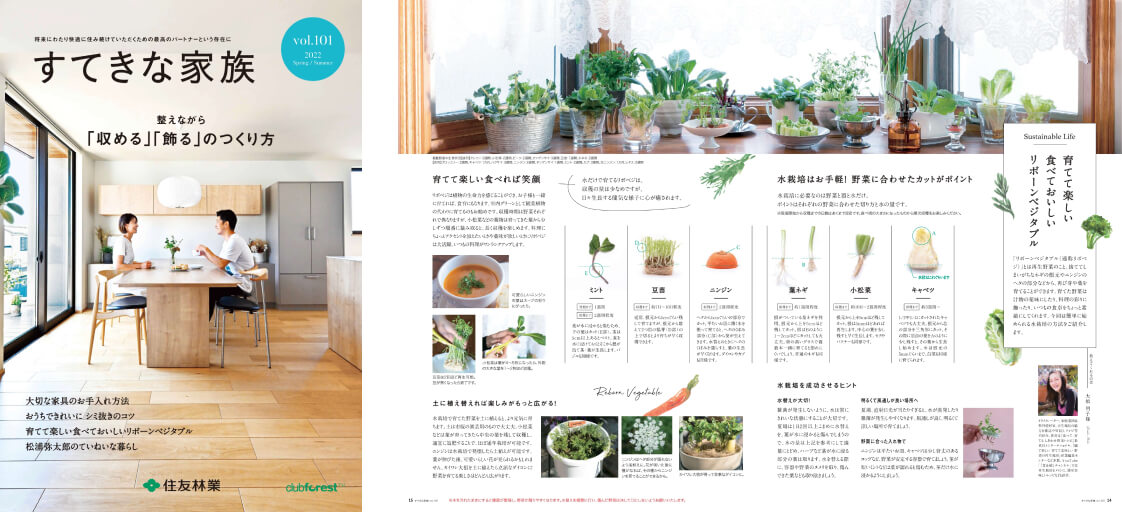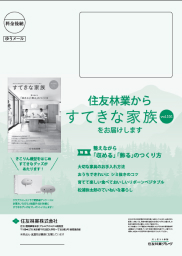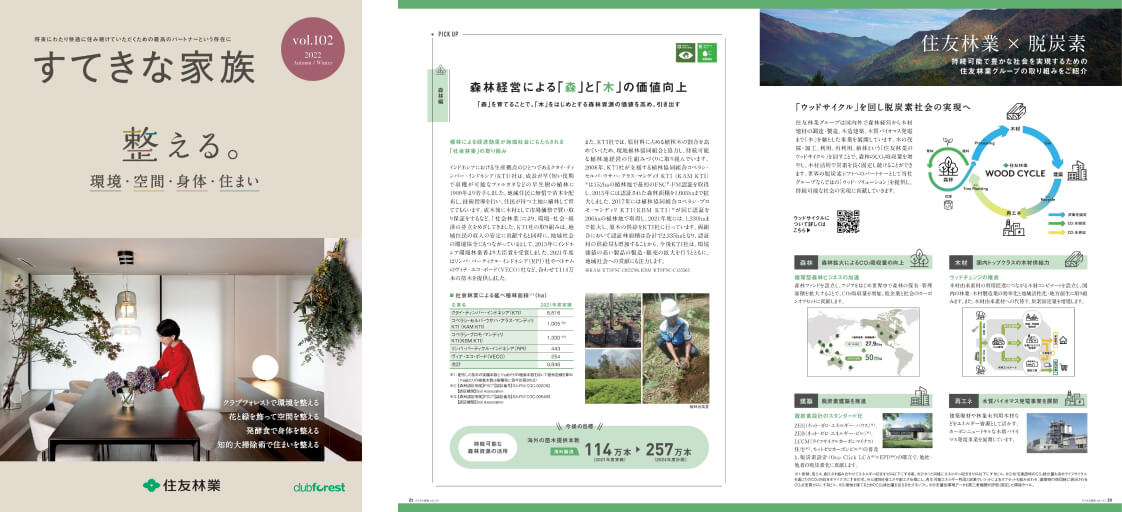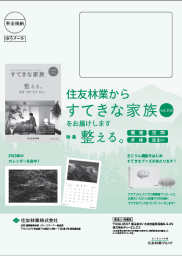 Initiatives in Sustainable Finance
Conclusion of Positive Impact Financing Agreement
In March 2020, the Company entered into the Sumitomo Mitsui Trust Bank, Limited Positive Impact Finance (a type of business loan that does not specify the use of funds) agreement, which is a financing loan that aligns with the United Nations Environmental Programme Finance Initiative*1 Principles for Positive Impact Finance*2. This borrowing not only praises Sumitomo Forestry initiatives that contribute to the SDGs but also provides favorable interest rates than standard financing. In regards to this financing, Japan Credit Rating Agency, Ltd. has provided a third-party opinion*3 about the rationality of evaluation factors used and the compliance to the Principles for Positive Impact Finance.
In the future, Sumitomo Forestry also aims to improve medium-to long-term corporate value by further enhancing initiatives to achieve the SDGs.
*1 UNEP FI established the Principles for Positive Impact Finance in January 2017. Companies disclose their contributions toward achieving the SDGs and banking institutions evaluate the positive impact and provide capital in an effort to maximize the positive impact and minimize the negative impact of corporate entities. The banking institutions providing the financing take responsibility to monitor the indicators and verify ongoing positive impact. The United Nations Environment Programme (UNEP) is a subsidiary body of the United Nations established in 1972 as an implementing agency for the Declaration of the United Nations Conference on the Human Environment and the International Environment Action Programme. UNEP FI is a broad and close partnership between UNEP and more than 200 global financial institutions. Since its establishment in 1992, it has been working with financial institutions, policies, and regulators to transform itself into a financial system that integrates economic development with environmental, social and governance (ESG) considerations.
*2 This is a financial framework for achieving the Sustainable Development Goals (SDGs) formulated by the United Nations Environment Programme Finance Initiative (UNEP FI) in January 2017. By disclosing contributions to the achievement of SDGs, with banks assessing the positive impact of these contributions and providing funds, the framework guides the efforts of fund providers to increase positive impacts and reduce negative impacts. As the responsible financial institution, lending banks monitor indicators to ensure that their impacts are continuing.
Click here for related information
Conclusion of Sustainability Linked Loan
In August 2022, we concluded a sustainability linked loan with Sumitomo Mitsui Banking Corporation. Sustainability linked loans set sustainability performance targets ("SPTs") based on the borrower's management strategy, and promote environmentally and socially sustainable economic growth by aligning borrowing terms with actual progress of SPTs. By aiming to achieve the SPTs set in the loan agreement, we will promote sustainable management.
The SPTs in this case adopt a climate change score by which CDP*, an international NGO, evaluates the greenhouse gases emission reduction activity and the action of the climate change mitigation measures.
Click here for related information
Contributions to the SDGs and Material Issues